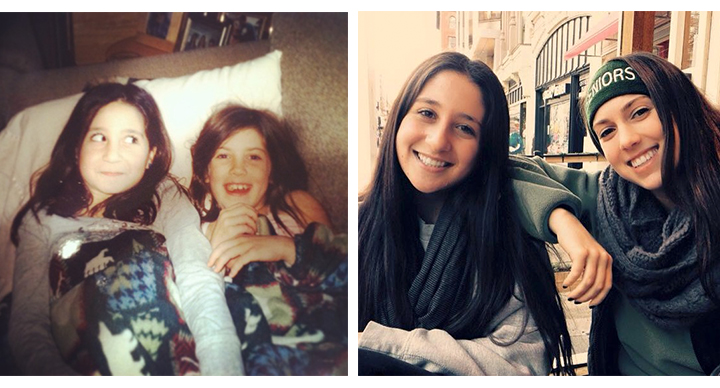 Name(s): Emma Z. and Madison B.
Age: 16
Hometown: Sharon, Massachusetts
WCC/360° Program Attended: Pre­-College Enrichment Florence
1. Tell us about OINK Charities and what inspired you to come up with the idea?
We founded OINK Charities to make it easy for kids to help those less fortunate through the gift of giving. As the youngest of five grandchildren, Emma grew up celebrating the holidays each December with her aunts, uncles, cousins and grandparents. We would get together to celebrate the holidays, reconnect and of course… exchange presents. But the adults noticed that the presents were becoming too important to the kids, so when Emma was three, her mother and aunts started a family group called OINK, The Organization For Inspired and Nice Kids. The five grandchildren were tasked with choosing a charity they wanted to support. The children took turns explaining why they chose their specific charity and then in lieu of their big holiday gift, the adults would donate money to each of the kids' chosen charities. It gave the children a sense of what it means to give, rather than receive, which felt good. As the older kids in the family left for college and moved across the country, the OINK tradition became a thing of the past. But now, we have decided to resurrect OINK and introduce the concept throughout the neighborhood and beyond.
Another facet of the charity is called Band-Aids For Boo­Boos. When our friend Rachel, who is a pediatric oncology nurse, heard what we were planning to do with OINK, she suggested a Band-Aid drive. She said, "My patients are so brave…they endure chemotherapy and countless needle sticks. One thing that brings a big smile to their faces is having their special Band-Aid ready and waiting. Sometimes all a kid needs to focus on is that Dora or Sponge Bob will be there when that needle comes out. After all, kids with illnesses are still kids, and some days they need Hello Kitty or Nemo to help take the sting away." We started to brainstorm how they could get the beloved character Band-Aids to the kids at Rachel's hospital. So, we created Band-Aid boxes and have dropped them off at local nursery and elementary schools suggesting that the students ask for a box of their favorite children's character Band-Aids as small holiday present for themselves. We will have the Band-Aid boxes picked up and donated to Band-Aids For Boo­Boos. Then, OINK Charities will have the Band-Aids delivered to Maimonides Infants and Children's Hospital in New York.
2. Why do you feel it's important for kids to get involved in charitable giving at a young age?
We want to inspire children to give to the less fortunate. We believe it should be simple to donate, that every bit counts, and that one can do small things to help others in a big way. Children are powerful and can help change the world. We want them to have the chance to know how it feels to give from a young age, for they, as we often do, forget how fortunate we are and take advantage of our health and possessions.

3. How has travel and your experiences abroad either with Westcoast Connection or other helped shape your world views?
Emma: Traveling to Florence this past summer has made me feel much more knowledgeable and appreciative of different cultures, religions, and backgrounds. Though most of the trip was spent in Florence, I found interesting even the major differences between the people, food, and infrastructure in Florence and the other Italian cities we visited. Most of all, I loved being able to learn so much about a country on an entirely different continent than the one we live on. I think traveling in general allows people to become more open-minded and understanding of cultural differences, which is extraordinarily important in the world we live.
4. How can people get involved?
People can get involved with OINK in a variety of different ways. On our website (oinkcharities.com), there are links to the charities we are currently working with. Simply click on the link and chose how much you to donate. The donation will then appear on our linked page to the charity receiving the donation. If a child wishes to donate part of his or her birthday or holiday gift to charity, he or she can choose one via our website and easily make the donation. Additionally, children can get drop off boxes for our Band-Aids For Boo­Boos campaign in their own schools to collect Band-Aids for the charity. If you would like to get involved or have questions, we can be reached at info@oinkcharities.com.
5. Where do you see this project going in the next 5­-10 years?
In the future we see this charity going far beyond our neighborhood. What is so special about OINK is that it not only works to help people who are less fortunate, but it also gives children confidence in their ability to change the world with such small acts of kindness. We hope these small acts of kindness will continue beyond OINK charities and help make this world a better place.
For more information, please contact us:
Website: oinkcharities.com
Business email: info@oinkcharities.com
Business phone: 781.­784.­5211
The Westcoast Blogger
We love hearing from our alumni! If you have a story you think we should feature, email jordanna@westcoastconnection.com and maybe you'll be on our next alumni spotlight!