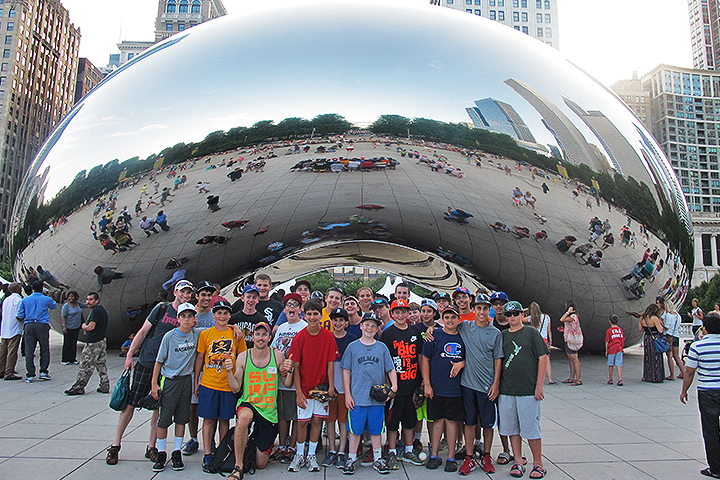 While we're pretty used to having repeat trip members summer after summer, we've never seen someone with a passion for a program like Brandon. He's traveled with us 4 times on our Major League Madness Baseball program and has shared with us what it was that just kept bringing him back. Check out our interview with this seasoned alumni on his most prized autograph, memorable moments and the time the group brought a Yankee tradition to Milwaukee!
1. Who's the best player you ever got an autograph from on all of your 4 trips?
While watching the Washington Nationals take batting practice at Great American Ballpark in Cincinnati, I was lucky enough to obtain young phenom Stephen Strasburg's autograph during his rookie season! He is now one of the best pitchers in baseball!
2. What's your favorite stadium that you visited and why?
Definitely PNC Park in Pittsburgh. The backdrop of the ballpark, which includes the Allegheny River, the Pittsburgh skyline, and the Roberto Clemente Bridge, is breathtaking and picturesque. I also enjoyed visiting Wrigley Field because of its unique neighborhood setting.
3. Our Major League Madness Tour balances a ton of adventure activity highlights alongside baseball games. What was your favorite activity outside of the stadium and why?
Riding over 16 roller coasters at Cedar Point Amusement Park. I am a thrill-seeker; so enjoying a plethora of awesome and crazy rides such as the Top Thrill Dragster, one of the fastest in the nation, was tons of fun!

4. Tell us about your best memory from these trips.
I have had enough memorable experiences to last a lifetime from these trips, but if I had to pick just one, it would be the time when we were watching the Milwaukee Brewers play the Pittsburgh Pirates at PNC Park on my first trip. Our group had amazing seats for the game, sitting in the first row of the right-field bleachers. With the game out of hand and the crowd thinned out, we set out to do our own version of the famous "Roll Call" that takes place at Yankee Stadium each game. We started out with the Pirates right fielder, who responded to our incessant chants of his name with a wave. We then went on to solicit a wave from each Pirate player on the field at the time. It was an unbelievable experience to recreate a famous tradition with all of my new friends!
5. Baseball is obviously a huge passion of yours. Are you planning on integrating it into your future career goals?
Combining my love of baseball and sports in general with a lifelong passion for business, not coincidentally, I have developed an interest in the field of sports business. In fact, my current dream job is to be the general manager of a professional baseball team, which combines the responsibility of running the business side of the team with the task of managing player personnel.

6. Any other information you think fellow MLB enthusiasts would love to know about you and/or the program? 
If you love baseball, then without a doubt, the tour will be the best three weeks of your life! How can it get any better than watching baseball's biggest stars at a bunch of new venues while making life-long friends who share the same passion as you and partaking in tons of other fun activities with them!
Ready for some serious MLB? Check out all the exciting trip details here:
Major League Madness: 8, 13 or 21 Days
The Westcoast Blogger