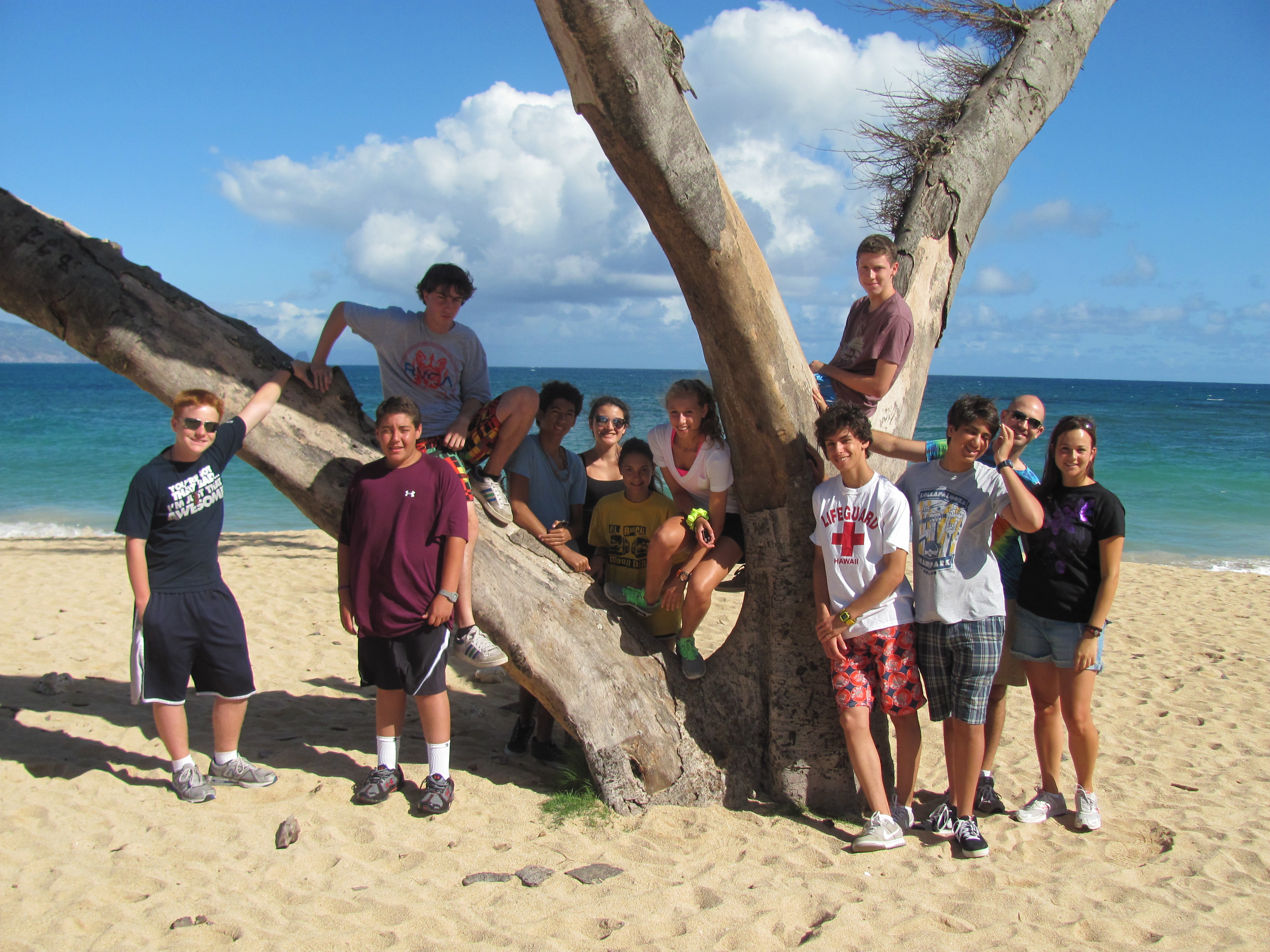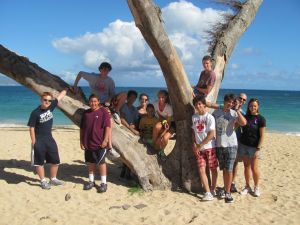 Aloha from Hawaii Community Service,
Everyone is having a fantastic time! Since the last post, the group has
hiked Diamond Head, hit the beach a few times, and acquired a taste for the
local cuisine!
Day 6 took us to the north shore for the group's first of two surfing
lesson.  Katie, Annabel and Evan rode the waves like they had been doing it
for years!  Afterwards, we all walked around the local town and tasted some
of their famous shaved ice.  Later on that evening the group enjoyed
downtown Waikiki.
Day 7 began with a very moving visit to the Pearl Harbor Memorial in
Honolulu.  Seeing the remnants of the USS Arizona below us really affected
our trip members and brought out their inquisitive sides.  Eric, whose
birthday it happened to be, had a grandfather who fought in WWII and called
him from the site.  Even though not everybody in our group is American, we
all were able to appreciate the sacrifices made.  We ended our day with a
fun evening at Dave & Busters where gaming was done and prizes were won!
Eric was especially surprised when the waiter brought out a birthday cake.
The next day we went back to the Boys and Girls Club for another day of
service.  The kids there were so excited to see our trip members and were
eager to do whatever we had planned.  After taking part in their morning
dance time, Matthew, Buzzy and Peter helped lead a puzzle competition in the
learning room while Anastasia mastered her spin art talents for the kids
delight. 
The next day was our first of two days working with Habitat for Humanity –
we were put to great use!  Habitat depends on volunteers for the majority of
their labor, however they still need to raise funds to help pay for
materials, professional help, and other items. We were able to help prepare
for a large fundraising event by transporting surplus materials to a holding
facility in downtown Honolulu.  The students bonded together and showed
great teamwork and problem solving in making assembly lines to get the job
done quicker.  Julia and Peter helped keep the mood light and fun by
providing music and cool dance moves.  Evan helped move a pallet of wood
flooring with a pallet-jack.  To cap off two days of hard work, the group
went to go see the new Transformer movie.
After a much needed night of rest, the group headed out for brunch at a
local favorite restaurant.  You should have seen the size of Peter's
delicious waffle!  We then spent the rest of the afternoon at the Wet N Wild
water park where Matt, Adam, and Buzzy attempted to surf in the wave
simulator – let's just say that they may need a little more practice!
Smiles all around, we headed back for our last meal in O'ahu at California
Pizza Kitchen.
We are now in Maui and we look forward to more community service work,
hiking, and kayaking! We'll update you again in a few days!
Aloha and wish you were here!
Mahalo! (Thank you!)
The Westcoast Blogger