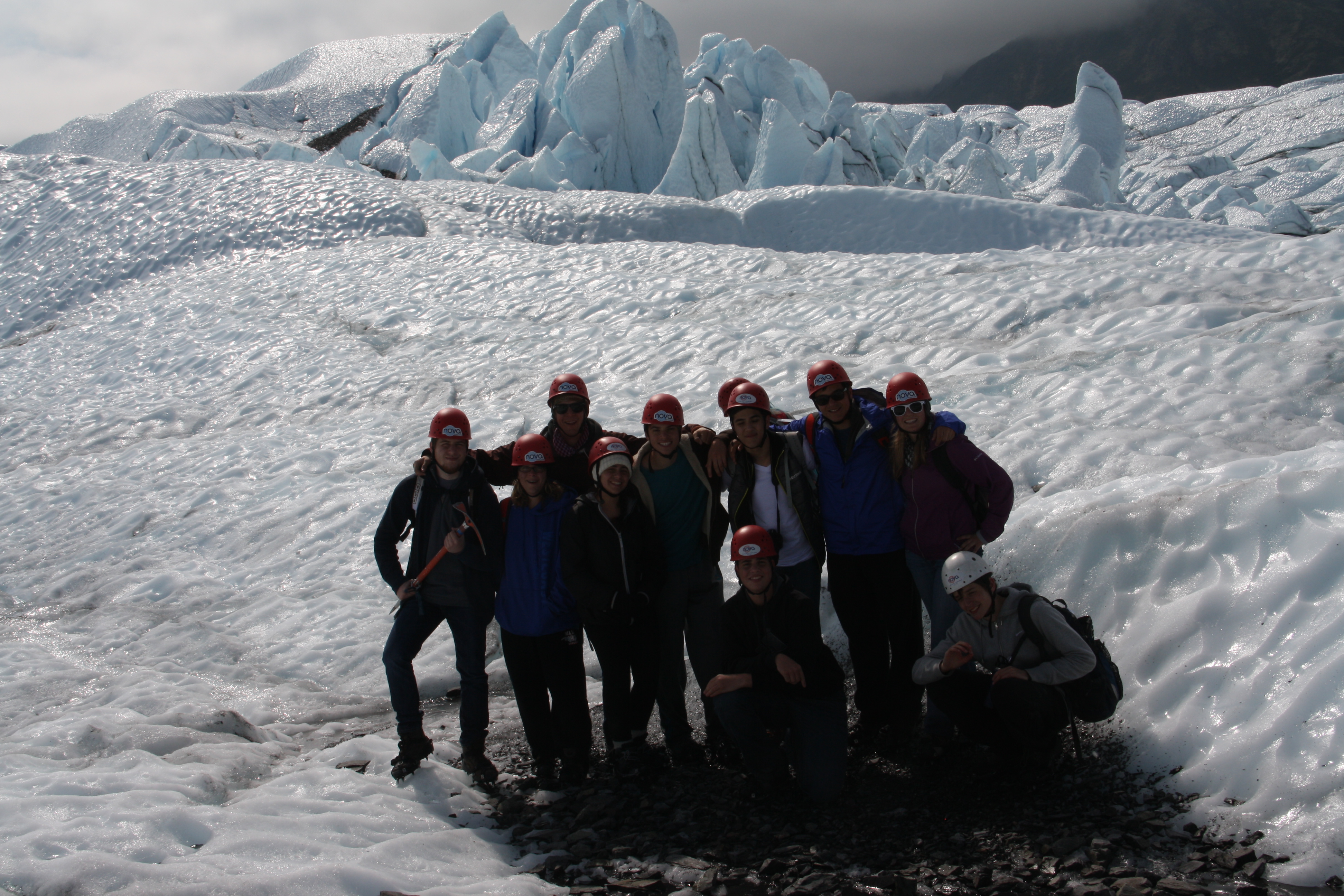 Hello friends and family! All is well up north here in Alaska! On Saturday, June 29th we spent our second and last day at Bean's Café, working to clean and organize the second storage space for the employees and volunteers who work there. Our buddy Lee wasn't there though, instead we worked with Grady.
One of the best parts that day was when several of our trip members started a pick-up football game with the patrons at the soup kitchen. A lot of the kids had fun chatting and playing with the locals. After our morning at Beans, the EPIC competitive bake sale BEGAN! The teams were Boys vs. Girls. The teams split up and hit the streets of downtown Anchorage with signs and trays filled with goodies. Our groups were accepting any donations and anyone who donated received a treat! It was a blast to get out and chat with the local community members about hunger in Alaska. Dakota convinced people that the cookie monster loved her cookies with her amazing drawing on the poster (check out the pictures!) and it seemed like no one turned Chris down for a donation! Together the groups earned over $600! In second place, the girls raised a little over $200 and in first place, the boys raised a little over $400! What a wonderful bake sale! We were so excited to bring our donation to the Food Bank of Alaska! After the bake sale we had a delicious dinner at the Peanut Farm.
We woke up on Sunday, June 30th ready to celebrate Dakota's birthday with a glacier hike! Our group traveled to Nova Riverrunners again to partake in their guided tour of the Matanuska Glacier. This time we were suited up in crampons, which attach to boots and allow you to walk on the glacier without slipping. The views were spectacular, especially with the foggy mountains in the distance. Our guides did an excellent job showing us how to walk on the ice with the crampons! We learned all about silt, a muddy substance that is extremely valuable in facial exfoliation! So, naturally, we decided to give ourselves glacier facials! Erin, Ali, Mano, and Josh decided to go with the full facial, while others just rubbed it on their cheeks. Needless to say, our skin will look much younger by the time we return! After our long hike, we headed back to our dorm rooms in Anchorage. After cleaning up, we grabbed dinner at a nearby restaurant and caught the movie Monsters University 3D! It was a great show!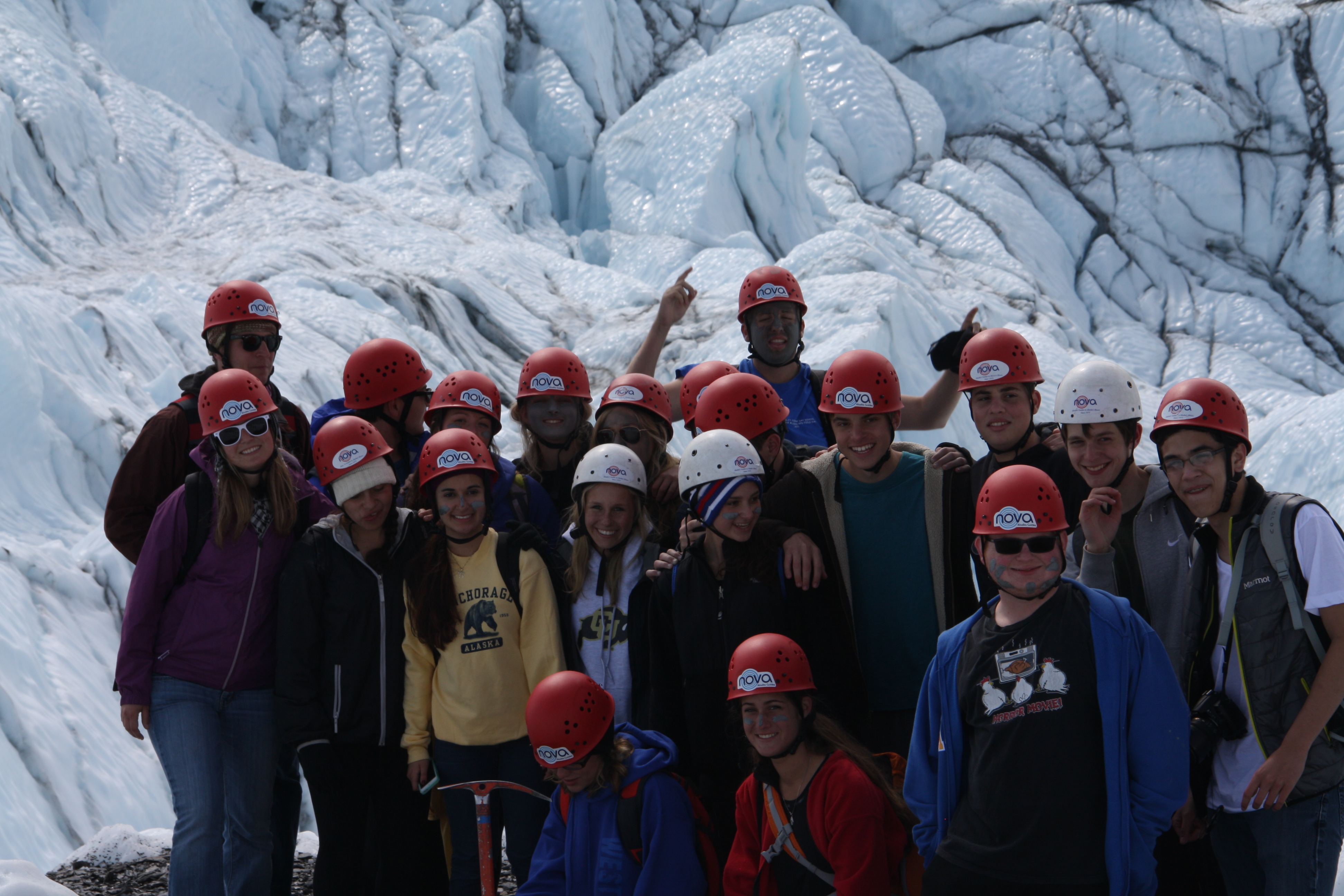 On Monday, July 1st we traveled to the small town of Cooper Landing! It was a beautiful drive. The Chugach Mountains towered above us, full of green foliage and wrapped in a gray fog. The sight was breathtaking. On our way to Cooper Landing we stopped at the Alaska Wildlife Center, a rehabilitation facility for injured or abandoned wild animals. We saw moose, elk, musk ox, black bears, and Snickers the porcupine! Gabe and Chris entertained us as we walked with their version of "Hey Soul Sister" on their ukuleles! We also took a short, guided tour where we learned about Mud Flats. Once in Cooper Landing, we checked into our lovely Bed and Breakfast. Cooper Landing sits nestled next to the Kenai River, and everywhere you look the views are magnificent! For dinner we went to the Rafter's Lounge, which has a deck overlooking the river with more wonderful views. We took a lot of pictures after our delicious meal! That night we played some games and were taught a new dancing game by Mike! We also held a team competition between vans. Ali did a great job leading her team while they were blindfolded and Perri was a rockstar finding her team's tennis balls while blindfolded!
Today we woke up early to get to Sunny Cove in the town of Seward to kayak in Resurrection Bay. We're all excited that we get to help Ali celebrate her sweet 16th today too! It was a gorgeous morning to be out on the gentle water. Our guides were all wonderful, and pointed out some wildlife like porpoises, harbor seals, and bald eagles. Daniel and Chris kept us entertained by singing in their kayaks, while Lindsey and Travis nicknamed their kayak "Team Cover Photo" because of the great pictures they got! We all had a fantastic time. For lunch we ventured to Woody's, a Thai restaurant in town that's named after the large male sea lion that resides in Seward's Sea Life Center. We visited the Sea Life Center after lunch, for a self-guided tour along with a short squid dissection workshop. During the tour we saw all kinds of sea life and even got to touch sea urchins and starfish. We saw octopus and baby octopuses, more harbor seals, and tons of fish. Woody was being fed while we were there and he put on quite a show! During the dissection, Tibbon and Brooke used the squid's ink to make some art! Monica was a pro, digging right in, not squeamish at all! Our guide was impressed with all the prior knowledge our group had. Tonight after dinner we played captured the flag and had cake to celebrate Ali's sweet sixteenth!
Tomorrow we will be riding sleds with real sled dogs! We're all very excited. Hope all is well back home!