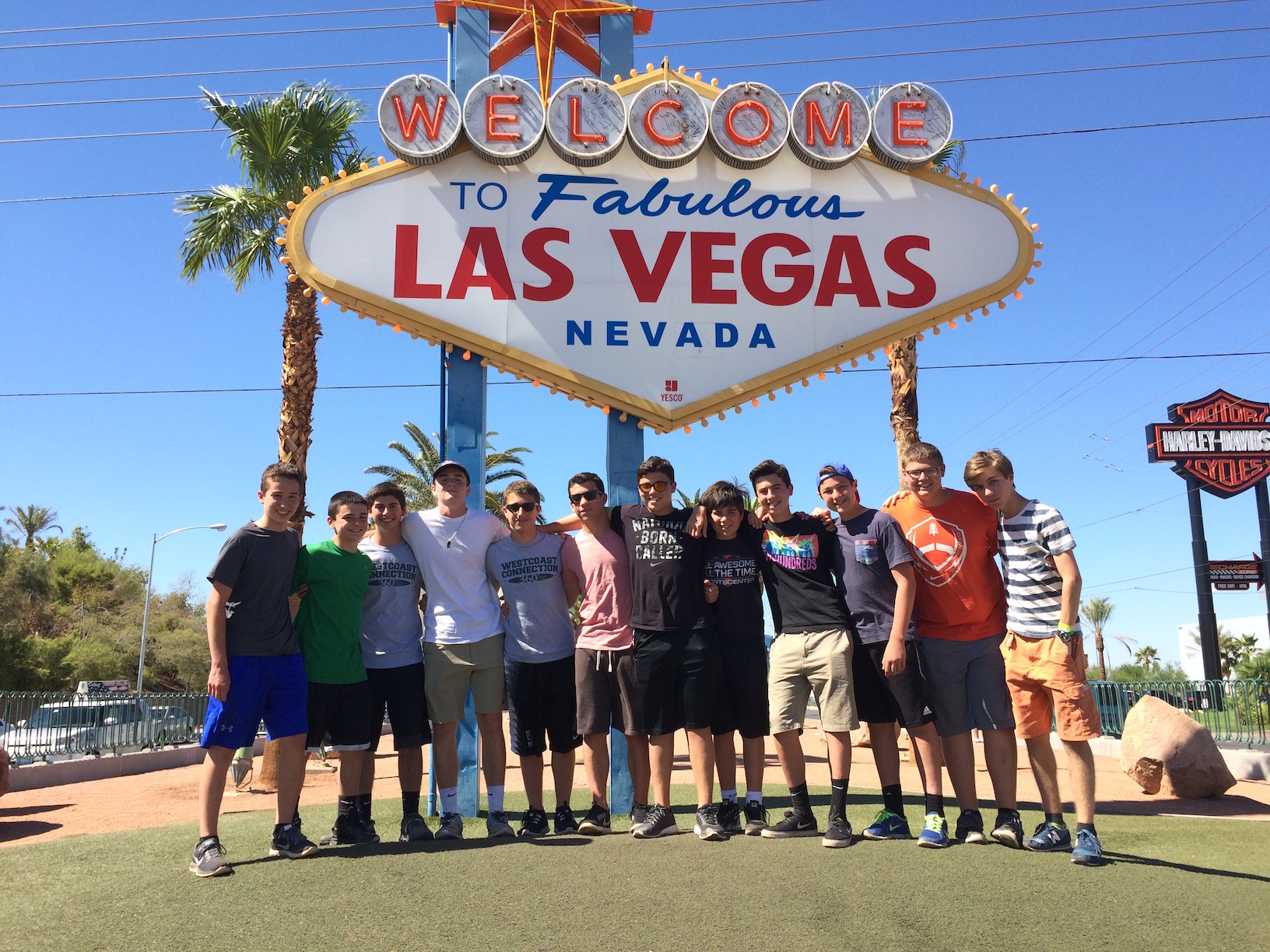 Hola from #ThePeruCrew!
We have had an unbelievable first week in Peru!  After arriving in Lima late Friday night and early Saturday morning, we all slept in and ate a delicious breakfast at our hotel.  We immediately began to break the ice and form our family of 22 through a round of Human Bingo, which allowed us to learn more about each other. In the afternoon, we ventured into Lima for a tour of the city and the catacombs. Our tour guide was very informative and we learned a lot about the history of Peru.
Sunday we were up bright and early to fly to Iquitos, which is the largest city in the Peruvian Amazon. Fun fact about Iquitos: it is only accessible by boat and by air. We began our first community service experience in the impoverished neighborhood of Belen, which is nicknamed the "Venice of the Jungle" because houses are built on wooden stilts; when the water rises January through June, community members trade their motorcycle carts in for boats as their mode of transportation.
One group of us helped children pick up garbage underneath a school building, while the other group painted the interior.   Some of our trip members enjoyed speaking Spanish with the local children who were helping them.  Once the walls were painted with cheerful colors and trash bags were filled with litter, we walked to a larger school in the area where we had the opportunity to play games with the local children.  Trip members and the children had so much fun dancing, jumping rope, and playing together. After dinner, when we returned to the hotel, we did our first community service debrief, where we sat in a circle and shared our thoughts based on a 'weather report.' Trip members enjoyed the opportunity to hear each other's thoughts and ask more questions about the community where we served.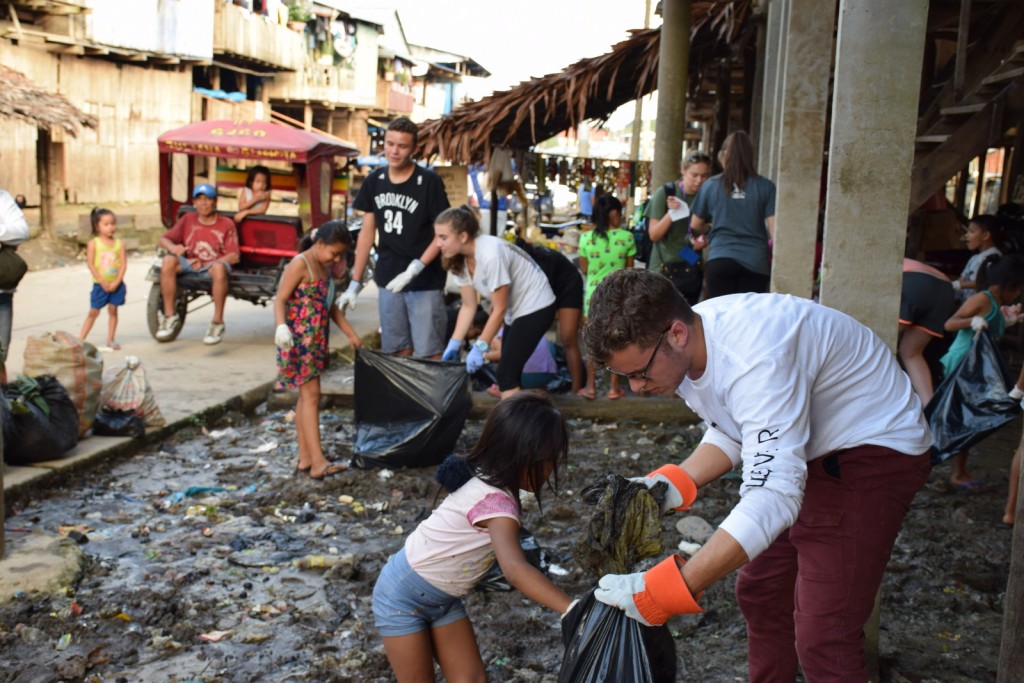 On the 4th of July, we made our way deeper into the Amazon. We traveled by speedboat on the Amazon River to the Muyana Lodge. Throughout the boat ride we had an awesome sing along with the speakers that one of our trip member's brought. We were greeted with a decorative 4th of July banner and two beautifully decorated cakes that made our first meal even more special. After eating lunch and getting settled, we headed off in two groups with our Amazon guides for an afternoon hike to look for monkeys, birds and insects.  Trip members enjoyed learning more about the local flora and fauna on our first adventure in the jungle.
For dinner, we had another tasty meal at the lodge, and celebrated trip member Hallie's birthday with a yummy cake, candles, balloons, and streamers. She was incredibly surprised and excited to celebrate her 16th birthday in the Amazon!  After dinner, we went on a night boat excursion to search for nocturnal animals. We spotted caimans, which are similar to alligators and crocodiles, but much smaller.  Trip members were impressed by our guide's ability to catch wild caimans and snakes with their bare hands.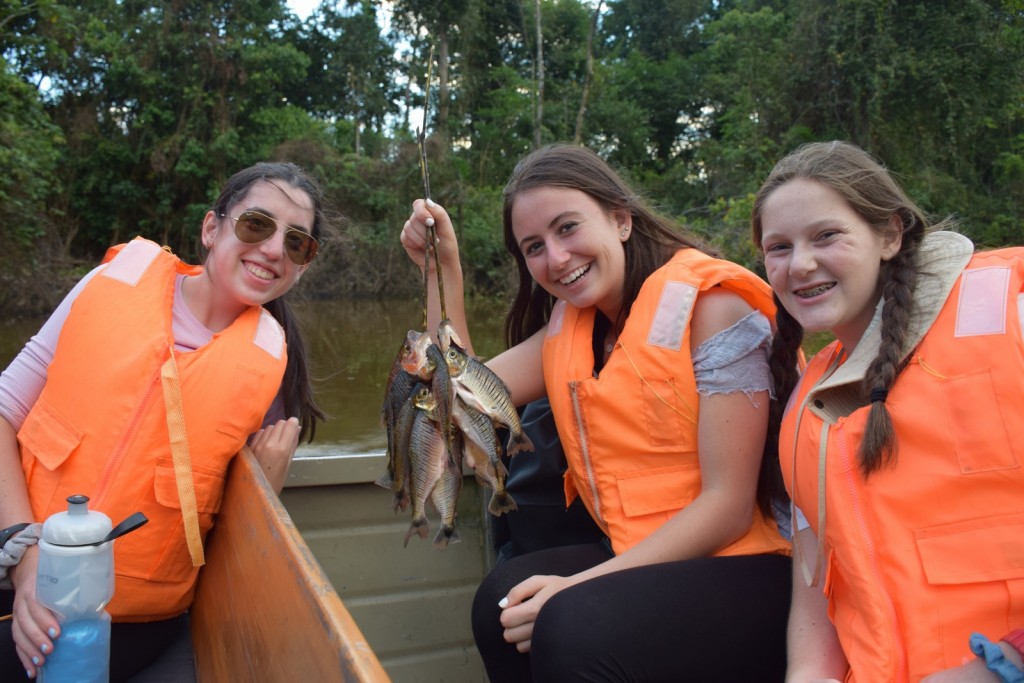 Tuesday morning we took another boat excursion to search for daytime wildlife! With the help of our guides, trip members spotted all sorts of creatures from macaws to monkeys to bats to sloths.  In the afternoon, trip members had the opportunity to relax at the lodge and paddleboard, canoe and kayak in the river. Later, we divided into our 'Trip Families' to fish for piranhas. Trip members had a lot of fun trying to catch the fish, and were very excited to learn that they could keep the fish they caught to try at dinner. After our big day of outdoor adventures, we played Feats of Strength, where trip members competed in various games from singing the alphabet backwards from Z to A, getting Oreos in their mouths from their foreheads, brainstorming as many Spanish words as possible that are associated with Amazon, and so much more.
Day 6 was another day of service, where we traveled by boat to the Amazonian community of San Juan de Yanayacu.  Upon arriving, one of our guides gave us a brief tour of the small community where we had the opportunity to walk around the village and learn more about the lifestyle of the local villagers.  After our orientation, the morning was spent painting the entire interior and exterior of their school building.  Within three hours and with lots of teamwork, we completely transformed the school building with a bright, fresh coat of paint. The community expressed their gratitude with lots of smiles and 'thank yous.' After lunch at the lodge, we returned for an afternoon of volleyball, soccer, Frisbee, and lots of Spanish conversations with the local children.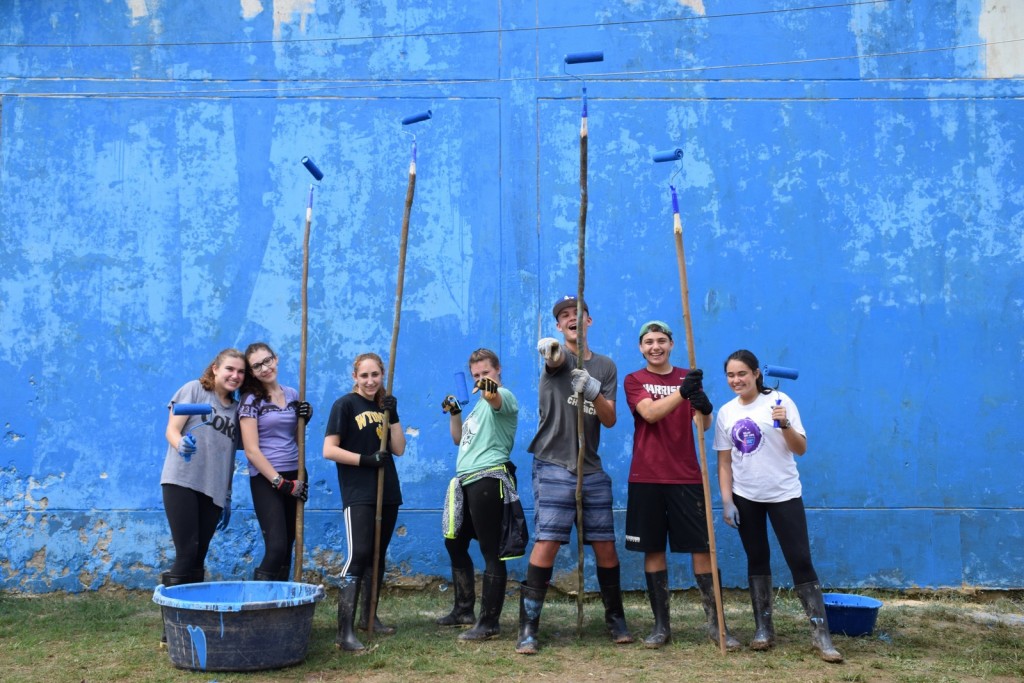 Our last morning in the Amazon was spent in the river with pink and grey dolphins. From the moment trip members jumped into the water, they shared lots of laughs and jokes as they enjoyed the cooler, refreshing temperature of the Amazon River. Just meters away, dolphins swam in all directions and trip members watched in awe every time a dolphin surfaced. The boat ride back to the lodge was beautiful as we watched thousands of herons fly around us, as our boat approached them. One trip member even commented that it felt like we were part of a desktop screensaver, when thousands of birds flew above the water surrounded by the greenery of the Amazon jungle.  
Today we are off to Ollantaytambo for three days where we'll raft, visit local markets, serve a local community by forming adobe bricks, and much more!
Saludos y ¡Hasta Pronto!
The Westcoast Blogger
Are you interested? Check out our 28-day trip for community service in Peru and get involved by its history, culture and people.