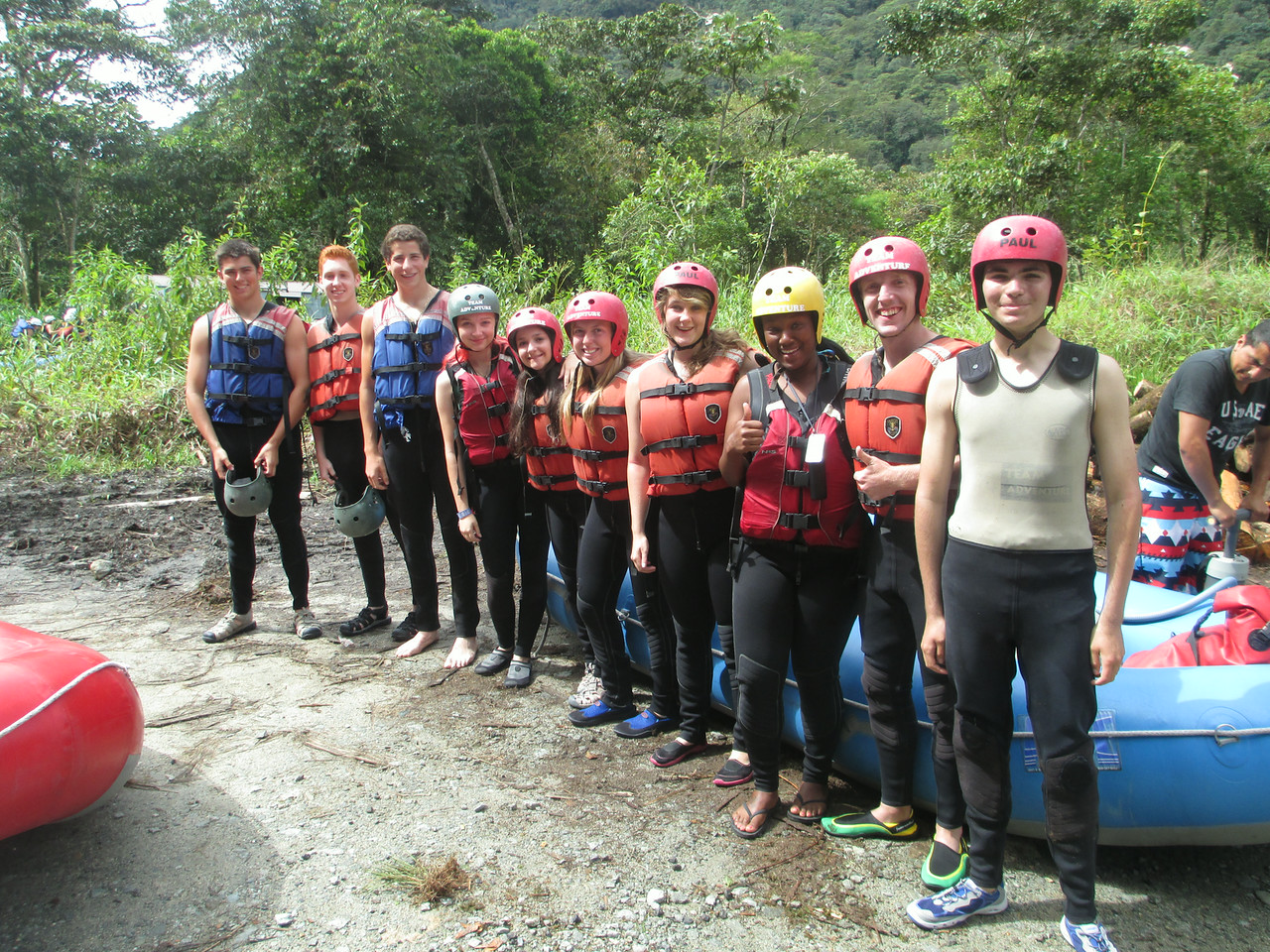 With a blink of an eye another few days have flown by! We have had some pretty once in a lifetime experiences in the past few days. Last Wednesday we woke up bright and early in Latacunga so that we could try to hike Cotopaxi… one of the tallest active volcanos! For the group of fit trip members we have, the hike did not look intimidating at all, when you factor in the altitude though it is a whole other ballgame! We were up so high that in the beginning of the hike we would stop and take a break every 15 steps or so… by the end we would stop every 3 or 4. Through the thin air and the chilly we still had a lot of people make it to the destination. TD Joelle led Anthony, Michali, Danny, Sammy, Gabby, Remy, and Leslie all to the finishing spot! After some pictures were snapped and the moment was cherished it was time to come back down, which seemed like a walk in the park compared to the way up. In the evening after we returned to our hotel, we all relaxed around the bonfire to make some smores and watch shooting stars on the perfectly clear night. Anthony was the first one to spot a shooting star and Michali took a few extra minutes to appreciate the beauty with TD Joelle and TL Mikey once the other trip members headed inside.
When we awoke on Thursday it was time for us to partake in the service portion of our Latacunga stop in Ecuador. We traveled out to a rural area in Ecuador to help out a local school. The big project that we completed was repainting the school bathroom, while also putting in a new toilet and sink. Gabby, Sammy, Leslie, Remy, worked hard scrapping the walls and sanding them before being the first to take out their paint brushes while Matt, Danny, Michali, and Anthony filled the holes in the walls with puddy, and helped with the installation of the new toilet. All of the trip members worked hard to complete this project. After we finished up the bathroom it was Futbol time! Matt, Anthony, Michali, Danny, and TL Mikey set up a game for the kids to play. The game ended up being pretty one sided but everyone had a great time playing. With all of that hard work throughout the day we all had a good night sleep after our last bon fire in Latacunga.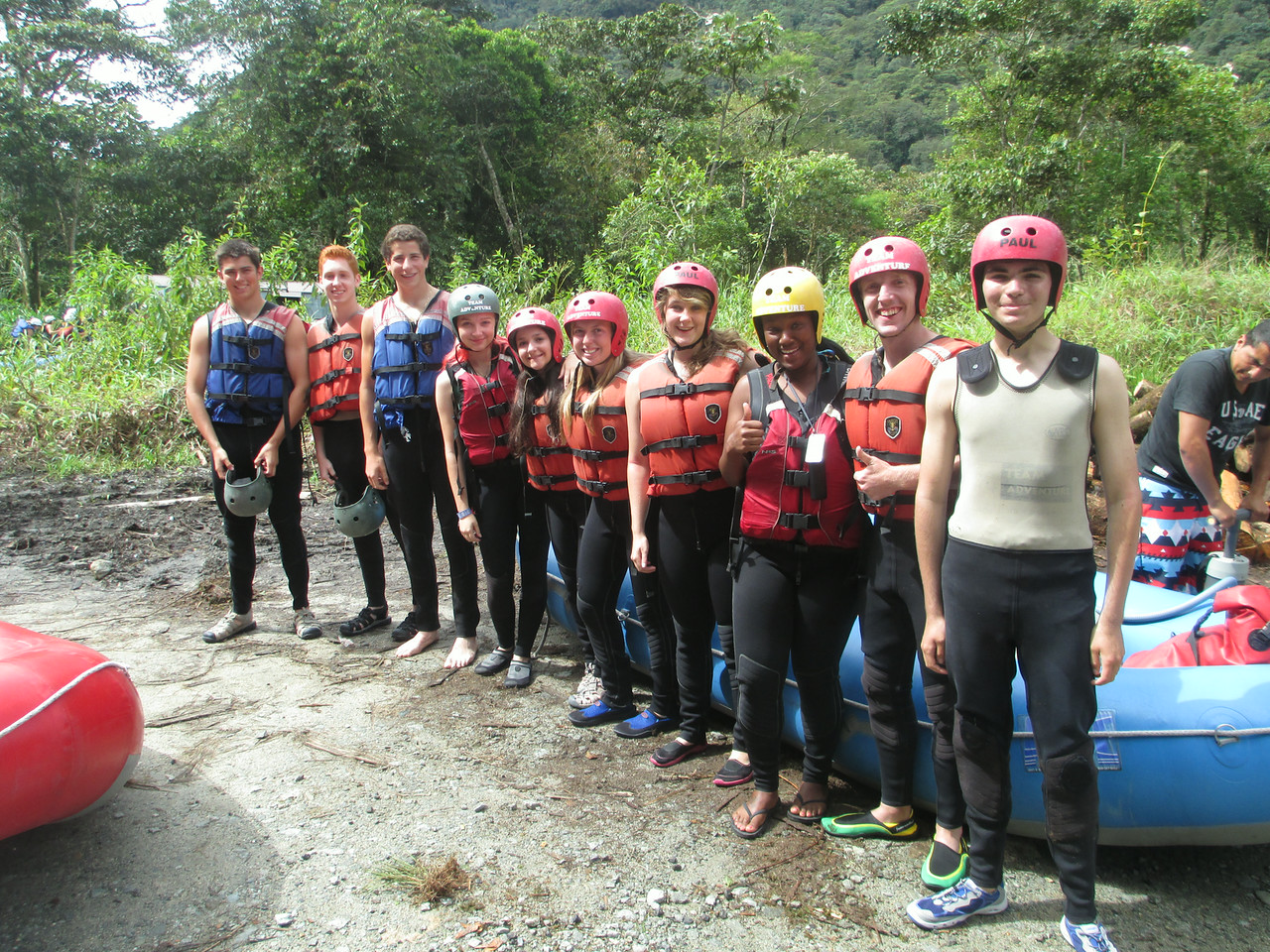 Friday brought us a new city with new adventures. During the day we traveled from Latacunga to Banos. We were all eager and well… nervous to see what Banos was like, seeing how the most common translation of Banos to English is bathroom. Luckily for us, the town was named Banos because it also loosely means hot springs in English, which the city has a lot of. On our first day in Banos we had a chance to really explore the city. When dinner was finished up we also had the chance to explore the night life by going to a local disco tech. We stayed at the disco tech for a little over an hour and by the time we left everybody had shown off his or her moves on the dance floor. We did not stay out too late however, because we knew that we had a big day of rafting coming up.
Once we arrived on the banks of Rio Pastaza we were all eager and excited to get our wet suits on and get rafting down the river. We were split into two rafts. TD Joelle, Anthony, Danny, Michali, Gabby, Remy, and Leslie were in one raft, while TL Mikey, Matt, Sammy, and a Brazilian family were in the other raft. After a safety/paddling lesson by our guides, we pushed off into the river. The adventure was both extremely exciting as well as scenic. Even though we were going with the current the whole time, we all definitely had our work out for the day and had a very relaxing bus ride back to the hotel. With our muscles sore Matt, Leslie, Anthony, Sammy, Danny, and Remy decided it was massage time and headed to the hotel spa for our last evening in Banos.
With Banos now in the rear view mirror along with more than half of our trip, we are all looking forward to our time in the Galapagos Islands as well as our last couple of nights in Quito before returning to all of you. We will see you all soon and we can't wait to tell you about the rest of our adventures!
The Westcoast Blogger