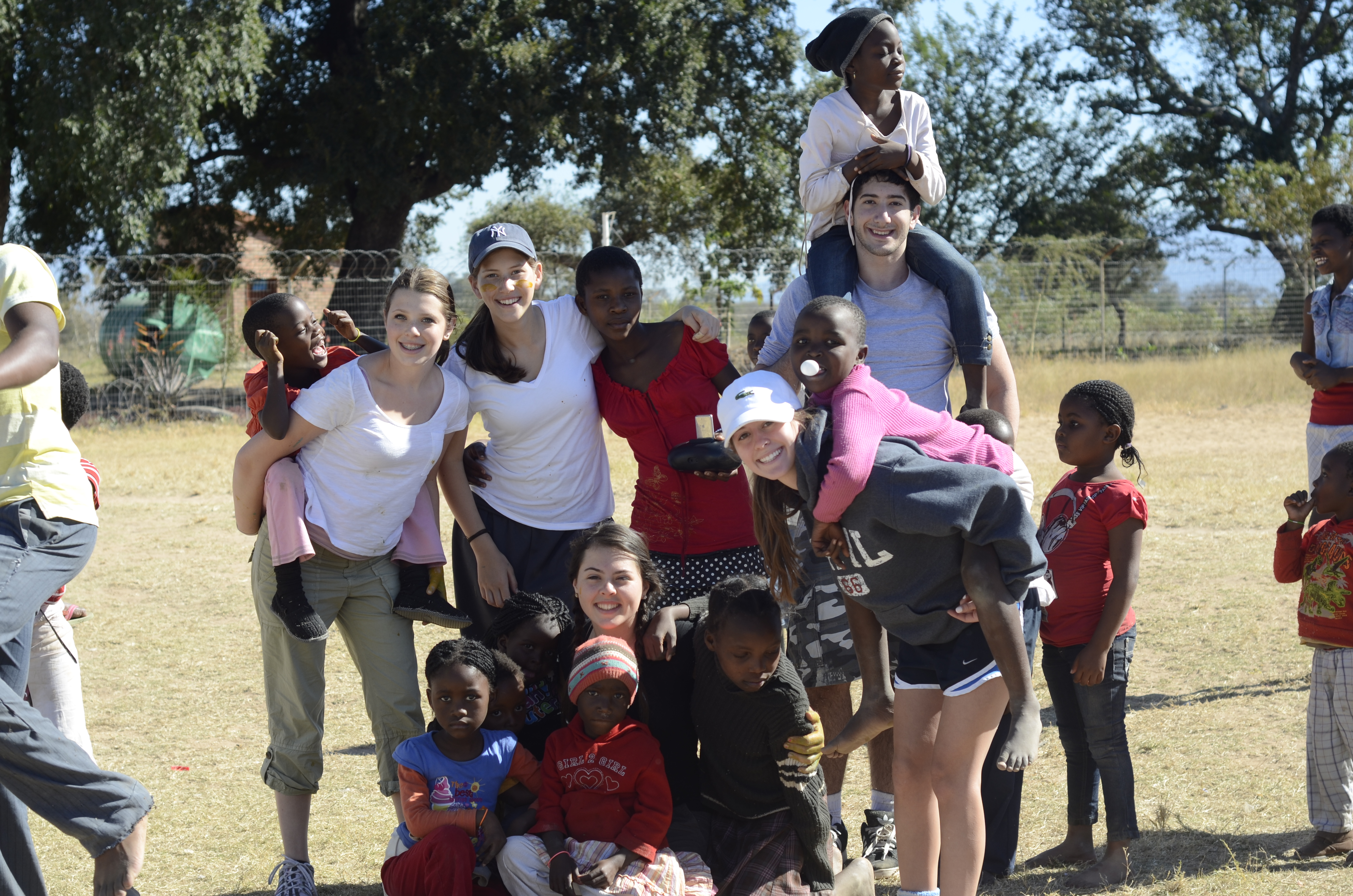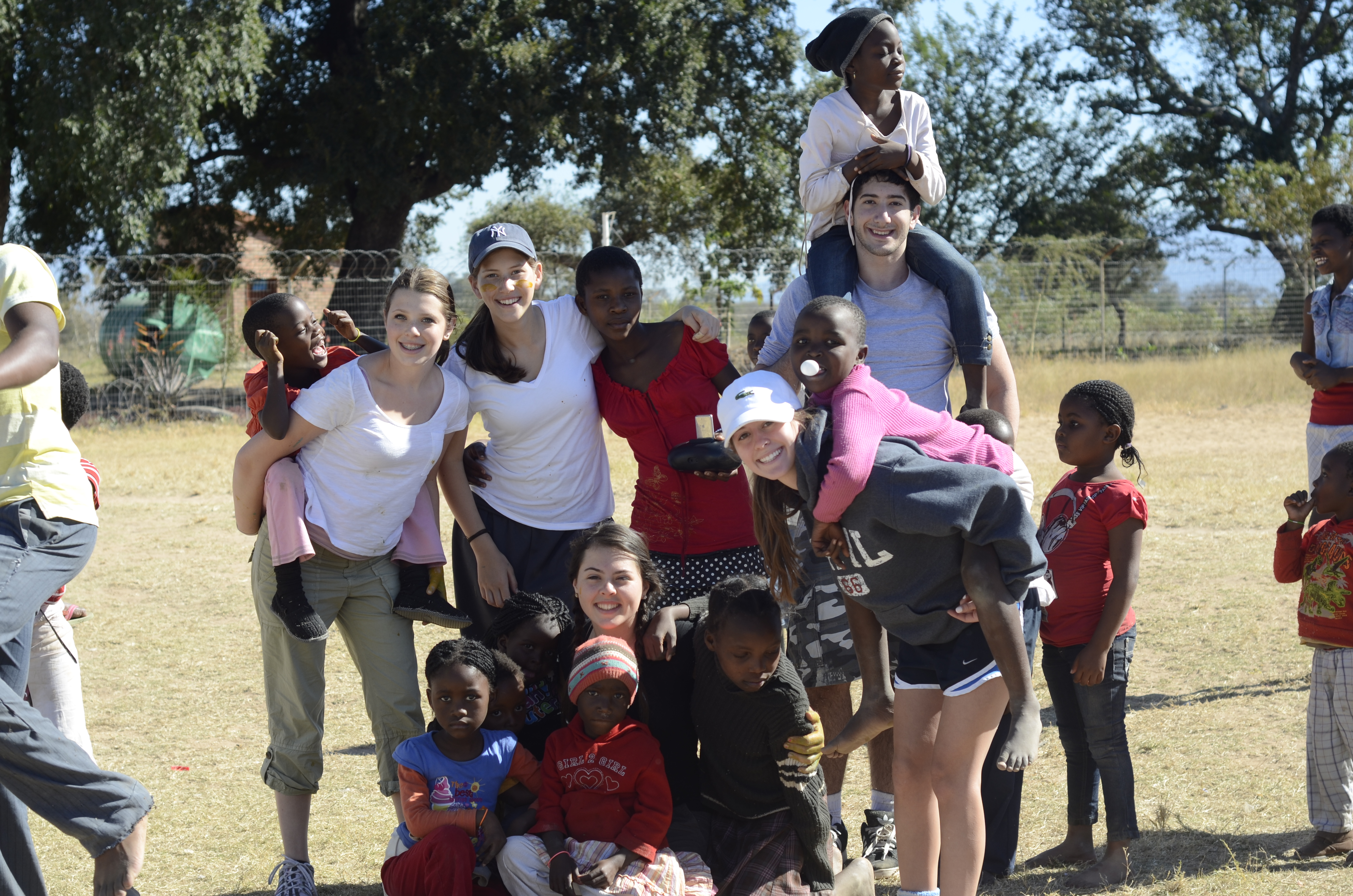 Greetings Africa community service parents,
Our trip to date has been absolutely fantastic! After our plane arrived in Johannesburg we headed straight to the Apartheid Museum where the tour let us stretch our legs and got us all thinking about the culture in which we had just been immersed.  The next day, we excitedly made our way to our lodge on the outskirts of Kruger National Park where Stacie, Emma, and Molly S. were thrilled upon arrival to find their room outfitted with a zebra carpet and the boys were even more excited by their cheetah print chair.
The morning of July 4th we conquered a high ropes course and Melissa conquered her fear of the zip line as we zoomed down an African hillside.  In the afternoon white water rafting was the name of the game. In two person rafts we went down the Sabie River, got a little wet, and had lots of laughs.
Sitting around the bonfire at night we began to wonder just how could this trip get any better? The answer was soon found in our days of service at the local Primary School. Our mornings were spent doing projects to improve the quality of the school. Maggie, Ivy, Stacie, Kate, Ashley, and Melissa painted the outside school walls, Sky, Sean, Scott, Ali, Molly S., and Nicole took charge of the shelf building and put their carpentry skills to work. Alana, Rachel, Jordan, Tessa, Molly M., Emma, and Courtney became known as the "girls that dig it" as they worked in the school's vegetable garden. Throughout the mornings, children from the community would accumulate in the field outside the school grounds, each day we couldn't wait to finish our projects and our lunch so we could go out and play with them, dancing, playing soccer, tag, and singing songs.  Though we were sad to leave the children and school we had grown so close too after many days of service we are proud as to what we've left behind.  Thanks to our group, the school now has a brand new bookshelf, a well-planted garden, two new mango trees, and a primary division with a gorgeous new coat of paint complete with flowers, handprints, and even some hand painted animals. The principal of the school was ecstatic with what we'd done for his school. He was genuinely appreciative of all our efforts.
After finishing our 4 days at the school, we were able to all help out to make a stew/soup to feed the over 50 kids who visit the clinic in the village. Our group really connected with the kids and we were able to learn about what the nurses at the clinic do to help in the village. Ivy and Ashley had a hand in the kitchen, while Jordan, Molly M and Tessa helped to serve each of the children.
A definite highlight from our time in South Africa included meeting Jessica the Hippo, the world's most famous hippopotamus! Everyone had the opportunity to feed her beets and sweet potatoes. A few lucky volunteers, Ivy, Nicole, Courtney, Kate, Molly S., and Emma, also fed Jessica from a bottle. Ashley, Sean, Scott, Molly S., Anna, and Jeff were also brave enough to place a finger inside her mouth between the two mammoth front teeth. Jessica wasn't the only hippo that we were able to see as an evening game drive permitted the group to see a myriad of wild animals, hippos among them. Rhinoceroses, zebras, impalas, cape buffalos, kudu, and most exciting of all, a giraffe were all seen grazing in the wilderness.
As exciting as it was to see these animals from the safe confines of a moving vehicle, our visit to the Moholoholo Rehabilitation Center allowed everyone to get up close and personal with a number of these animals. This outing began by petting a cheetah, and caressing the neck of a vulture. We then got within inches of the king of the jungle, a massive lion and it's female counterpart. We watched a feeding of some wild dogs and a hyena. Before we left, we also had a photo shoot with a baby rhinoceros. Boldly, each and every one of us approached it and rubbed its rough back.
Animals weren't the only large majestic offerings of Africa that we've experienced, we also visited Blyde Canyon which we learned is the world's third largest canyon. Ali and Alana may have gotten their best pictures of the trip here as the site was truly breathtaking. More stunning pictures were taken when we crossed a bridge into Potholes National Park. Here we stood on rocks high above a flowing stream.
Leaving the park, we got our first taste of an African market.  After a trip back to Johannesburg and a quick flight to Zambia, we were all incredibly amazed by the truly breathtaking Victoria Falls. We braved the torrents of rain that are a result of this world wonder, and got some amazing group shots at the Falls. We were even lucky enough to see a rainbow in the afternoon light and then tried our hand at bartering in the local market. It was definitely a highlight!
We celebrated Tessa's birthday in Livingstone and we figured, what better way to spend a birthday then on the back of an elephant? The group headed off bright and early and were able to spend the morning interacting and riding these HUGE animals. Once we were introduced to our elephant, we all hopped on board and had a trek across plains and even through part of the Zambezi River. Tessa chose the biggest elephant named Bop, and he kindly knelt down on the ground for her to get on his back! After our hour-long trek, we were able to feed, interact and even sit on the front knee of our new elephant friends.
The evening saw us enjoying a sunset cruise down the Zambezi, complete with wild hippo and elephant sightings. The crew had some Titanic inspired photo shoots and we all agree that the sunset was one of the most beautiful any of us has ever seen.
Stay tune for more updates on our amazing adventure in South Africa!
Lots of love from Africa!
The Westcoast Blogger