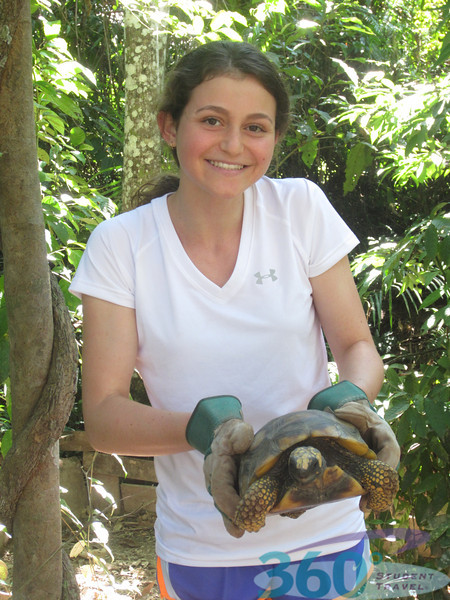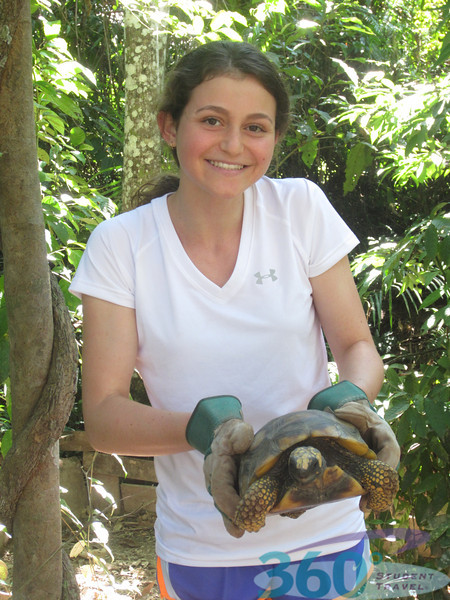 ¡Hola, padres!
We are presently passing time in Puerto Maldonado.  We arrived yesterday after our amazing stay in the Amazon where we were introduced to two wonderful guides – Lenny and Daniel.  They greeted us and helped us board our boat which we took to our lodge.  On our boat trip, we ate a "packed lunch" which was served on a large leaf with a bite-size banana.  Lenny and Daniel helped us spot some howler monkeys and capybara (which is the largest rodent in the world) on the way.
Nosotros estamos pasando tiempo en Puerto Maldonado.  Llegamos ayer después de nuestro tiempo en el Amazon donde conocimos dos guias maravillosos – Lenny y Daniel.  Ellos nos conocieron y nos  ayudaron subir el bote que nosotros montamos a la cabaña.  En nuestro viaje de bote, nosotros comemos almuerzo en una hoja grande con una banana pequeña.  Lenny y Daniel nos ayudaron ver algunos monos aulladores y capybaras (cuales son los roedores mas grandes del mundo) durante el viaje.
Once we arrived at the lodge, we got down to business.  Gray and Hailey helped Daniel level some land for a pool that will serve as a turtle conservation project.  To assist with this conservation project, Morgan and Saige made areas where the turtles can rest by digging holes and putting in posts.  On the other side of the project, Roshana and Emma M worked with Lenny to separate and classify seeds for a garden.
Cuando llegamos a la cabaña, empezamos a trabajar.  Gray y Hailey le ayudaron Daniel con una piscina que funciona como un proyecto de conservación para tortugas. Para ayudar con el proyecto de conservación, Morgan y Saige hicieron lugares donde los tortugas pueden descansar.  En el otro lado, Roshana y Emma M trabajaron con Lenny para separar y clasificar semillas para un jardín.
The next morning, we woke up before the sun to try and see some Macaws.  While we were waiting "en silencio," Jake shared some pretzels with our beloved guide Daniel.  Later that day, we took a catamaran on the Tambopata River to catch some piranhas.  Evan and Gray were lucky enough to actually hook some of the shifty species.
La próxima mañana, nos despertamos antes del sol para ver algunas Macaws.  Mientras nosotros esperábamos en silencio, Jake compartió algunas galletas con nuestro guía Daniel.  Después, nosotros montamos en un catamaran en el río Tambopata para capturar pirañas.  Evan y Gray tenían suerte para capturar algunas de los especies.
Once we finished up our service project, we had time to learn how to make "pulseras" or bracelets with our guides.  Some of us, like Sam R and Matt, also made their own "velas" or candles.  We crafted until the sun went down and were then treated to an Amazonian barbeque with grilled bananas and chicken kebobs.
Cuando terminamos el proyecto de servicio, tenemos tiempo para aprender como hacer pulseras con nuestro guias.  También, Sam R y Matt, hicieron velas.  Nosotros hicimos hasta anochecer y después comimos en un barbeque del Amazon con bananas y kebobs de pollo.
On Monday morning we said "gracias" and goodbye to our lodge in the jungle and began our journey to Puerto Maldonado.  Today, we are working on an animal rehabilitation shelter.  We will update again with our experiences in this endeavor soon!
El lunes nosotros dijimos gracias y adiós y empezaron nuestro viaje a Puerto Maldonado.  Hoy estamos trabajando en un refugio para animales.  ¡Nosotros vamos a escribir otra vez con nuestras experiencias en este proyecto muy pronto!
Love from Perú
 The Westcoast Blogger
Do you want to improve your language skills and also be a volunteer? Prepare yourself for our one-of-a-kind 28-day Spanish immersion program for high school students in Peru and learn more about its culture and nature.