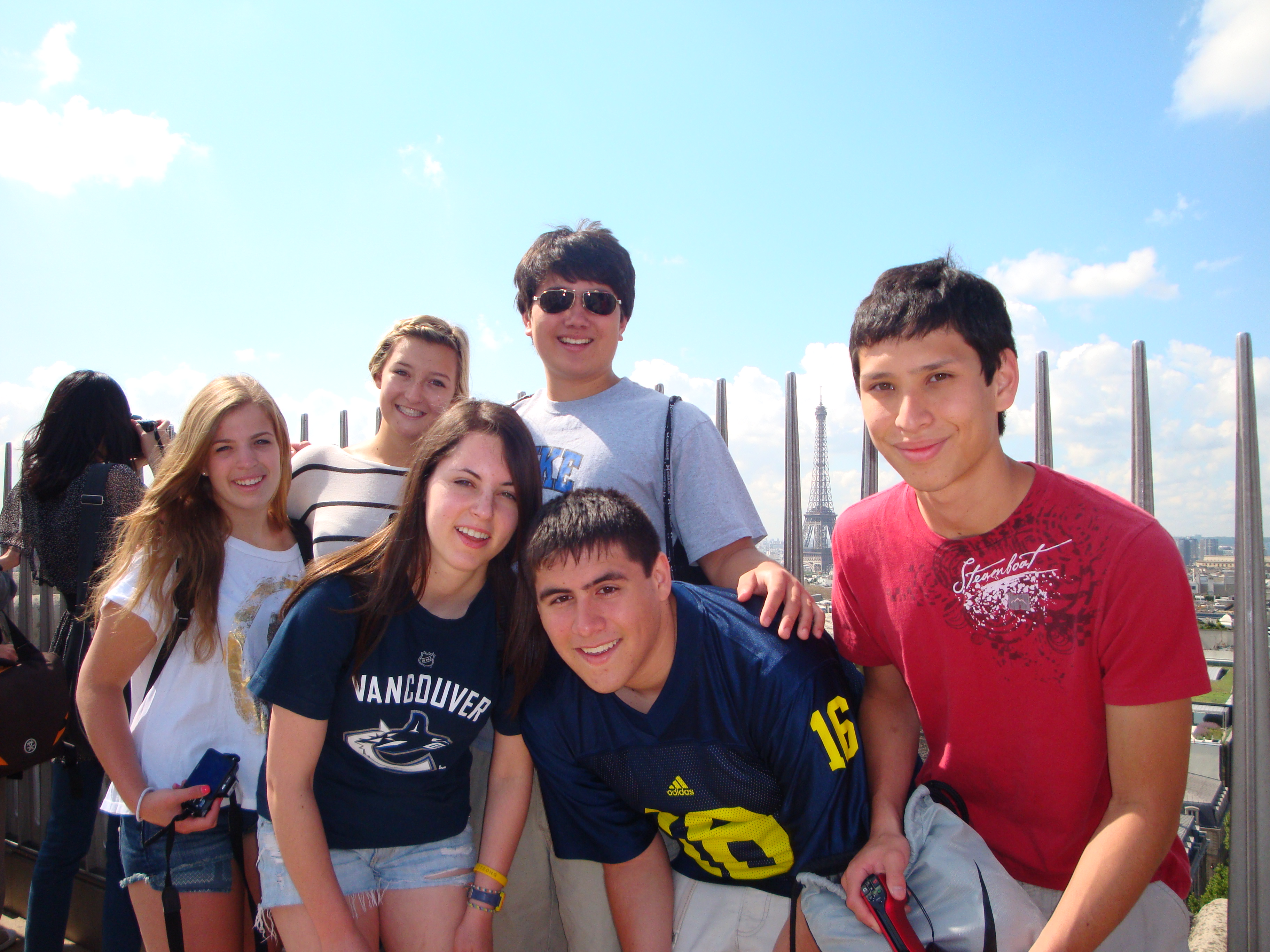 Arc de Triomphe, Champs d'Elysées, Louvre, Jardin de Luxembourg, Latin Quarter!
Paris was absolutely beautiful; the weather has been perfect! To start our day off, we went over to l'Arc de Triomphe, an incredible monument in the middle of a staggeringly busy roundabout in Paris. To take advantage of the views that it offers, you first have to climb up the stairs placed in the pillars. This definitely turned into a journey to one of the great vantage points that Paris has to offer.
From the summit, one can gaze at the roundabout that circles our perch. Alex, Adam and Ben seemed to be particularly amazed at the flow of traffic that somehow made its way around the Arc. Ben took some great video of the cars circling with the motorcycles zigzagging their way through like Frogger experts. You're also treated to a great view of the Eiffel Tower, which was where we got some of those classic shots of people 'holding' the Eiffel Tower from its tip. Alex then marveled at the regulations for being on top of the Arc, No Food, No Speedos, No Smoking… Yup, no Speedos.  It was a good thing, as a few in our group were debating that morning whether or not to adorn their favorite beach attire for the day. Another great site that you get from this vantage point would be the Champs Elysées, which we were about to walk along. We were told that at night, you see a continuous string of white lights and red lights, representing the head lights and rear lights of the constant traffic that flows along this busy street.
After a quick descent – easier on the way down than the way up – we stopped for a couple of group shots so that we would all never forget the wonderful monument. We then began our stroll along the Champs Elysées, the 'Rodeo Drive' of Paris, if you will. Sydney F, Andy, Ben, Matt W, Alex, Aaron, Eric, Baui, Justin, Adam and Robby all marveled at the vast amounts of galleries, boutiques, cafes and restaurants this long street has to offer.
After some free time to roam around in groups, we started our walk to the famous Louvre museum. This was a tour that many of us will never forget, not just due to the incredible works of art that we were treated to, but also thanks the incredible tour guide, Janice, that we had. She had an incredible British sense of humor that had us laughing at almost everything she said. She was also very knowledgeable about the extensive collections that we were treated to. The Louvre also is the home of one of the most famous paintings in the world; The Mona Lisa.
After our tour, we made our way over to the Jardin de Luxembourg, which is a beautiful, well-kept park, with long pitches of grass to lay down on and just hang out. Xander, Eric, Tyler and Matt F quickly pulled out a Frisbee, while Ben, Adam and Alex pulled out a hackeysack to play. Then, Sydney E decided we all could use some stretching time and had a nice yoga session.
After a little time to rejuvenate in the park, we walked over to the Latin Quarter to dine.  What an interesting area of Paris! The Latin Quarter is filled with restaurants with delicious cuisine from all over the world.
We ended our day on an evening boat ride along the River Seine. Trip members were captivated by the unbelievable view of the City of Lights. What an incredible and unforgettable way to end our day!
 
Next up, Musée Rodin, Napoleon's Tomb, Musée D'Orsay, Café Rive Droite and Traveling to Tignes!
Our last day in Paris found us discovering the treasures of the Musee Rodin, home of the famous "Thinker" statue and Napolean's tomb. We then had some time to explore the Musée D'Orsay for lunch and then went inside one of most famous impressionist museums in the world. While they understandably don't allow you to take photographs inside, the experience definitely created a memory that will be etched in our minds for years to come.
After the museums, we headed over to Café Rive Droite where we would dine and have our evening activity, karaoke. It's hard to describe how much fun we all had during karaoke, with everyone going up to the stage at least once, with some going 4 or 5 times. Sydney F was a great surprise to us all when she started belting out difficult songs with a beautiful voice that few of us knew existed until then. A big thanks was given to Matt F and Xander who ran up to the stage to sing long before most of us even knew we were starting karaoke, to get the fun started as early as possible. We had the whole restaurant dancing along as we belted out our songs!
 
The next day we found ourselves making the incredible journey from Paris to Tignes. Tignes is a beautiful mountain town that lies on the French side of the Alps. It is absolutely gorgeous!  Have you ever had one of those drives where you can't help but gaze in awe out the window? This was one of those drives, with switchbacks bringing us up higher and higher into the Alps, with beautiful mountains as far the eye could see. This has definitely been a journey we will not soon forget!
 Stay tuned for more news from our amazing European adventure!!!
The Westcoast Blogger