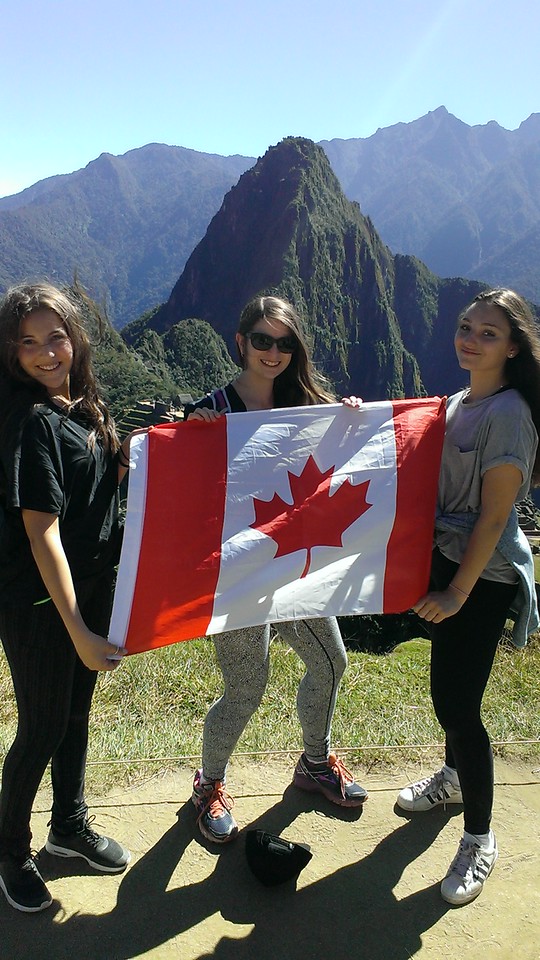 Hola and buenos dias from South America!
We are off on a trip of a lifetime! Our first morning together we enjoyed a lovely American style breakfast in our hotel. Afterwards, trip members had a chance to interview one another and create representative drawings of each other – a great way to start our group bonding.
Later that day, we headed to a local outdoor market for lunch. Some of our girls tried Chica morada -a traditional Peruvian purple corn beverage.
Then it was time for our tour of Lima! Our amazing guide, Andres, took us to the best kept little secret, a delicious churro shop. We indulged in chocolate and cream and caramel churros. Next, we visited St Francis church that includes one of the oldest libraries in Peru that housed many first edition books including the very first atlas.
After our time in the city of Lima, we made our way to the Sacred Valley.  Our group had a chance to stop at a llama/ alpaca farm. We fed and fawned over these adorable creatures and got some great llama selfies.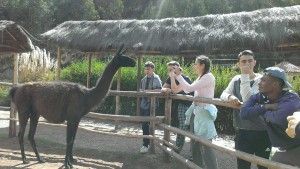 Next, we arrived at our charming hotel and enjoyed a lovely peruvian BBQ complete with a campfire under the stars. Andres took a few moments to  point out the different constellations that we could see and it was a relaxing and bonding experience for all.
The next day our adventures truly began. We had an action packed day full of rapids and mountain biking. Trip members enjoyed the scenic views of white water rafting through the Andes. This time our meal was prepared in the traditional Pachamanca way by slow-cooking the food. While our food cooked some trip members began a game of volleyball while other bonded with our host families children.
Afterwards we went on an exhilarating bike ride through the mountains past rivers and  met some bovine friends.
That night we enjoyed dinner with many food choices at a local restaurant. Some Trip members chose comfort foods like pasta and nachos while other experimented by trying alpaca.
The following morning we had a chance to make a difference with our Adobe brick building service project. Trip members learned the art of forming mud into large rectangular bricks that will be used to build the houses for the local community.
Today,  we had an awe-inspiring hike through Machu Picchu which we learned means "Old Mountain". Walking through history was fascinating and the views were breathtaking. Some trip members hiked all the way to the Sungate, while other chose a shorter hike complete with a meditation from our tour guide, Jeff. We visualised our wishes and allowed the energy of the mountains to engulf us and send us back with good vibes and happy dispositions.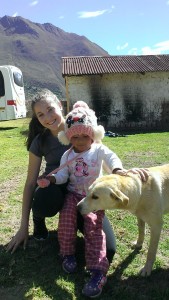 Now we've arrived in Cusco and are looking forward to horseback riding, a tour of the city and some souvenir shopping at the local markets.
Adios for now!
The Westcoast Blogger
 Interested in taking your own Westcoast Connection trip? Learn more about our overseas adventure travel to the Galapagos tours.
Save
Save