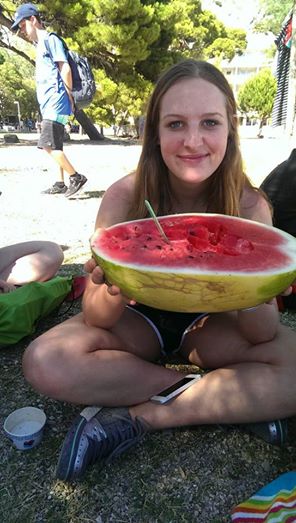 Hello Parents,
Our trip has continued on to the beautiful country of Croatia, where our trip members were anxious to catch some rays, and hit some of the beautiful rock beaches that the landscape is known for.
Before relaxing on the beach, we had to channel our adventurous sides as a white-water rafting activity awaited us. Ben, Justin and Alexa really stepped up for their respective boats, navigating their rafts through the thrilling Croatian rapids. Gaby, Jon, Brianna and Erica even took on the extra challenge of exploring a small cave where they dealt with conditions that included cold waters, tight spaces and poor lighting, in what some of them described as the highlight of their trip. Our afternoon, which was supposed to be a relaxing day at the beach, was anything but for Jacob and Aaron, who were seen making diving catches and leaping throws in a game of "Adriatic Sea American Football".
That evening, after taking some breathtaking pictures on the Split promenade, our stomachs began to rumble. Luckily, Alexis and Taylor managed to scout out a delicious sushi restaurant, where the group had a much-needed feast as a reward for their adventure-filled day.
Our two days spent at the Island of Vis, had its share of adventure as well. A daylong boating excursion brought us to various beaches and caves. Katie was found snorkeling, looking for various types of fish, while Coco, Emily and Caitlyn, tired of rock beaches made the swim from the boat to a beach filled with sand.
That night included a photo-scavenger hunt competition, where Gaby, Alyx, Sydney, Rebecca and Lisa were declared winners. After claiming he didn't know the words to "Twinkle Twinkle Little Star", the girls managed to convince a local resident to sing The Beatles classic, "Yellow Submarine" with them, thus completing their "song with a 'local' challenge." Onwards to Dubrovnik we go, where Josh is beyond excited to check out some of the "Game of Thrones" filming sites.
As our time together winds down, the fun certainly hasn't stopped. We hope you're all enjoying your summer as much as we are.
Till next time,
The Westcoast Blogger
Have we piqued your interest? Explore our 18-day European teen tour and start planning your own adventure with Westcoast Connection. It will be the travel experience of a lifetime!