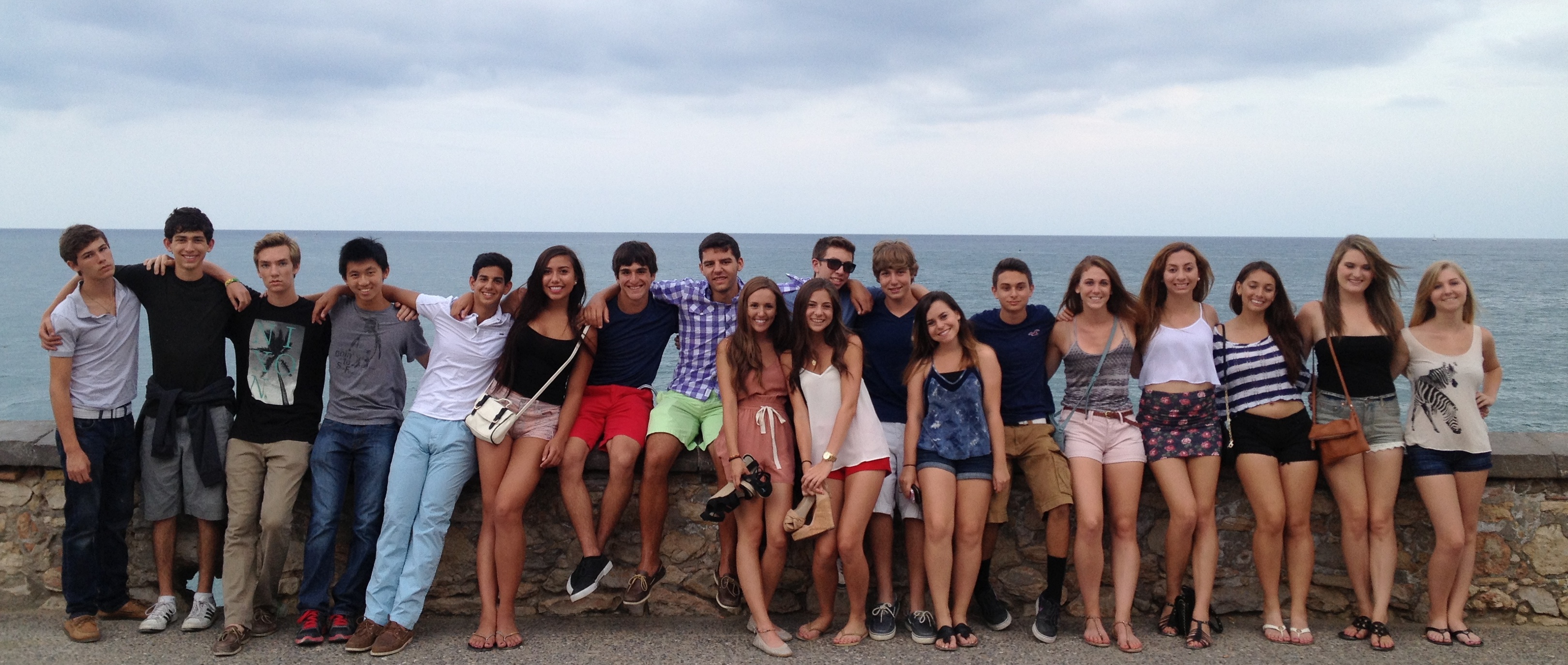 Hola otra vez!
Hello again!
Hemos llegado a nuestra última parada: Sitges. ¡Qué mejor lugar para culminar nuestro viaje! Si creíamos que las playas en Barcelona eran lindas, ¡este lugar es el paraíso! El agua es clara, la arena suave y la brisa relajante. Pero primero, vamos a recapitular nuestros últimos días en Barcelona!
We have reached our final stop: Sitges. What better place to end our program! If we thought Barcelona's beaches were nice, then we must be in paradise! The water is clear, the sand is soft and the breeze is soothing. But first, let's recap our final days in Barcelona!
Y qué mejor actividad para despedirnos de Barcelona que nuestro taller sorpresa de cocina. El lunes por la noche para la cena, le ofrecimos a los estudiantes una clase de cocina española. Ellos prepararon, guiados por un chef profesional, una magnífica cena típica, incluyendo un delicioso gazpacho, una paella cinco estrellas y una divina crema catalana como postre. A todos les encantó esta actividad y pudieron unir sus fuerzas como equipo una vez más para alcanzar la meta. ¡El gazpacho desapareció de las mesas en cuestión de segundos!
What better way to say goodbye to Barcelona than our surprise cooking class. Monday night for dinner, we offered the students a Spanish gastronomy class. They prepared, guided by a professional chef, a typical dinner, including a yummy gazpacho, a five-star paella and a heavenly Catalonian cream for dessert. Everyone loved this activity and they joined forces as a team once again to reach the goal. The gazpacho disappeared from the tables in a matter of seconds!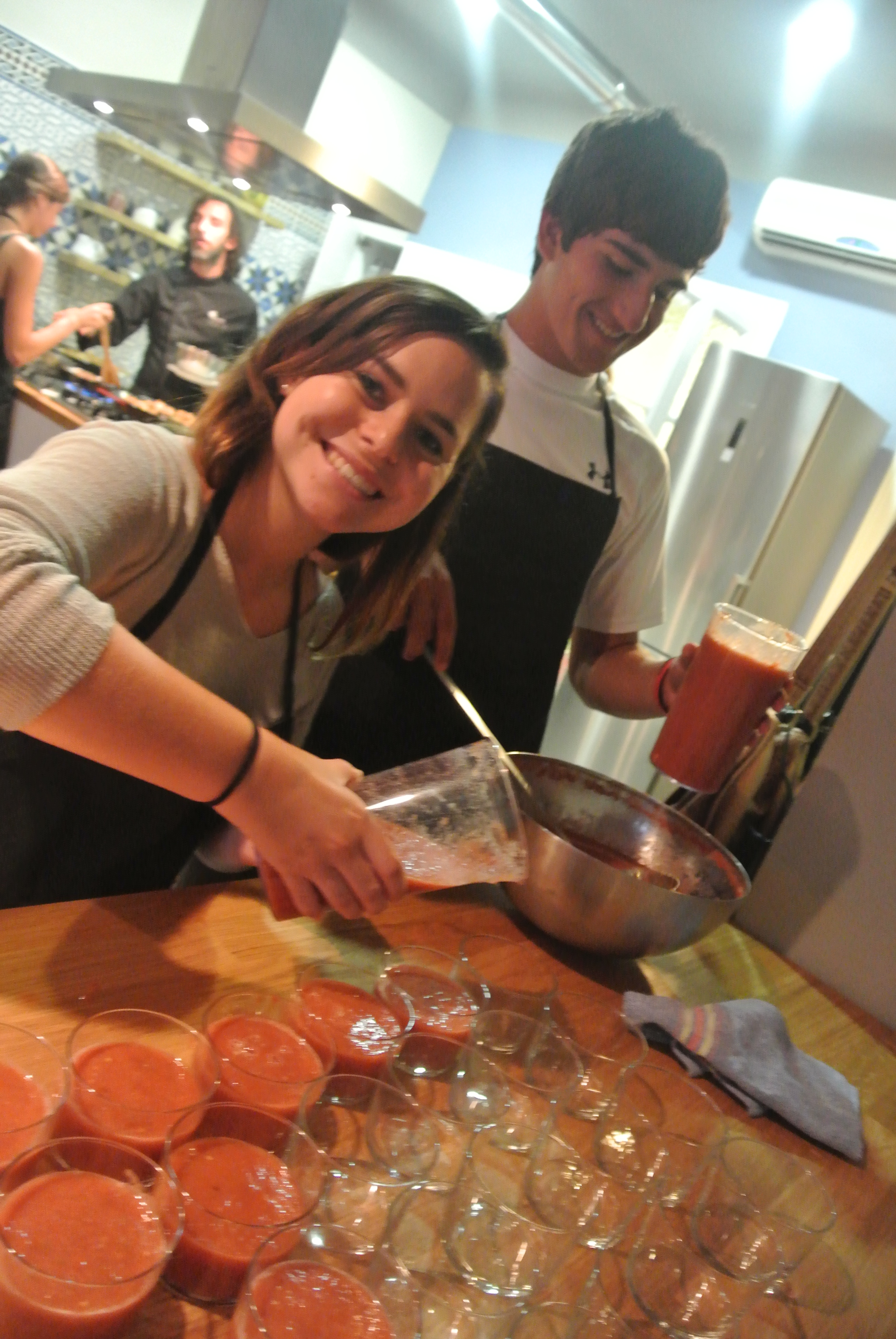 "Fue una muy linda última noche en Barcelona y nos permitió acercarnos como amigos. La comida quedó mejor de lo que esperaba, había una buena dinámica de grupo y me gustó aprender a cocinar platos típicos." (Dayu)
"It was a very nice last night in Barcelona and a bonding experience. The food turned out better than I expected, there was a fun group dynamic and it was great to learn how to make cultural dishes." (Dayu)
El martes viajamos a Sitges. Disfrutamos de la playa por la tarde, paseamos por la ciudad ¡y fuimos a la discoteca local por la noche! Aaron no tuvo pena y demostró sus pases de baile una vez más.
Tuesday we travelled to Sitges. We enjoyed the beach in the afternoon, strolled around town and we went to the local disco in the evening! Aaron was not shy and showed off his dance moves once again.
El miércoles fuimos al parque de atracciones Port Aventura y pasamos un tiempo estupendo. Nos divertimos mucho con las montañas rusas, los diferentes temas del parque y el bello espectáculo que ofrecieron para cerrar la noche. Kayla, Sam y Cierra aprovecharon del parque hasta el último minuto posible.
Wednesday we went to the amusement park Port Aventura and we had a terrific time. We had fun with the rides, the various themes of the park and the gorgeous show they put together to close off the night. Kayla, Sam and Cierra made the most out of the park until the very last minute.
Finalmente, en nuestro último día en Sitges, nos divertimos todo lo que pudimos en la playa. Algunos rentaron hidropedales mientras que otros jugaron tenis de playa, se broncearon o se relajaron en la piscina del hotel ϑ En la tarde, cenamos en el hotel y nos reunimos para una pequeña ceremonia de despedida, donde jugamos juegos y recordamos todos los momentos y experiencias que compartimos juntos como equipo y como amigos. Jugamos Family Feud ¡y la familia de Sasha ganó! Seguido por el equipo de Lindsey.
Finally, on our last day in Sitges, we had all the fun we could at the beach. Some students enjoyed pedal boats while others played beach tennis, tanned or relaxed at the hotel pool.  In the evening, we had dinner at the hotel and gathered for our farewell goodbye ceremony, where we reminisced about all the memories and experiences we shared together as a team and as friends. We played Family Feud and Sasha's family won! Followed by Lindsey's family.
Estas son algunas de las cosas que los estudiantes compartieron:
"¡La pasé muy bien con todos!" (Aarón)
"¡El parque de atracciones estuvo genial!" (Maddie)
"Aprendí a decir mostaza en español ϑ" (Cierra)
Here are some of the things that the students shared:
"I had a great time with everyone!" (Aaron)
"The amusement park was awesome!" (Maddie)
"I learned how to say mustard in Spanish" (Cierra)
Hasta aquí llega nuestra gran aventura en España y esperamos que hayan disfrutado leer sobre ella tanto como nosotros disfrutamos vivirla. Gracias por habernos seguido por este medio ¡y les deseamos un feliz reencuentro con sus hijos e hijas!
It is the end of our great adventure in Spain and we hope you enjoyed reading about it as much as we enjoyed living it. Thank you for following us here and we wish you a happy reunion with your sons and daughters!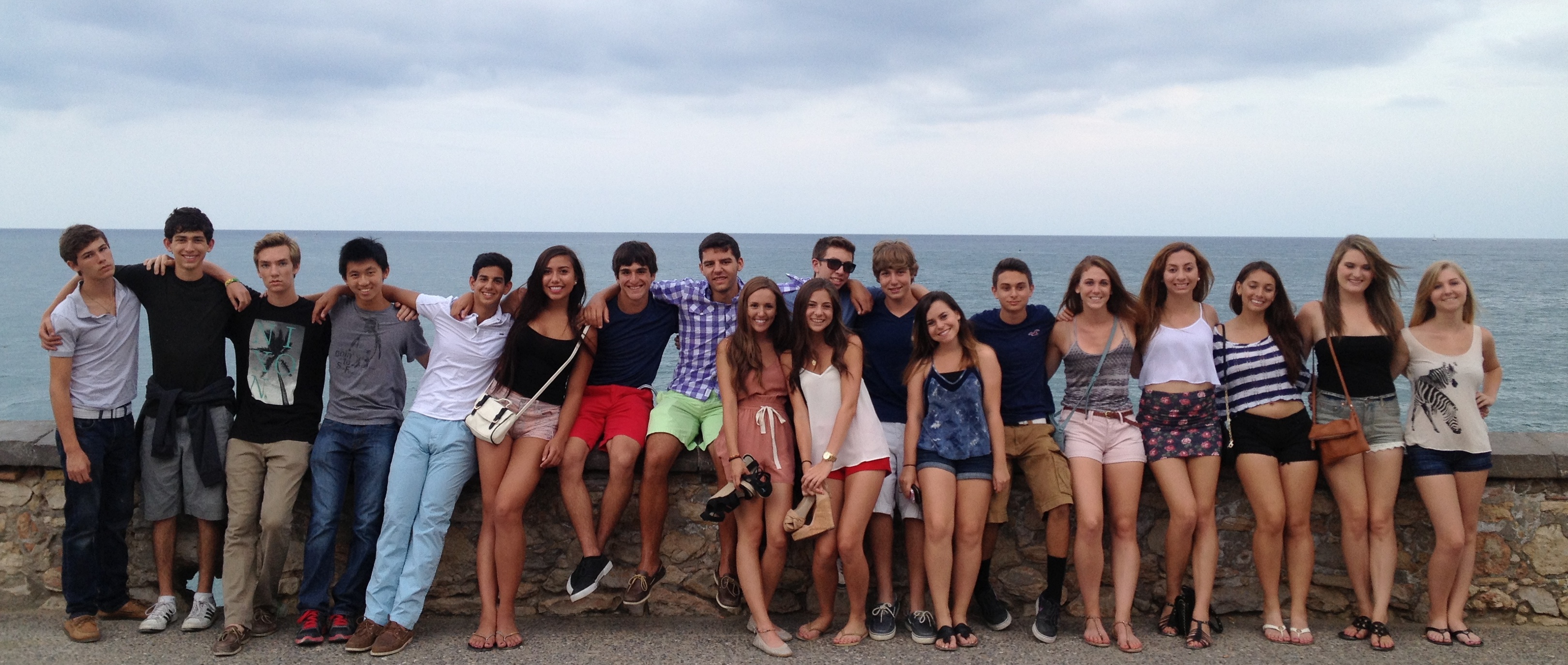 ¡Adiós!
Goodbye!
The Westcoast Blogger
Have we piqued your interest? Explore our 21-day and 28-day tours and pre-college study abroad summer programs to Barcelona. It will be the travel experience of a lifetime. Start planning your own adventure with Westcoast Connection today!