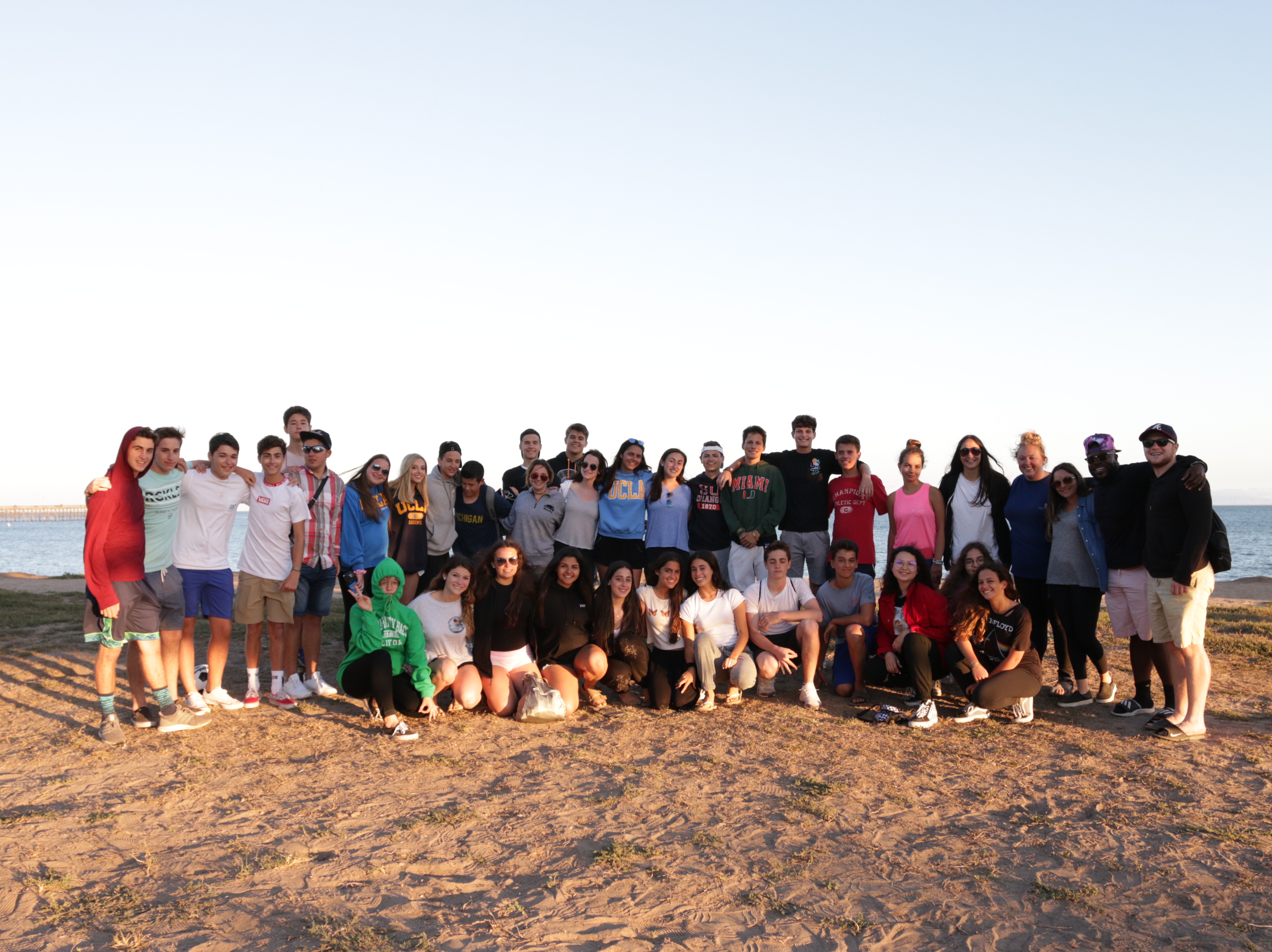 Scene 1 – Raging Waters Water Park
We made our way to Raging Waters Water Park where we enjoyed an amazing day on the slides. From tubes on the lazy river to the wave pool and everything in between, there were smiles all around. What a great way to spend our day in the sun!
Scene 2 – Santa Barbara Harbor
Once we settled into our dorms in Santa Barbara, we headed to the beach for a delicious barbeque organized by UCSB. The next morning, we went to the harbor for sea kayaking. We saw some sea lions on a buoy and learned about the different animals in the area. Did you know that pelicans can hold up to two gallons of water in their mouths? That afternoon, students were able to control their own surrey bikes on a path along the beach. It was an active day, to say the least!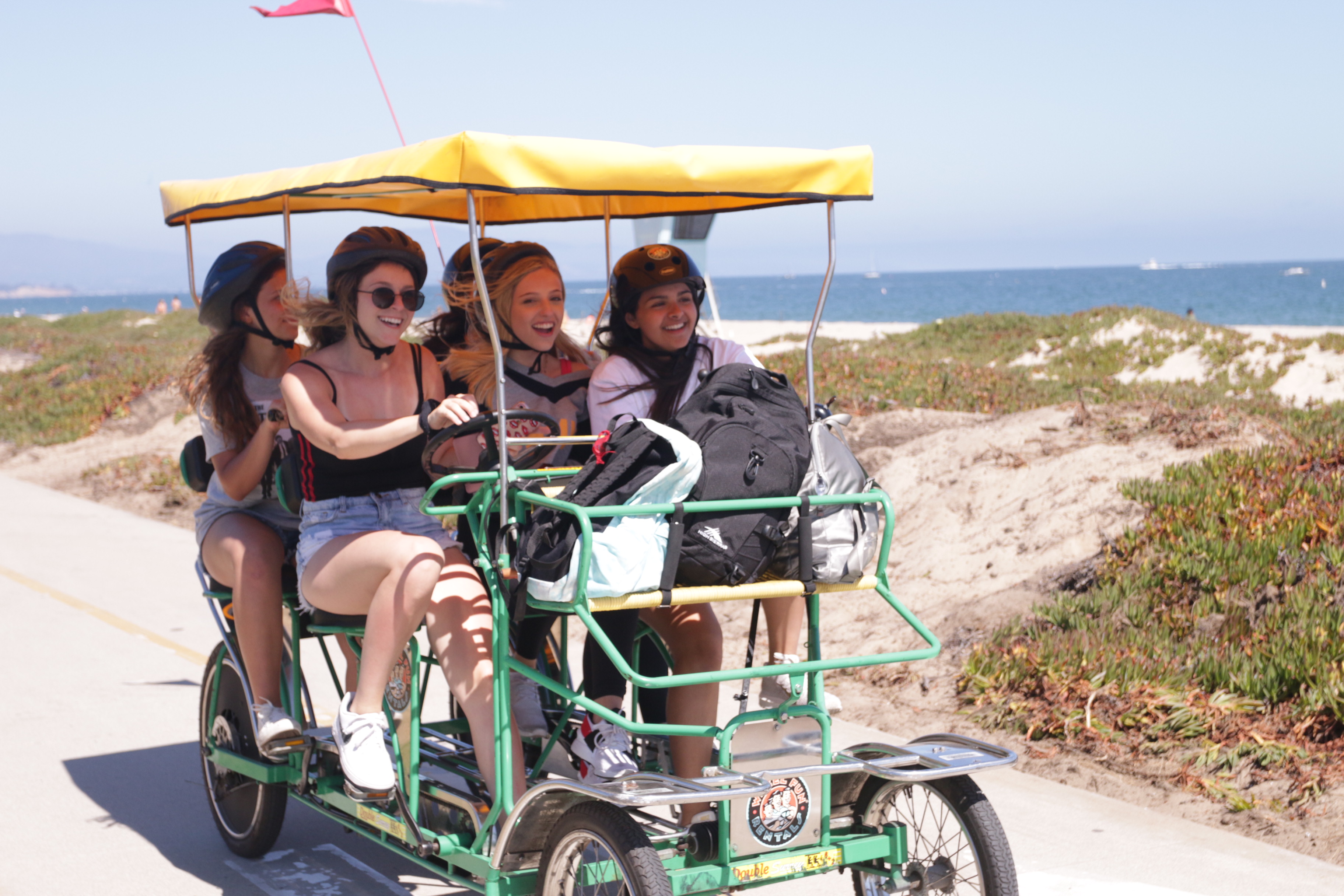 Scene 3 – UCSB
We were given the opportunity to have a very informative discussion with a college advisor at UCSB. He explained the application process for all of the UC schools, admission requirements, and he even spoke about student life in Santa Barbara. We then got to tour the campus and students had the chance to ask any questions they had to a current UCSB student. 
Scene 4 – San Francisco 
Following a beautiful drive up the coast, we arrived in San Francisco! In the evening, we rode a cable car through the streets of downtown San Fran and got off in front of a Chinese restaurant where we enjoyed a nice family dinner! We were so excited to see the "Painted Ladies", the famous colorful houses on the hills.

Scene 5 – Golden Gate Bridge
We toured Stanford University's beautiful campus where we saw the library, Memorial Church, and of course, Hoover Tower! We then headed to the Golden Gate Bridge, took some awesome photos, and even saw some seals in the water!
Scene 6 – Alcatraz and Ghirardelli Square
The group then visited Pier 33 where we hopped on a ferry to Alcatraz Island and learned about the history of the prison. We saw the recreation yard, the control room, and we were even able to step inside a real cell. Did you know that prisoners used spoons to dig holes for their escape? Overall, it was a super interesting morning! 
For lunch, we headed to Pier 39 where most of the students enjoyed clam chowder in Boudin's famous sourdough bread bowls. After lunch, we headed to Ghirardelli Square to indulge in some chocolate. It was a great day for our taste buds!
Final scene
On our final night, we had a community circle to reflect on our time in California as a Program 93 family. After four amazing weeks, our pre-college experience has come to an end. We are sad to say goodbye to our new friends but we are leaving with memories that will last a lifetime.

Cut. Roll credits.
The Westcoast Blogger 
Do you want to learn, prepare yourself for college, and have fun at the same time? Check out our 28-day pre-college enrichment programs. To browse all of our programs, click here.