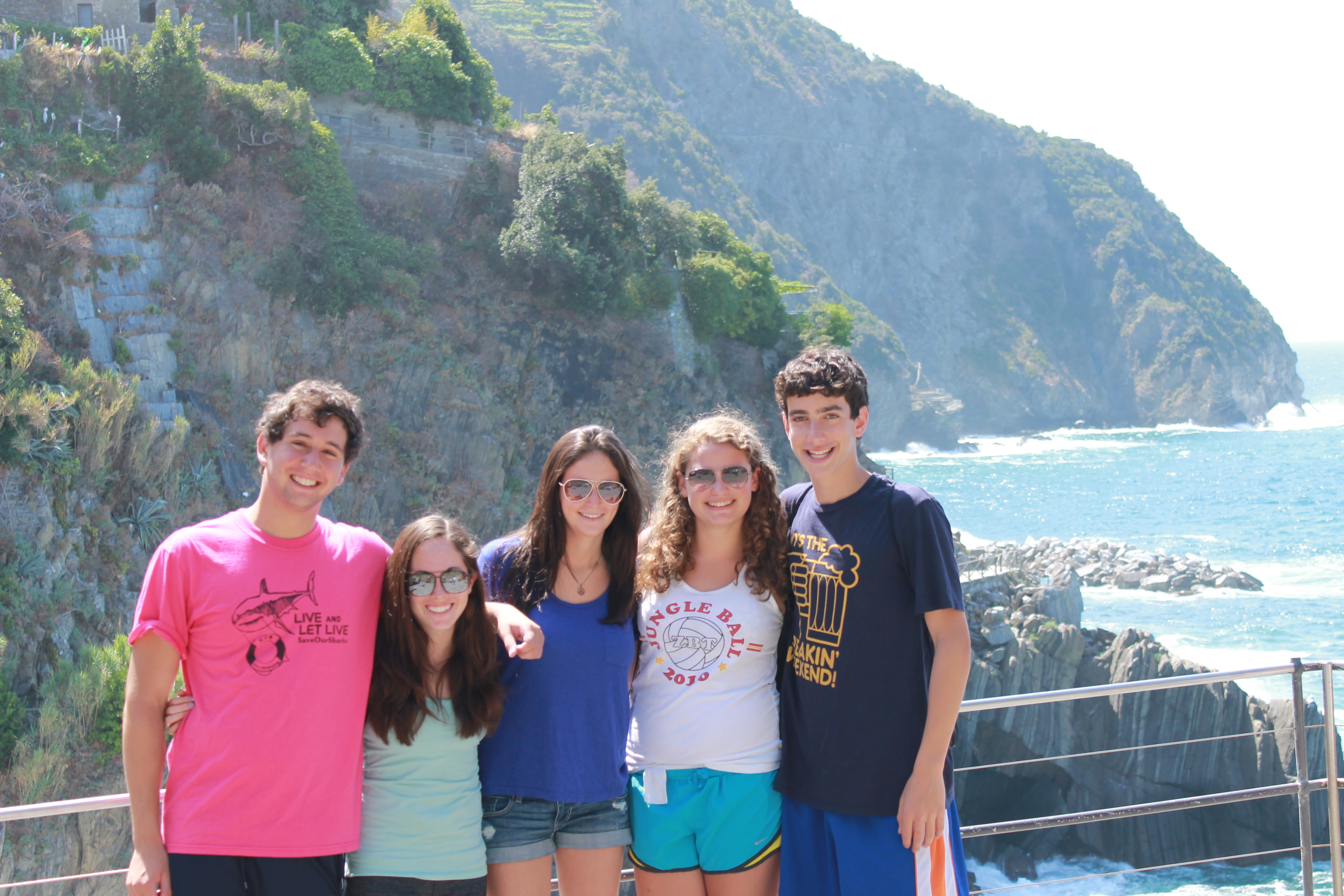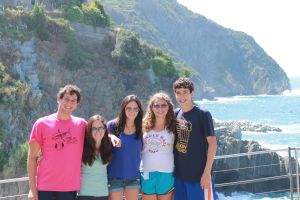 Dear friends and family,
As we depart La Spezia, a town located at the southern end of the Cinque Terra region (and our home base for the past 4 nights), we can't help but feel a sense of accomplishment, knowing that we fully explored all five villages: Monterosso, Vernazza, Corniglia, Manarola and Riomaggiore.
On our first day in the Cinque Terra region, we set out to the village of Monterosso. For the majority of the afternoon, we swam in the warm Mediterranean waters, played Frisbee, hacky sack and soccer on the beach and lounged under our umbrellas. Jeremy had a blast playing in the waves; while on shore, Zach showed us how to master the skills of the game "keep up". We ended a great day at a restaurant with an outdoor patio overlooking the beach, enjoying the view and catching an awesome sunset. Aidan was really happy to be on the coast because it meant that he could enjoy some of his favorite seafood dishes including mussels, prawns, calamari and swordfish.
With 4 more villages left to see, the group was all "fired up" (our trip motto) to continue exploring the Cinque Terra coast. We started our day by taking the train from La Spezia to Riomaggiore, a pastel colored town with a very lively harbor. Shayna had a field day, snapping photos of the hustle and bustle of people and the distinct background of tall colorful buildings and shops perched on cliffs.  From Rigomaggiore, we set out on our first hike. Our route was from Riomaggiore to the town of Manarola, covering a section of the Cinque Terra trail known as "Via Dell'Amore" or "Lovers Lane". The trek was beautiful; it was along a pathway perched on cliffs overlooking hillside terraces and the sea. When we arrived in Manarola, we were all feeling pretty hot and Josh, Alex and Bennet were relieved to have the opportunity to take advantage of this village's popular swimming spot.
Next it was on to the town of Corniglia. This town stands out from the other 4 because it is perched high up on the cliffs (rather than at sea level). The 300+ stairs to get to the town were a good challenge and Sam and Shayna kept us motivated by playing tunes and singing, making the effort much easier and enjoyable. Corniglia offered new vistas and perspectives of the Cinque Terra coast but a few of our trip members will probably remember it as the place where they tried "Miele de Corniglia" honey-flavored gelato and Lemon sorbet-granita (freshly squeezed lemon juice mixed with shaved ice). Emma couldn't get over the unique honey taste of gelato and couldn't quite relate it to anything she had ever tasted before. Mara was also surprised by how fresh tasting her sorbet -granita was, proving just how flavorful fresh, local ingredients can be.
For our final day in the Cinque Terra region, we had one last town to visit, the fishing port of Vernazza. Vernazza was the starting point of our most challenging hike, a steep climb leading us back to the beautiful beaches of Monterosso. Remi and Sunny provided hilarious commentary whilst hiking, powering us through and reminding the group that a beach was waiting for us at the end of our trek. Once on the beach in Monterosso, both Remi and Sunny reflected on the hike, noting that it was actually quite a unique and rewarding experience. Several others were feeling quite accomplished and relaxing on the beach that afternoon felt very rewarding. Jenny and Alec were given an extra surprise because there was another group of teen's on the beach and Jenny's cousin and Alec's friend from home just so happened to be on part of that group (what a cool coincidence)!
Exploring the towns and pathways of Cinque Terra, it became very evident why this stretch of coastline is included on UNESCO's World Heritage List. The region is absolutely stunning and filled with rich cultural significance. We had a good mix of activity and relaxation and now we are on to Venice.
Arrivederci!
The Westcoast Blogger