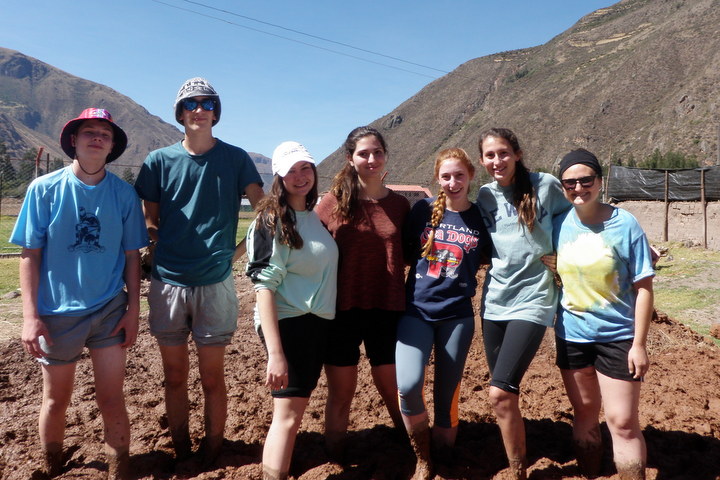 HOLA from Peru!
The past few days have led us from the heart of the jungle to the mountains. We said goodbye to the Amazon and went to a nearby city for a few days. While there, we did a service project at a local Amazon rehabilitation shelter. We were given a tour and saw many different animals such as monkeys and toucans. After seeing all of the different animals, we got to work. Our group was split into three, each with a different task. One group helped repair the entrance of a cage which housed a family of howler monkeys. Another helped to build a fence for a local deer and turtle habitat. The third group collected different leaves and plants which are used as food for the monkeys.
After our time at the Amazon shelter, we had a fourth of July celebration. The trip members were all put on teams and were given different tasks to complete. All of the tasks involved food and therefore got pretty messy! Alec proved just how competitive he can be and was the winner of first game, Super Mario. Adam left the group in awe with his extreme talent of catching food with this mouth. After the games were down, we all had pizza and gathered around to watch a movie together.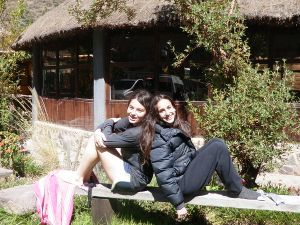 We moved on to our next destination, the sacred valley. We arrived at night so we were unable to see just how beautiful the sacred valley is. However, when we woke up in the morning and headed to rafting we saw the stunning mountains which surrounded us. We got to see more of the landscape as we rafted down a river which passed through mountains and the remains of Inca villages.
This led us to our first Andes cultural experience. We had a tradition meal called Pacha Mancha. It consisted of chicken, lamb, potatoes, sweet potatoes, beans, bananas, and peas all cooked on a stove made out of hot rocks. The meal was so delicious! After the meal, we had a chance to check out the markets and pick up some presents for ourselves and our families.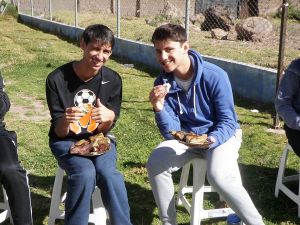 Our last day spent in the sacred valley gave everyone the chance to try something new, adobe brick making. We first needed to stomp on and mix hay and mud. We carried the hay over to moulds which shaped the brick. We all put in a lot of work and we were able to make 126 bricks! These bricks are going to be used to build a school in the local community. After our brick making, we got to check out how all the different clothing and tapestries are made at a textile weaving business. It was so cool to see them making the different patterns all while wearing traditional Inca clothing. While there, we were able to feed and take pictures with alpacas and llamas.
Our sacred valley experience is coming to an end and our next stop is Aguas Caliente and Machu Picchu, we cannot wait!
Adios!
The Westcoast Blogger
Are you interested? Check out our 28-day trip for community service in Peru and get involved by its history, culture and people.