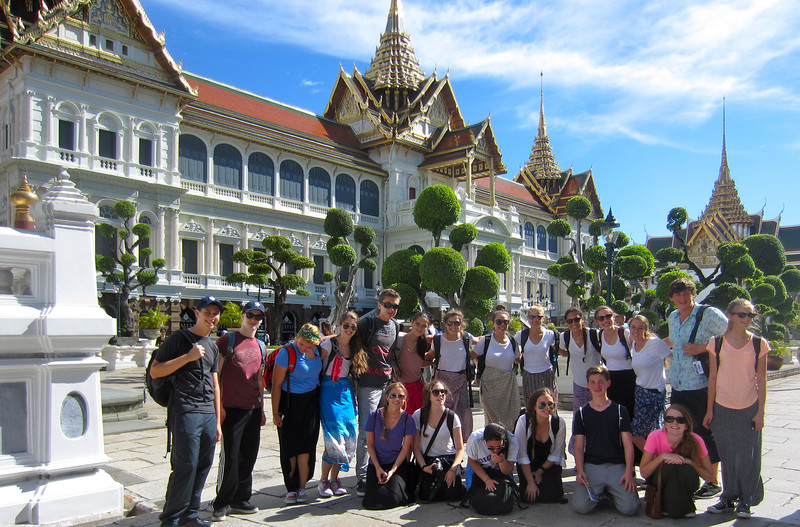 We are having a Thai-rrific beginning to what promises to be a trip of a life-Thai-me.
We came together to meet our wonderful guide Kob (who happens to also have been Steven Tylers' personal tour guide) and headed off!
Andrew got our trip off to an adventurous start by being the first trip member to try the famous Thai durian fruit. Kob then invited the trip members to try other local Thai fruit. We tasted dragon fruit, yellow watermelon, long gongs, rambutan, rose apples and mango seeds.
We have seen Bangkok from every form of transportation from sky train, to long boat, to tuk tuk and everything in-between. We walked through a street market and most of our group tried rice paddy cakes. Sarah said they tasted like French toast. Afterwards we took a boat ride down the river, and walked to the Golden Mount. David and Phil had a great time testing out the bells and gongs at the temple. Britt and Emma enjoyed meeting and taking a picture with a monk.
Next we took  a Tuk tuk ride to the grand palace and had a chance to see some of the royal jewels and swords.  We enjoyed a scenic ride on a traditional Thai long boat ride through Thai waterfront residences. Andrew, Daniel, Ashley, and Lizzy had a blast feeding a frenzy of huge catfish.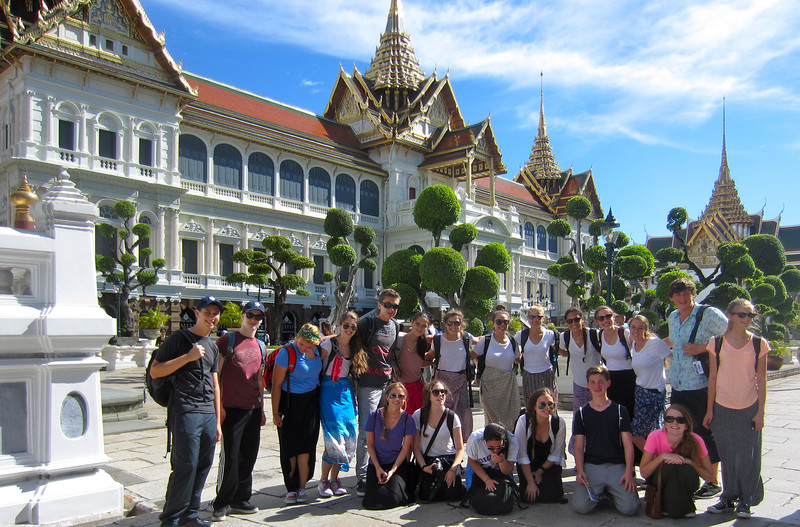 The reclining Buddha was a trip highlight thus far. Gabby couldn't believe his size and we all felt Zen while taking meditation photos with Buddah.
Tomorrow (well, later tonight for our family and friends back home) we are off to Chang Mai and can't wait to make a difference at the Thai Special School.
La gon and Goodbye for now!
 The Westcoast Blogger
Do you want to be part of this community service program? Check out our Thailand trips for students and get ready for the experience of a lifetime with Westcoast Connection.