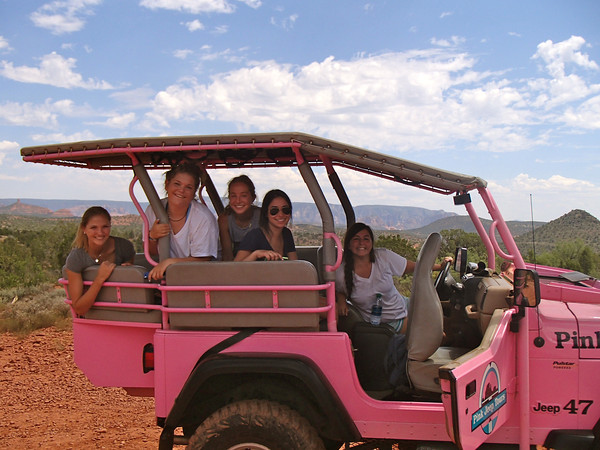 Hello from Arizona, our final stop!
It's hard to believe that this is the final blog from our California and the Canyons trip. Time definitely flies by when you're having fun!
On the way to our final camping stop, we stopped at the beautiful Zion National Park where Sarah S. was quick to jump to the front of the pack and lead a hike with one of the staff. We then went for dinner at a Chuckwagon Cookout where our trip members were casted into a Western! Jake was given the part of the coyote, Ann-Katherine was an Indian, and Daniel and Justin were soldiers! We all had a lot of laughs and enjoyed being directed into our different roles.
Soon after, our closing games were announced! Trip members were divided into two teams and spent the following 24 hours creating and designing their very own food trucks! Alyssa and Scott's team came up with a very clever name for theirs: The French Coast Connection, while the menu produced by Aryn and Adrien's team left the staff wishing they could eat there.
The following day began with a breathtaking hike through Bryce Canyon. Ethan said that though it was tough at times, he felt very accomplished when he made it all the way to the top. Upon returning to the campsite, the teams competed in an Iron Chef competition. Adam, Logan and Zach were very helpful in their kitchens as they produced two dishes that both had to contain the secret ingredient: chocolate! The judges were impressed by how delicious and well-presented all the dishes were and could not stop eating them. We continued on with our games that afternoon with an Apache Relay Race! Brad and Ryan S. competed against each other in a messy M&M search while TJ and Aaron got sticky when their egg broke during an egg-toss! Jordan, Sam and Hannah had a great time trying to complete a blindfolded yogurt eating competition but it was Maksym who impressed us all the most by eating a quarter of a watermelon in record time. The relay race finished by having both teams try to fill a bucket using a porous cup. Everyone was laughing as they got soaked trying to pass the cup from one another.
That night, we had our closing ceremonies where each team presented a song, cheer and skit. Sydnie helped write the song for her team and came up with some incredible lyrics while Max T. came up with a funny cheer for his. After a very close competition, the Double As proved themselves the winners by having won the Apache and the song competition.
After packing up our tents for the final time, we headed off to the Grand Canyon and took in the spectacular views with a short hike down the Bright Angel Trail. Ben and Jared caught their first glimpses of it and were instantly speechless.
After a good night's sleep, we went to Sedona to start our adventures aboard the Pink Jeep Tour! Noah, Isabelle and Mimi loved the bumpy off-terrain rides and Alex and Ryan T. learnt a lot from their very informative tour guides. Afterwards, we had some time to explore the local shops and restaurants where Clementina was brave enough to try the local delicacies: Rattlesnake skewers and cactus fries! We then went to our hotel in Scottsdale where Danny S. started up a game of ultimate frisbee in the pool.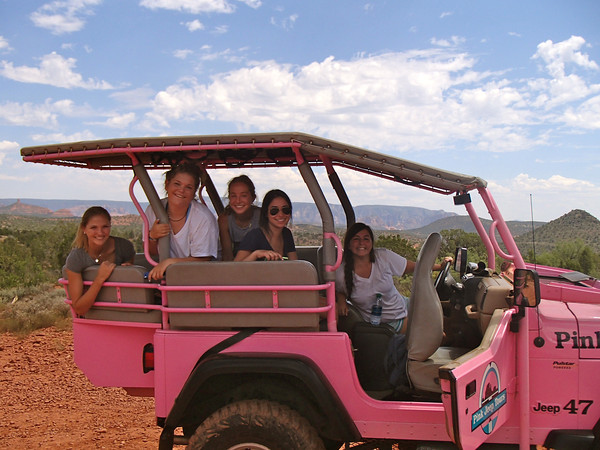 Our final day together flew by! Its crazy that In a few short hours we will be going to our final banquet to say our goodbyes. In the three weeks that we have been together, so many friendships and memories have been made and we are sure they will last a lifetime. To all of our incredible trip members, thank you for all of the laughs and good times. We will never forget you!
The Westcoast Blogger