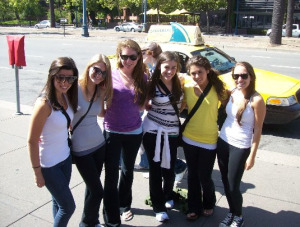 Our first report from Trip California and the Canyons, California and the Canyons!
The Westcoast Blogger
And we were off! 3 Terminals, 15 different flights, and 49 pick-ups later, our group was ready to go and start the adventure of a lifetime. Once we settled into our hotel, we took the famous cable cars to Chinatown – it was a perfect San Franciscan scene right out of the opening credits of Full House.
We were treated to a grand inaugural Chinese dinner – many of the specialties were new to the trip members' palettes. Everyone hit the sack long before curfew even began – thankfully, jet lag makes the counselor's duty of enforcing curfew that much easier.
Bright and early the next morning, we departed for Alcatraz, the famous (or infamous) prison off of the San Francisco coast. If the teens ever needed a deterrent to misbehaving on our trip, the concrete cells and iron bars seemed to do the trick.
Back at the port, we had some time to explore the Pier shops. Some decided to go a little classy by ordering the Pier's famous clam chowder, while the majority of the group made a rush for In & Out Burgers.  And just in case the burgers, shakes, salt water taffy, and chowder didn't get us stuffed, we left for Ghirardelli Square to indulge in sundaes, chocolate, and ice cream. All that great eating was followed by a few rounds of bowling. Danny W's 1980s ensemble was only outdone by his game-winning score.
Day 3 began on a golden note, as we crossed the Golden Gate bridge and took enough pictures to set a tourist world record.
A crooked walk down Lombard Street and we were off to see a baseball game with the home team playing against the San Diego Padres.
The four European students on our trip experienced their very first baseball game – all of whom purchased the adequate memorabilia to go along with their game watching experience.  Ciara of Ireland got herself an orange foam finger, while our three Italian friends Maria, Franci, and Eleanora all got matching baseball hats. When we got back to our hotel, we took advantage of the nice comforts of our beds and flat screen televisions as today it's off to camping now in Lake Tahoe!
Hope to write again soon,
The California and the Canyons Staff