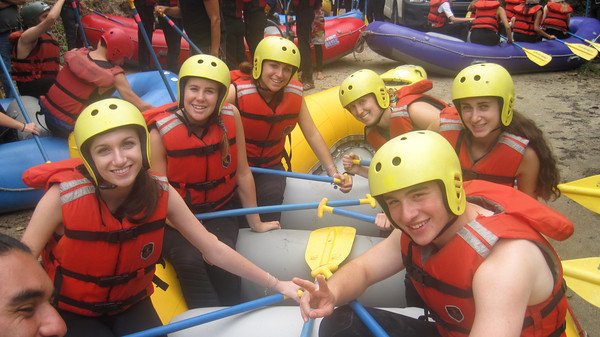 Just checking in to let you know about the wonderful time we had in Banos, Ecuador.
To begin our time in Banos, we went to a disco after dinner. Sydney, Jason and Sami spent some time playing a game of pool. Griffin busted some moves on the dance floor.
We spent our first morning here white water rafting. It was an amazing experience, especially for those trip members that have never been rafting before! Kayleigh and Katie got to ride on the front of the raft through some of the rapids. Tyler was the leader of his boat, in charge of keeping count of the rhythm of paddling. Daniel motivated his boat to paddle harder to get the best experience from the rapids.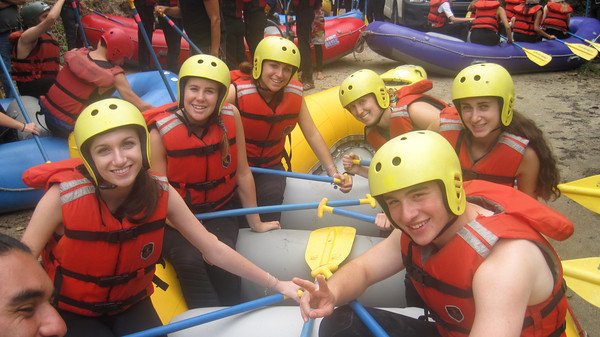 At night, we visited hot springs. Nan, Paige, Lauren, Melissa, Sydnee, Kayleigh, and Rachael were the only ones adventurous enough to try the hottest pool.
The following day we went on a hike to see a beautiful waterfall. Tyler, Jared, Rachael and Nan went as close as possible to get a good view, getting soaked! The waterfalls were quite a sight and made for some great photo opportunities. After the waterfall hike, the girls went to get their nails done at a spa nearby the hotel while the boys spent the afternoon playing a game of basketball.
On our final night in Banos we did karaoke. Liv, Cayla, Katie and Nicole sang quite a few songs and our "Equa-pella" band provided us some special performances. Griffin graced us with his rendition of "Ice, Ice Baby". We ended the night with ice cream which Lindsay, Danni and Naima were very excited about.
The Westcoast Blogger