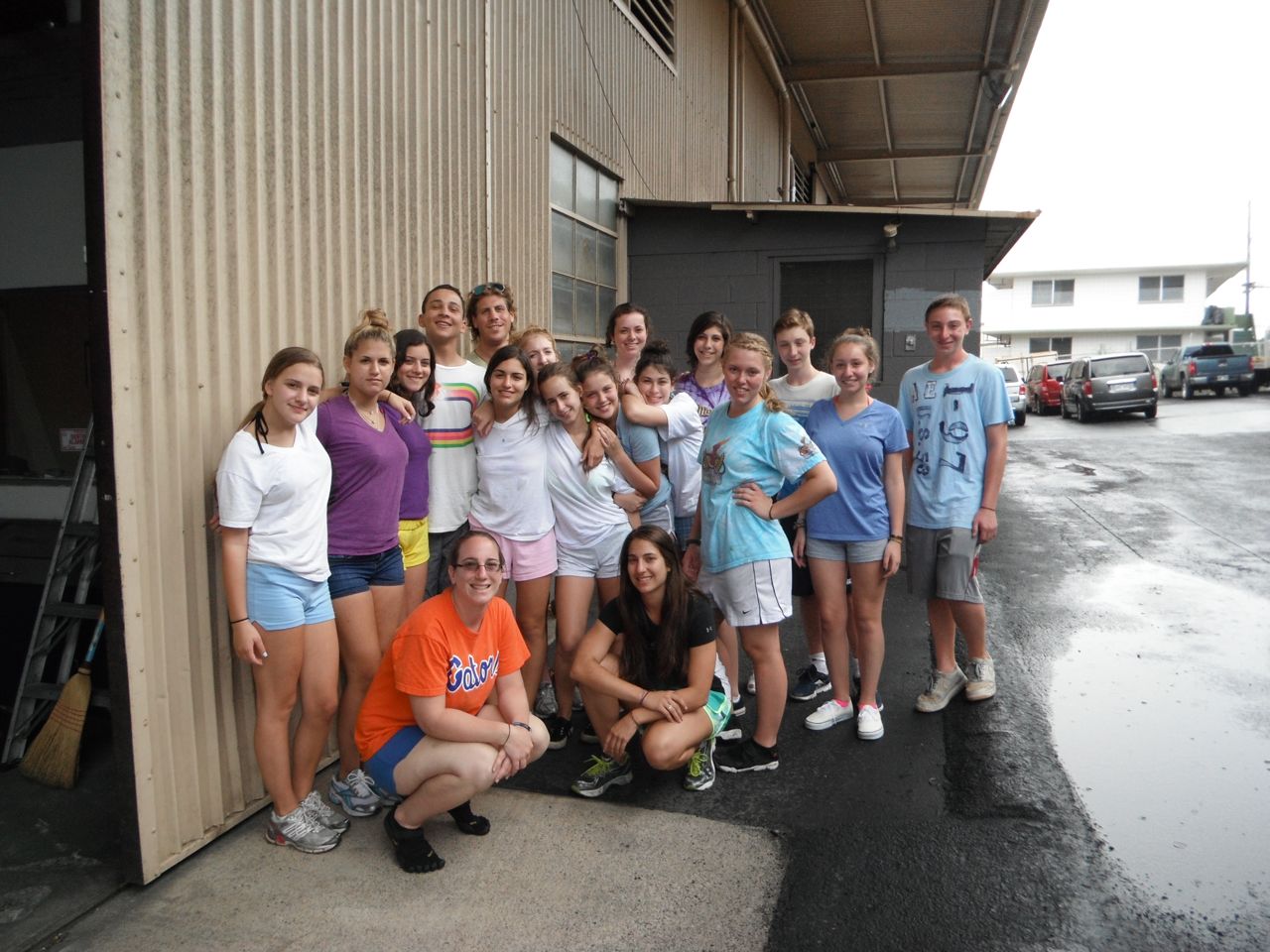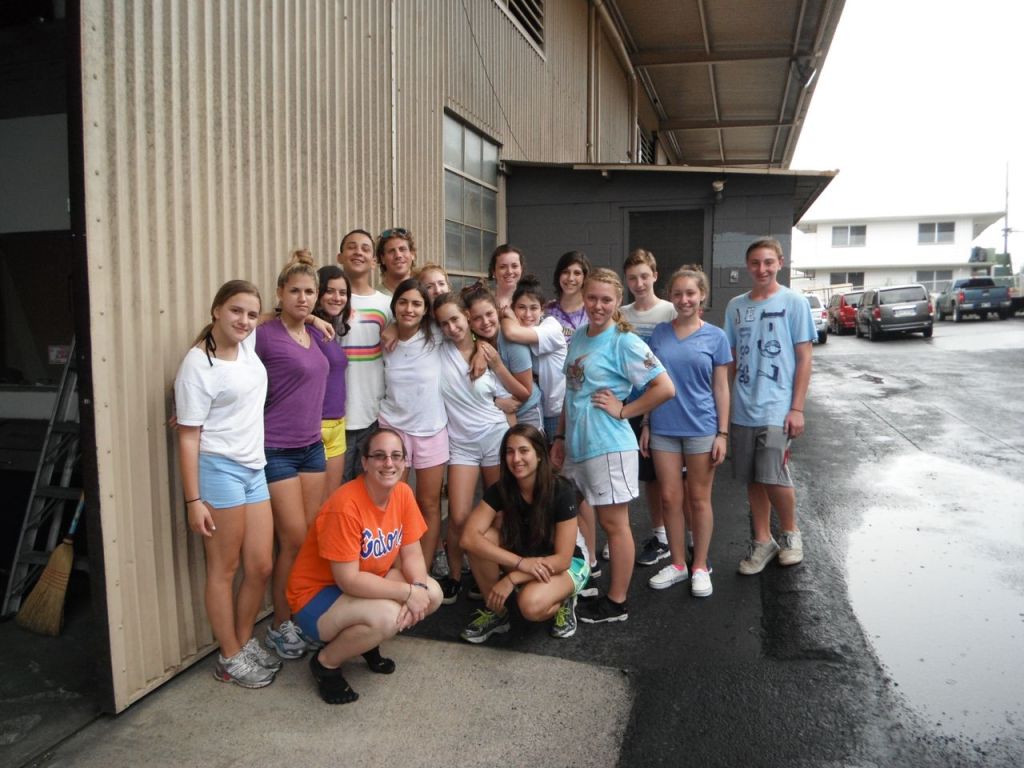 Another update from Hawaii Community Service:
Aloha again, family and friends of Hawaii community service! So much has happened since the last time we wrote.
We finished our service project with Habitat for Humanity, and began working with the Boys and Girls Club. All along the way we have been laughing, smiling, and taking in the beautiful views.  First it was "planking," then it was "tebow-ing", but now our group has created their own picture pose called "tea-potting". Wherever we go we take a nice group picture and then "tea-pot". Just a little fun to document a moment. Additionally, trip member, Sam, felt what it was like winning the lottery as he received $9 in nickels after getting a drink from the vending machine. He described the moment as surprising yet en"rich"ing. He is currently on a mission to spend all 180 nickels in one location. Throughout the adventurous days, Sarah has been designated as our trip documenter as she Instagrams every photograph she takes.  During one of our evening activities, we created a "Bucket List" of activities that we would like to complete before we end our trip in Hawaii. So far, we have completed walking in a perfectly straight line when we were hiking up Diamondhead. One of our own trip members, Chelsea, sang the national anthem in front of hundreds of people who swarmed the beaches while waiting for the firework show. She received a standing ovation upon her finishing, and her video may have been uploaded to the Westcoast Connection/360° Student Travel Facebook Page!
As for service events, we completed our time at Habitat for Humanity by packing backpacks for under-privileged children. As soon as we received our task, we formed an assembly line and finished the project in record time. While waiting for the next project, group members Chelsea, Luciana, Richard, and Jason raced on the dolly carts. Although the girls won the race, the boys put up a valiant effort. Later in the day, we visited the local beach where Maddie conquered a fear with the help of her peer Christine. She dunked her entire head under the ocean water! She says that this has opened her eyes to a new experience and made her realize that she is capable of overcoming fears. With that being said, Maddie continued to enjoy the water with Richard by experiencing what life is like as a hamster when we visited the International Marketplace. Both trip members were challenged to stand in a life sized inflatable hamsterball in a pool of water. It was decided that being a hamster is a lot harder than in looks. All of the group loved exploring the international marketplace, and we will definitely be returning to get some great souvenirs.  Maybe if you're lucky you'll get one from there too!
The 4th of July was an amazing day. We started out early by hiking uphill where Luciana, Dani, and Carli were amongst the front runners of the group who raced the final 100 step staircase up to the scenic mountaintop. Once there, we were able to share the beautiful expanse of the Hawaiian coastline. From that point, we descended back down to the vans and took a relaxing car ride to a local beach. We were greeted by a multitude of Hawaiian families who were celebrating their patriotism by playing football and grilling tons of food. Dani and Carli began practicing their castle building skills as we will be having a sandcastle competition to complete another point on our bucket list. Being the friendly people we are, some of the group members including Sam, Christine, and the Trip Leaders Amanda, Adam, and Mel met some Marines and started a friendly pickup game of football. That night, we walked as a group to the beach and watched the wonderful array of fireworks. It was the perfect way to spend the 4th of July.
Finally, we started our service at the Boys and Girls Club yesterday and left with a feeling of elation. The morning activities were left to our decision where half the group worked on arts and crafts activities while the other half lead the children in sports. Jason stepped up and guided the boys and girls on how to play the game of SPUD! Paige and Lindsay had a blast facepainting the kids. Paige really showed her artistic ability by painting the surfboards, the most popular item, while Lindsay switched roles and got her face painted as a kitten by one of the children. Jamie and Victoria really bonded with the kids and were touched by all of their stories. The kids felt so comfortable with them that they made Victoria drawings and Jamie felt "inspired to do more service because I was able to see the impact I made with the kids". While waiting to learn about native Hawaiian food and healthy eating habits, Jenn started a hand game with many of the kids.  They were all laughing and smiling and just happy to be around our group!  Overall, every single trip member of bonded with at least one child from the Boys and Girls Club and we can not wait to return for another 2 days of service later on during our Honolulu part of the trip.
We hope that you are enjoying the updates and keep an eye out for all of our pictures and completion of the bucket list!
 The Westcoast Blogger