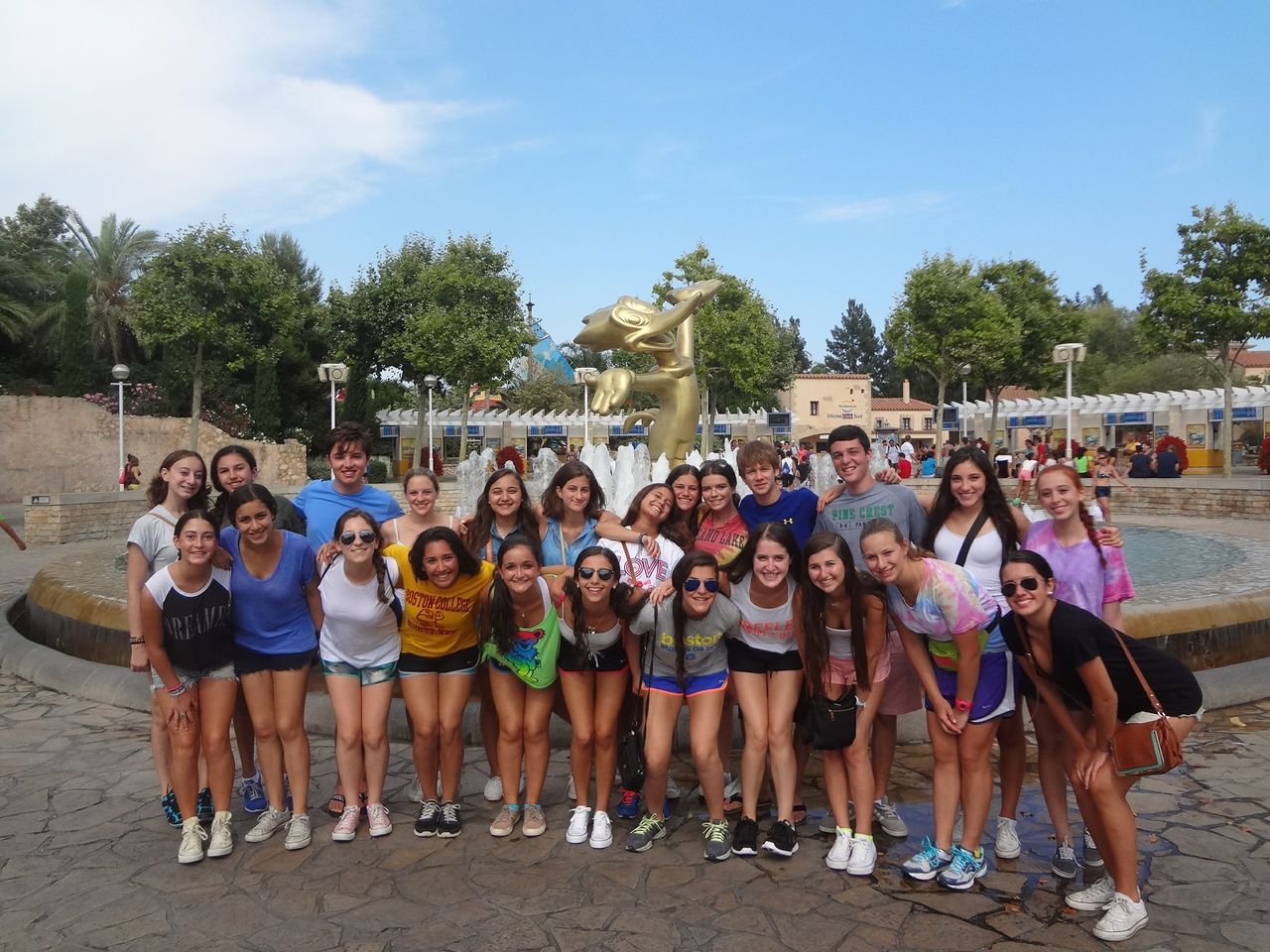 ¡Hola desde la ciudad cultural y diversa que es Barcelona! En el once de julio, llegamos en Granada, una ciudad con mucha historia. Por la noche, exploramos la Plaza Nueva, una plaza con arcitectura muy interesante y muchas tiendas pequeñas para comprar.  Algunos miembros del viaje, incluyendo Perri, Monica, y Tyler, disfrutaban comida tipical de españa y morocco en un restaurante que estuvo situada a cerca de la plaza. El próximo día, el grupo visito El Alabacyn, el barrio antiguo de los moros. Tuvimos una guia que nos decia la historia, y los chicos vieron a edificios antiguos que tienen más de un mil años. Emma, Camille y Courtney disfrutaron smoothies de fruita mientras mirando a la vista bonita de la Alhambra, la ciudad, y las montañas con nieva de la Sierra Nevada. En el último día en Granada, los lideres del viaje y los estudiantes visitaron la Alhambra, un palacio en que vivía los Moros y tambien varios reyes y reinas catolicas, incluyendo Ferdinand y Isabel. En este lugar historíco, vimos los jardines famosos, la fuente de leones, y el interior del palacio. ¡Era tan bonita! Luego, los miembros del grupo fueron a la Capilla Real, donde se quedan los cuerpos del rey y reina, Ferdinand e Isabel.  En nuestro tiempo en Granada, aprendimos la importancia y el impacto de religion en la sociedad española. Por la última noche, todo el grupo participo en una clase de de flamenco en un studio profesional!  Después, fuimos por autobús al barrio del Albaycin para ver la vista de La Alhambra en la noche.  Luego, el autobús nos tomo a las cuevas a lado de la montana de La Alhambra, en que había varios sitios famosos para ver flamenco.  Asistimos un show que se llama "Zambragitana" un estilo de Flamenco creado por los "Gypsies".  Había luces brilladas, floras, bailadores, y música que era muy duro con percucíon.  Alex, Edward, Isabel y Emily Corbin bailaron con las bailarínes profesional de flamenco. ¡Era una experiencia muy divertido!
Hello from the diversely cultural city of Barcelona! On July 11th, we arrived in Granada, an ancient city that is entrenched in religious history, having been ruled for many centuries by both Christians and Muslims. On the first night, we explored La Plaza Nueva, a plaza of fascinating architecture that housed little stores to buy trinkets, gelato, and art depicting some of Granada's most famous sites. Trip members, including Perri, Monica, and Tyler enjoyed typical Arab and Spanish cuisine at a restaurant situated near the plaza. The next day, the group toured the old Islamic quarters of the Albaycin. On the guided tour, the kids saw old buildings that dated back a thousand years. Emma, Camille and Courtney enjoyed fruit smoothies while looking out over the beautiful panoramic view of the Alhambra, the city, and the snow topped mountains of the Sierra Nevada range. On our last day in Granada, the staff and trip members visited the Alhambra, a palace that belonged to the Moors and later the Christians. In this historic site, we saw the famous gardens, the fountain of lions, and the stunning interior of the palace itself. It was beautiful!! Later that day, members of the group traveled to the tombs of Ferdinand and Isabel and learned their importance of religion in shaping Spain's society and culture. At night, everyone took a bus to the vista of San Nicolas, which overlooks the Alhambra.  After that, headed to an incredible flamenco show in an intimate cave on the side of the Alhambra mountain.  The style of flamenco was called "Zambragitana", which is a form of the famous dance created by gypsy's.  The show was in a tunnel-like cave of bright lights, flowers, people, and pounding music of guitars and drums. Alex, Edward, Isabel and Emily Corbin were pulled onto the dance floor to join professional flamenco dancers. It was quite an experience!
Hace cinco días, llegamos en la ciudad grande y bonita de Barcelona donde el grupo comió la cena en Tarragona. Para la cena, un grupo de chicas, incluyendo Courtney, Emma, Caroline W, y Alexa disfrutaban pizza en las calles pequeñas. Luego, nuestro grupo tomó un viaje por autobús al hotel Catalonia en Barcelona. Para nuestro desayuno primero, nuestro viaje disfrutaba mucha comida. Camille estaba emocionada que el hotel tenía pancakes y huevos. Después del desayuno, caminamos a nuestra escuela, Enforex. Después de la escuela, nuestro grupo estaba intrudocido a una compania que tomar personas en bicicletas alredador la ciudad. Montamos nuestras bicicletas a través de la pequeña parte gothica, exploramos el centro de la ciudad, y terminamos el tour con una camina por la playa. ¡En la playa, nuestro grupo comimos gelato para celebrar el cumpleaños de Caroline C! Después, por la tarde, tuvimos una cena fantastica de comida Americana en el Hard Rock Cafe. Lindsay dijo que el pollo fue la mejor que había tenido en su vida.
Traducido por Sara Lerner y Brianna Rifkin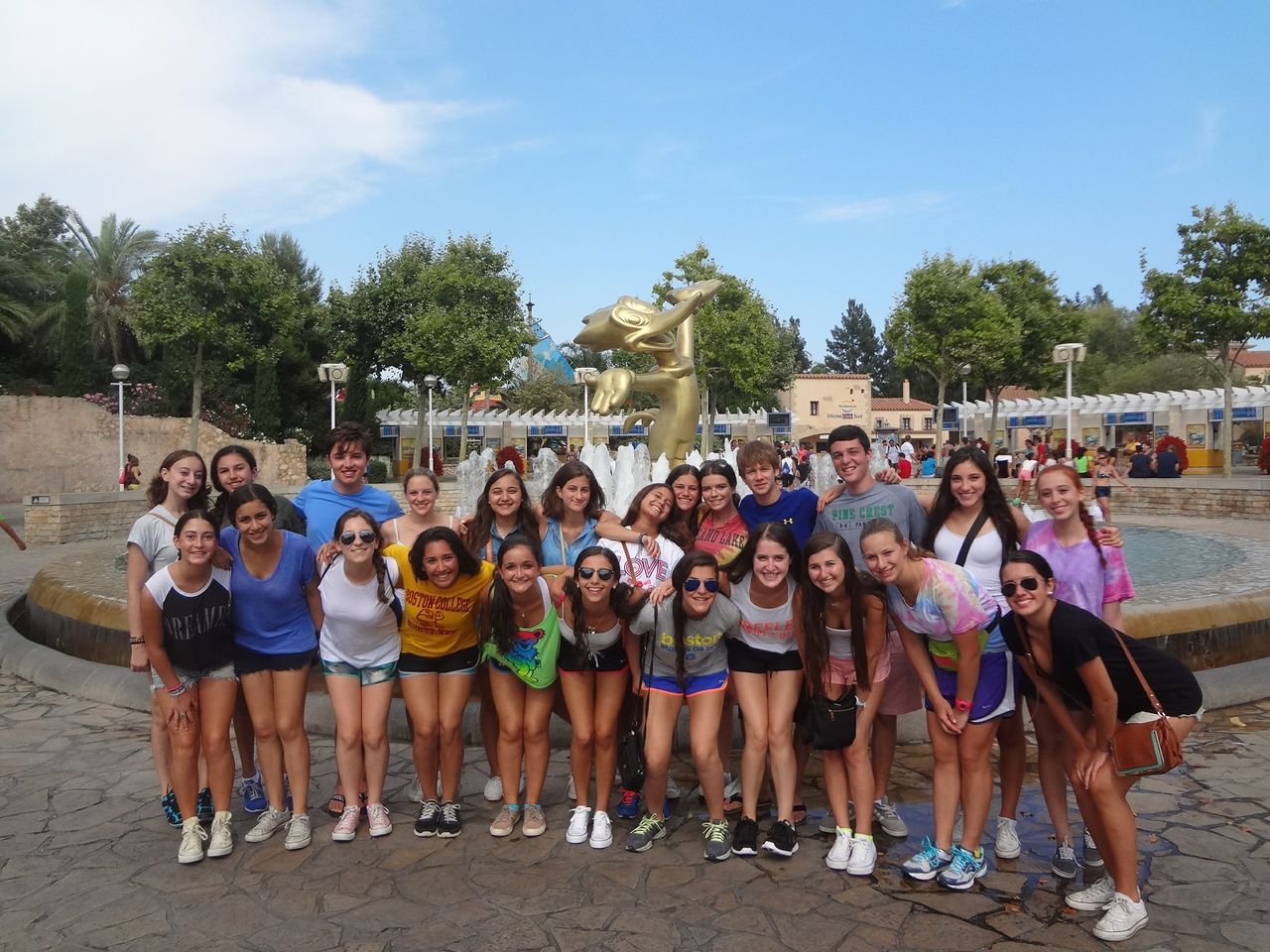 Last week, before we arrived in the amazing city of Barcelona, the group had a nice dinner in medieval Tarragona. Later that night, our group took a bus ride to the Catalonia Hotel located in the city of Barcelona. For our first breakfast in Barcelona, our trip enjoyed stunning breakfast buffet in the hotel. Shortly after breakfast, we took a leisurely walk to our Spanish School. Following school, our group was introduced to the amazing Bicicleta Barcelona Bike Tour. We rode through the Gothic quarter's cobblestone streets, explored the nooks surrounding Las Ramblas, and finished the tour with a nice and refreshing ride along the beach, which stretches for many miles and is only 5 minutes from the city center. On the beach, our group found an amazing gelato stand to cool off at, and to celebrate Caroline C.'s birthday! Later in the evening, we had a great American dinner at the Hard Rock Cafe. Lindsay said that the wings were the best wings she has ever had in her whole life! We also shared a great birthday treat with Caroline; a huge brownie covered with chocolate sauce and Nutella! YUM! To conclude the incredible first night in Barcelona, we walked around the famous street "Las Ramblas," the touristic and bustling street that separates the Barrio Gothic from the artsy El Raval neighborhood.
El proximo dia, exploramos el barrio antiguo "Ribera".  Fuimos al Museo de Picasso.  La Ribera is pequeno y hermosa, con calles estrechas con tiendas y restaurantes interesantes.  Sara encontro una tienda de cafe que vendio Nutella tostados, y se allegro mucho!  En el museo, todos de los miembros fueron fascinados por las obras de Picasso.  Pudimos ver la manera en que cambiaba su estilo durante su vida.  Fuimos a comer aquella noche en una restaurante muy "trendy", que recomendaron nuestras guias para la noche, Jordan y Prezi.  Despúes de la cena, Jordan y su companera nos tomaron por un tour del Barrio Gothic.  Pasemos por la universidad de Barcelona, luego exploremos la area antigua por Las Ramblas.  Los guias nos ensenaron sobre la historia de la ciudad.
After school on day 2 in Barcelona, we explored the old neighborhood of La Ribera and went to see the Pablo Picasso museum. La Ribera is a very small and ancient neighborhood where our group enjoyed walking through the winding streets filled with restaurants and shops. Sara  was so excited that the local coffee shop had Nutella tostados, her favorite Spanish discovery! At the museum, we split into two groups. Everyone was fascinated by Picasso's amazing creations and artwork! We explored the museum and got to see how his masterpieces changed in style throughout his lifetime. It was an incredible sight! For dinner that night, two fascinating tour guides named Jordan and Prezi took our group to a trendy and delicious tapas restaurant. At dinner, we were served a variety of gourmet tapas including calamari, papas bravas, rissoto, tomato tostados, chicken skewers, and asparagus with goat cheese! YUM! After an incredible dinner, Jordan and Prezi took our group on a guided walking tour of their city. We explored the old Jewish area, the Roman remains, Picasso's childhood home, Barrio Gotico and much more. Alex loved learning about how the old city of Barcelona ties in with his history class in New York! After an amazing, educational and interactive city tour, our group went back to the hotel for the night!
We can't believe that this is our last week in Spain, time is flying by too quickly!
Guest writers Isabel Graubart, Sara Lerner and Brianna Rifkin
The Westcoast Blogger
For more experiences like this, join our 21-day or 28-day trips to Barcelona with our summer spanish language programs for high school students.