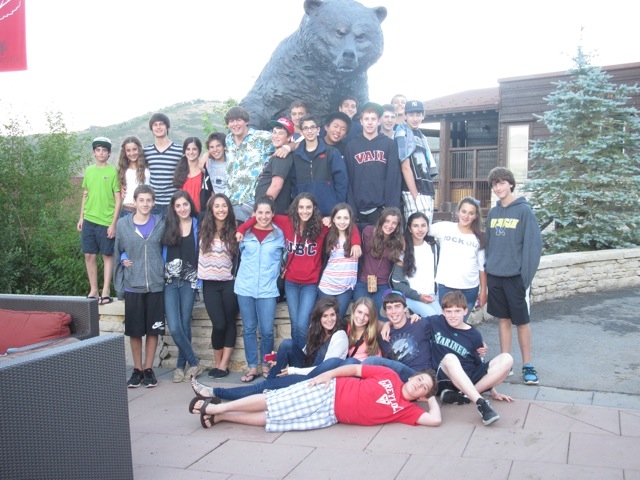 Mada, Fada,
If only you knew what you've missed out on.  No words can truly sum up the magnificent time that Trip 33 has had together over the past 25 days.  That being said, it torments me to say that our trip has quickly come to an end.  Having landed in Portland some 20-something days ago, until this point, every day has brought a new adventure, every moment a new story, every person a new friend (being from 9 states and two provinces), and every city, town and campsite a new dream destination to visit again.  Having camped a total of 9 nights, visited five National Parks, been in 2 provinces and 5.5 states (45 seconds in beautiful Idaho), skied on two glaciers, and seen 1 geyser erupt.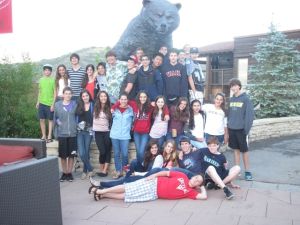 Shortly after our trip's "Battle of the Sexes" trivia challenge, we resumed our drive to Bozeman, MT, where we stayed in the dormitories at Montana State University.  Our night in Bozeman was a special one, as we ate dinner at Fuddruckers prior to putting on our superhero hats for the evening and attended either Spiderman or The Dark Knight Rises (the latest Batman flick).  Following the movie, Sam K, who attended Spiderman, found a pair of 3D glasses in the theatre and paraded around town as Peter Parker for the following day, including climbing around our bus in monkey-like fashion, rather, spider-like fashion is more aptly descriptive.
On our way out of Montana, we made a stop at Yellowstone National Park, where we drove along the John D Rockefeller Memorial Highway through the scenic park where FDR once worked, to the Painted Pots Pathway.  If you've never visited Yellowstone, the Painted Pots Pathway is a boardwalk that goes in one of the most volcanic regions of the park, where geysers, such as "Spastic Geyser," spout off boiling water 24 hours a day.  This part of our visit also led us by some stunning ponds that ranged from aquamarine to rusty-coloration which Max S pointed out to be because of the "acidophilic" and "thermophilic" bacteria that feed off of the Sulphuric Acid and survived on the boiling water in the ponds.  Following our voyage in what might as well have been Oz, we hopped back on the bus and waited in a traffic jam caused by families of bison, bald eagles, and elk.  We made it to Old Faithful, one of the most picturesque landmarks in America, where we saw the tallest geyser in the USA spout out water upwards of 100 feet into the air!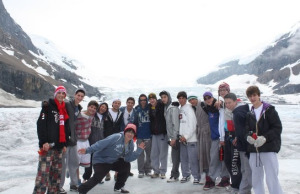 While venturing on south towards Jackson, Wyoming, we passed through the mountainous national park, the Grand Tetons, where traveling alongside the caravan of visitors were packs of free range cows and bison.  That evening, we arrived in Jackson, which is home to some of the most difficult skiing during the winter months, but bodes a healthy cowboy atmosphere, with it's central park having four giant twenty-five foot archways constructed out of whole elk antlers.  In this city, Max S and Lee found the perfect gift for our ever-so-generous and entertaining bus driver, Frank, in the form of a beaver-skin hat.  While in Jackson, we explored the city, enjoyed the facilities at our resort, as well as rafted the Snake River.  On the 22nd day of our trip, we rafted the Snake River, which eventually becomes the Columbia River, which later empties into Puget Sound, in Seattle, making this trip really a full circle.  It was during rafting that Dana overcame her fear of  waves and rapids, paddling the whole way down the river. Go Dana!  Also, one of our ever-entertaining river guides blatantly stated "Now, what's it gonna be?," which caused the entire boat she was sterning to get rowdy, as that very same line was one of Ean's catch phrases and brought back incredible memories of earlier days on the trip.
Upon leaving Jackson Hole, we kept on heading south towards our final destination of Park City, UT.  While on our drive between cities, we passed through three states, crossing borders 5 times, as Noah M pointed out, while we paid a quick visit to Idaho.  After the drive, we arrived at our great hotel, where we settled in before using the pool and hanging around until dinner rolled around, where we went to a beautifully located restaurant, Silver Star Cafe, which sat on one of the many mountains around Park City.  We later got to enjoy the town, as we had some ice cream and celebrated Rachel's 14th birthday with a homemade cookie cake by Sami S' mother.
Today, we will be extremely busy, trying to get in as much fun as possible, before returning to our drab lives back at home.  From the zip line to the alpine slide, from the wandering through Park City to our end of the trip banquet and dance, today will be as busy and fun as any other day yet!
"And that's the way it is."  With this final correspondence, I would like to tell each and every one of you that your child has made this trip amazing.  Each individual has brought something extremely special to our Northwest Odyssey family and we would be remiss to overlook that.
For one final time, the Northwest Odyssey signing out!