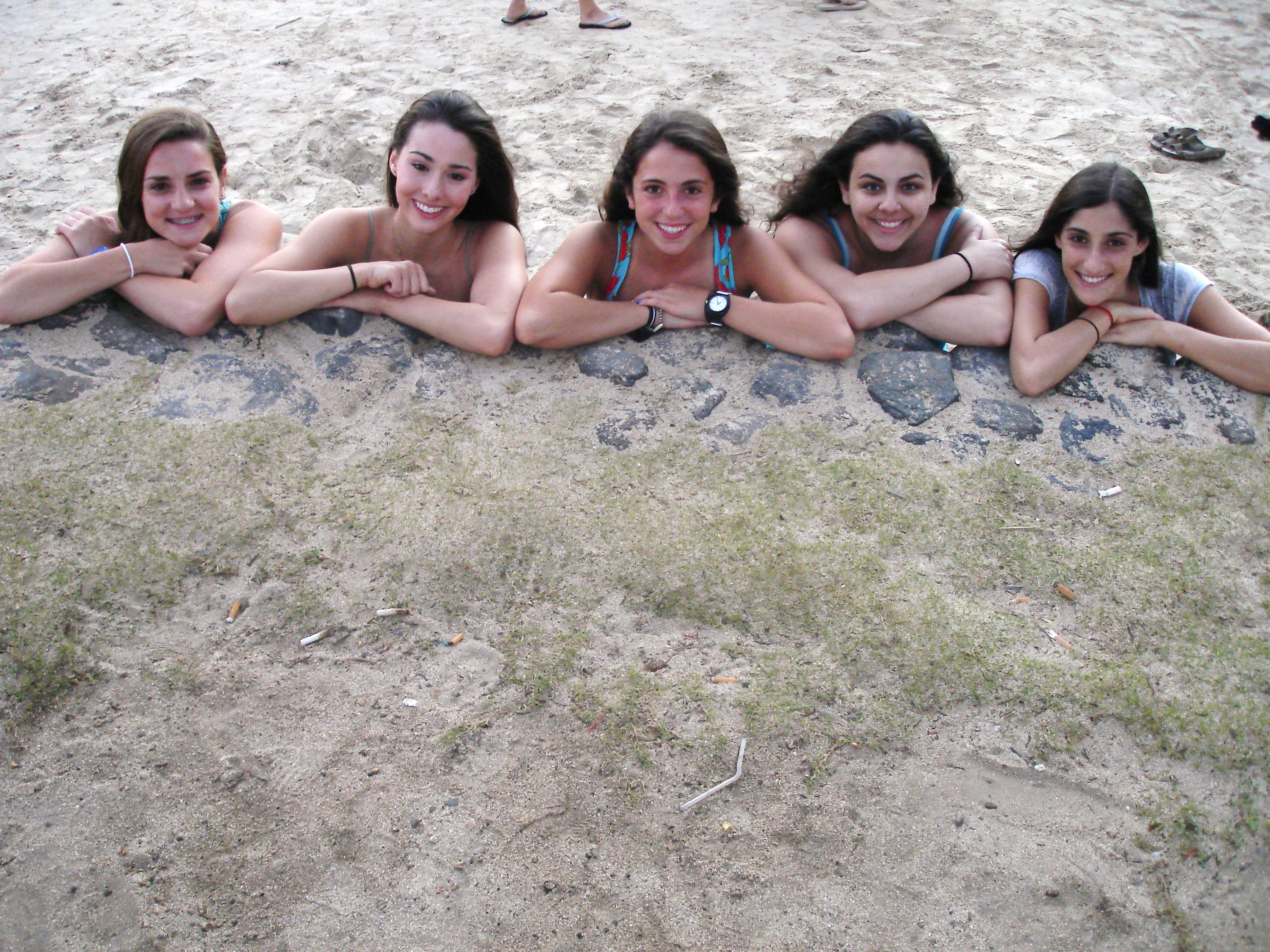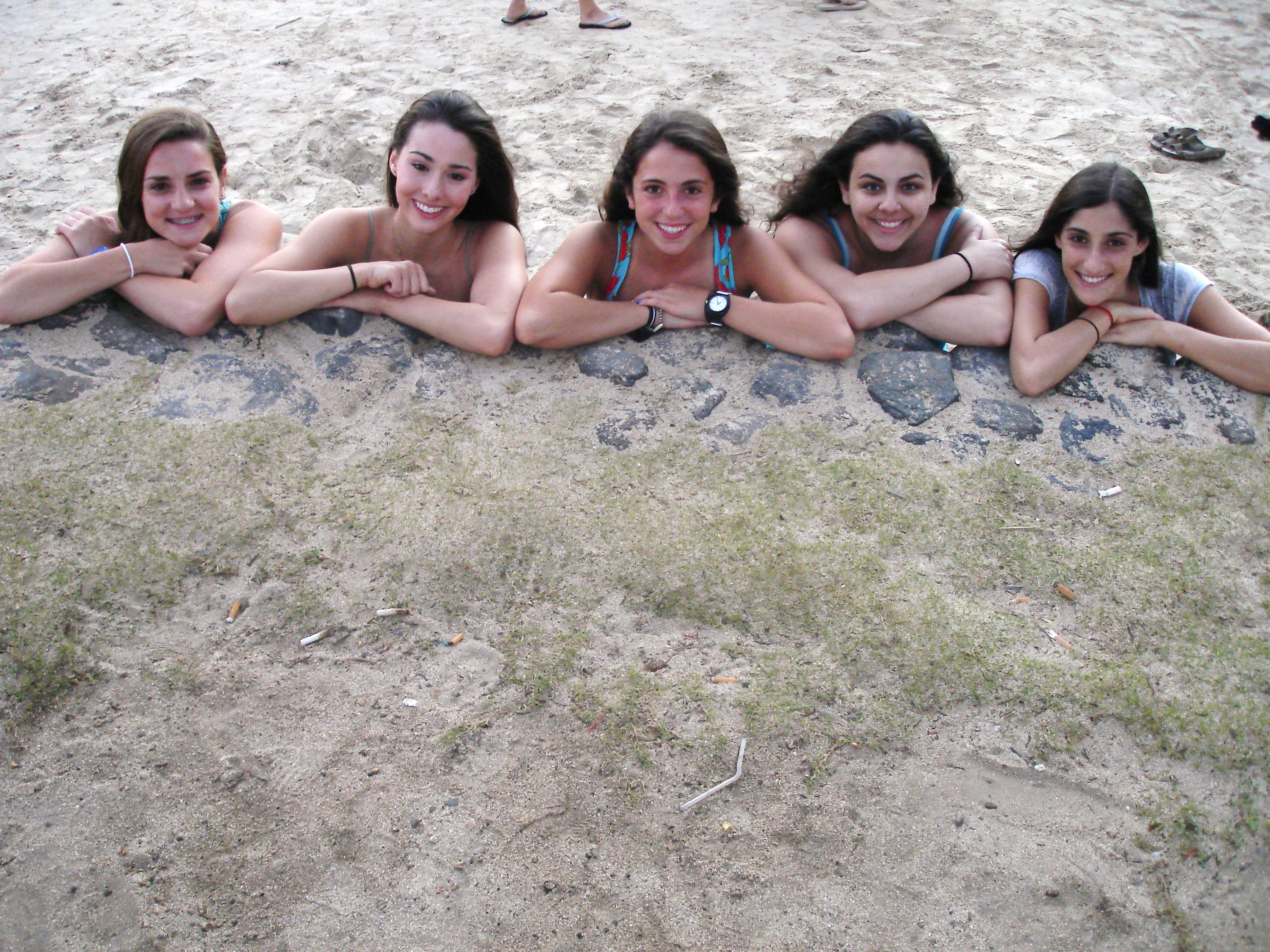 As the days dwindled we could hardly anticipate the times that were yet to come. With four days to go, we started our countdown with Nature Jay from Eco Maui and got back in that service state-of-mind. We cleared bushes and brush from the trails of Twin Falls where afterwards we swam with the tadpoles and danced beneath the falling waters. Nothing could replace all of the service memories we've created until then, but this day surely did add to the amazing experiences.
Due to our newest friend, Flossie (the Tropical Storm turned Depression), the next day was full of fun activities. Our close crew turns every pitfall into triumph and we had a blast competing in the amazing Zebra vs. Cheetah color war adventure (a team competition comprised of relays, games, and a closing skit and song). When the lights went out, we used that as an opportunity to reflect on our trip and get the sentimental flowing. Each trip member shared with the group their favorite trip memory:
Gail – "Meeting all of the people we worked with and learning their stories."
Morgan C – "My favorite memory from my trip this summer would have to be getting to know everyone on the trip as well as those that we met along the way through doing community service. Bonds were formed and friendships were made that truly made my summer that much better!"
Stef – "My favorite part of this trip was probably meeting the family whose house we were building during Habitat ForHumanity. It made the experience more personal as well as motivated me to work my hardest."
Julia – "My favorite memory is the day we were grossed out by all the seaweed in the ocean, so we decided to make the most of it and have an awesome seaweed fight. It's a prime example that H8 makes the best out of every situation, and makes every situation a memorable one."
Lee – "My favorite memory is the Boys and Girls Club in Honolulu. We all got so close to the kids there and were able to hear about their lives and play with them. It was so sad saying goodbye to them!"
Morgan L – "My favorite memory is the evenings in Waikiki. Our group always found something new to explore and do in town which made it really fun and exciting. Exspecially getting hennas, and drinking the fresh juice from the pinapples and coconuts."
Madi – "My favorite memory is when we ordered fish from the market and ate at the beach when the sun was setting. It was such a gorgeous site, great bonding time, and delicious sea food."
Alex – "My favorite memory is when all the girls came into my room in Honolulu and we sat out on the balcony with popcorn and fruit roll ups and we talked for an hour and everyone felt included and it was fun."
Dustin – "My favorite memory is my birthday because everyone tried to make it so special and we had a BBQ then a nice dinner and then got homemade special cookies."
Cami – "My favorite part of this trip was definitely saying good bye to the kids at the Boys and Girls Club in Honolulu, it really showed everything we did for all of the kids st the club, it was really a great feeling."
Seth – "My favorite memory from this wonder, fun-filled trip was our exciting surfing excursion in Maui.  Surfing was a wonderful bonding experience for our whole group and I had an abundant amount of fun trying new tricks on my surf board."
The lights eventually came back on and with a cheer of relief we moved forward with our summer of a lifetime. The next day would take us zip-lining through Maui tree tops, bonding over our last dinner at Stella Blues, and waking up to watch the sunrise and catch some beach time before we headed home to different states, cities, and lives.  As hard as it is to separate these trip members when they need to go to bed in their own rooms, you can only imagine the way the airport looked as they gave their final hugs, and said their goodbyes. While the days may have come to an end, the memories that we have created here will last way beyond our arrival home.
I now say Aloha Ohana and as I pass back the reigns of Mom and Dad from me to you, I thank you for raising the kids I called my own for the last 25 days and for sending them on this trip, this year, and entrusting them in my care. I am lucky to have shared these days, and these memories with your outstanding young ladies and gentleman
~Joelle.