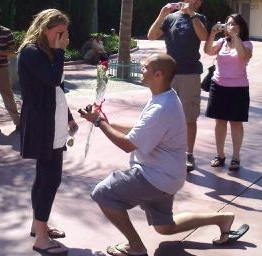 Two AMAZING Westcoast Tour Directors are getting married! A brief recap is below! We wish them the best!
The Westcoast Blogger
After 3 months of planning, Tour Director of the U.S. Explorer, Rich ('SWAMI") proposed to fellow Tour Director, Lindsay. On Day 20 of the US Explorer around a campfire in Jackson, Wyoming, SWAMI asked his group of traveling teenagers, 5 staff, and bus driver to help him with a meaningful project which would impact him for the rest of his life.
Leading up to July 28, 2009 – the group practiced singing the song "Anyone Else But You" from the movie Juno. Lindsay loves this song and felt it was a great song to describe her relationship with SWAMI and even spoke about it as a possible wedding song. Secretly, throughout the 2 weeks, the group was eager to practice – be it around campfires, on the bus, etc.
Lindsay was just completing her Westcoast Connection trip from Australia (which finishes in Hawaii) and she was flying back to Los Angeles to meet with another group. SWAMI made arrangements for her to meet up with him to spend some limited time together. Little did she know what she had in store …
Lindsay walked past the security check point of Disney and SWAMI was waiting for her just to the right as the group was preparing to the far left. An elaborate story was given to Lindsay. As SWAMI and Lindsay walked over, she saw this good looking, uniformed group in white shirts and jeans all lined up with the boys and girls separated. She looked confused and was handed an envelope, the last puzzle piece from a summer game that SWAMI had going on while she was away. The puzzle piece introduced the group presentation that was about to happen …
With Austin Z. conducting the group and Jesse F. playing acoustic while all other group members were singing, "Anyone Else But You" was sung amazingly (probably better than the movie itself). Public people and workers gathered and little did they know what they were about to witness. After the song, SWAMI told a little story about how Lindsay and him were brought together and said that he was the happiest man alive. Before getting choked up, he went on one knee and asked the question, "Will you marry me?" and with a shocking look on Lindsay's face she responded with, "Of course!" Tears were shed amongst the group as this special moment in SWAMI and Lindsay's lives were shared while working/traveling with Westcoast Connection as this is what brought them together!
We know they will live happily ever after … CONGRATULATIONS!