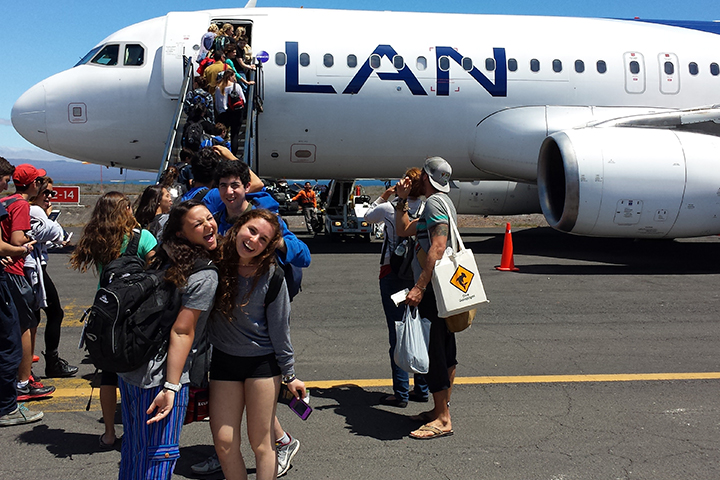 Traveling as a student is a force for good for the planet. And we've seen the effects, first hand. Here are 7 reasons why you should keep that wanderlust:
1. Traveling changes the way you relate to the world
If you don't see the world when you're young, you'll have less of a desire to do so as an adult when you have job and family constraints. It's difficult to imagine anything outside the life you grew up in. When you travel to other countries and see how the sun stays out all night long in Alaska, monkeys swinging from trees in Costa Rica, the sun setting over the red rocks of the Grand Canyon or the city of Paris from a top the Eiffel Tower you realize the world is full of more beauty then you could ever see in one lifetime (although you'll still try to see it all).
There's an old saying, "You don't know what you don't know" and if you don't know what you're missing then you'll have less of a desire to put the effort in to taking the time to travel. Once you see it, you will have a deeper obligation to want to save all the beauty that our planet has to offer.

2. Traveling changes the way you see others
Whether you come from a big city or a small town, travel will open you up to other cultures. Within most communities people tend to dress, talk and behave in a similar fashion. Traveling introduces you to people outside of your hometown who don't look or act the same way as you. This will greatly enhance your communication skills and teach you to embrace and not fear new experiences.

3. Traveling makes you appreciate what you have
When you see a family eating plain rice for dinner or kids without shoes laughing and playing under the open sky, it can help you think about how lucky you are to have a home and warm clothes to go back to. Similarly, it will make you realize that happiness doesn't come in the form of material things, but in relationships we cultivate with each other and the world around us.

4. Traveling teaches you to live in the moment
You can't control everything when you are traveling. Maybe you don't speak the language. Maybe you're using a map for the first time. Maybe you're trying food you never even knew existed. It's in those moments where you really live! When you catch your first wave surfing in San Diego, pet a Kangaroo in Australia or feel the sun on your skin in Santorini, you forget about time, to do lists and your Facebook status update.

5. Traveling challenges you in new ways
Just as traveling is humbling, it is also empowering. You realize you can do things you never thought possible. Surrounded by new friends from different backgrounds and full of different experiences you will feel more confident to try things you never would in the comfort of your own home. Scared of heights? Why not try that ropes course in Lake Tahoe? With every fear you conquer, you will feel more capable to do bigger and better things. You're more adaptable than you think. This is a lesson that's great to learn at any age, but if you learn it while you're young, you'll be able to apply it throughout your entire lifetime (and think about how much more you'd be able to accomplish then).

6. Traveling makes your education come to life
Everyone can sit in history class and listen to the teacher go on about the Palace of Versailles, Apartheid in South Africa or Pearl Harbor in Hawaii. But travel removes you from the confines of a classroom and brings history to life! The stories are no longer pictures in a textbook or words written on a blackboard. These places are now tangible memories that you will remember for much longer than anything you ever study in school.

7. No one lives forever
We aren't guaranteed to live forever. Many people put off travel assuming they will have time, money and health later in life to appreciate the world. Although this might be true for some, there are no guarantees in life. So take every opportunity you can to see this gorgeous planet we live on. It will make you the best version of you there is. And you will be so grateful that you have plenty years left with this version of yourself to continue the adventure!
Don't stop wondering. Don't stop traveling. Get out there and bear witness to the changes our planet is going through. It will change you, and in turn you will be one more person who will partake in the movement for greater good! Just remember to do so responsibly. Keep an open mind and an open heart and we promise you won't be disappointed.

The Westcoast Blogger
Do you want to be part of a unique trip? Come onboard our 27-day Hawaii and Alaska cruise for high school students and visit hawaiian islands, Alaskan towns & more.