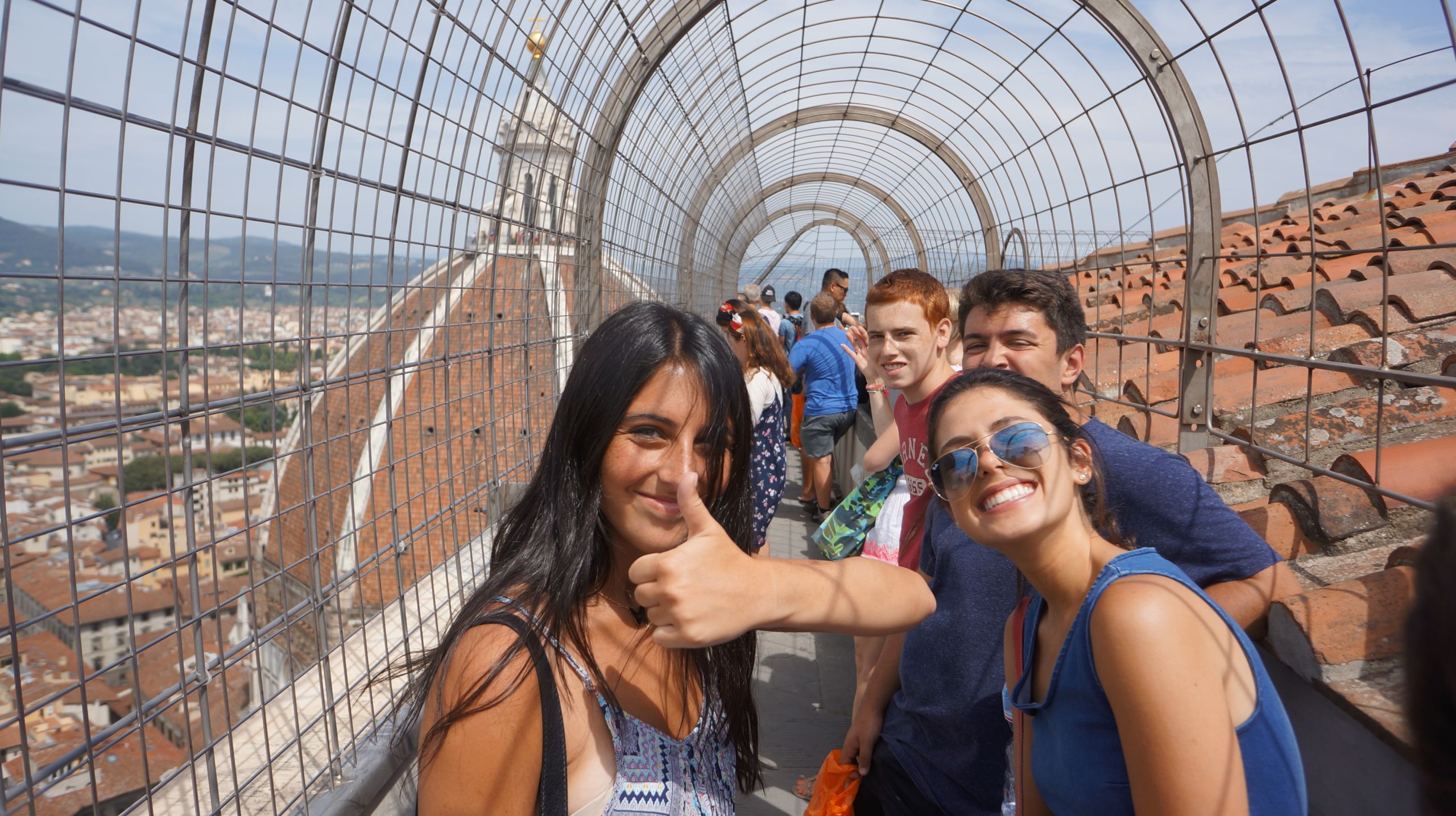 As a student who's completing 9th through 12th grade you may be wondering how studying abroad in high school benefits you in college. From academic advancement to personal growth, consider the following reasons when trying to decide if a study abroad summer program is a good option for you.
Broaden your perspective of the world
New cultural experiences will make you a more understanding participant in our global community. Seeing the way other people live and why their unique perspective may be different than your own, creates a greater awareness and openness that will remain with you for years to come. With this worldly knowledge, you'll be better prepared to interact in a more mindful way in multicultural settings. When considering the advantages of studying abroad, gaining a broader perspective of the world will instill a cultural sensitivity and sophistication that will especially benefit you in a college setting where group learning, debating critical issues and being a good team player are key to success.
Practice another language
There's no better way to learn a language than to immerse yourself where it's spoken, providing endless opportunities to practice in everyday settings. As many overseas destinations speak another language, this is a great opportunity for students to go beyond the classroom and converse with native speakers.  In addition to this immersive approach, many study abroad programs also offer the option to take formal language courses. For example, students can practice Italian in Florence, Spanish in Spain or Costa Rica, French in Montreal and, for international students looking to improve their English, they can attend courses in California.
Find direction for your career path
You may know exactly what you want to study in college or maybe you're still trying to figure it out. The opportunity to explore some of your interests and passions while still in high school can help provide direction for the important decisions you'll make when choosing the college programs you want to apply to.  The academic benefit of studying abroad is that by branching out to other destinations, you'll also likely be expanding your course options so you can really zero in on your chosen discipline. Whether you want to study business, photography, psychology, cooking, languages, science, law, sports, web development or art, the educational opportunities will vary in different destinations. Going through this exploration phase in high school means that you may even change your direction, which will be much less complicated and costly than if you had this same change of heart when already enrolled in college. Or it may help confirm exactly what you had planned, adding even more confidence and dedication to pursue your chosen discipline in college.
Learn the authentic way from locals
Especially applicable to creative and applied arts, imagine attending culinary school in Barcelona, learning art history while walking around Florence, or studying modern art in Montreal. By traveling to the source, you'll learn the most authentic way to cook iconic dishes, tour the most celebrated historic buildings and get up close to gaze at the details of original artistic masterpieces. One authentic experience can sometimes be enough inspiration to fuel a lifetime of artistic expression or take your creative talents to the next level. As some colleges require a portfolio as part of the application process, the work you do while studying abroad in high school can add greater depth and content to your portfolio.
Build independence and confidence
Traveling to a new destination without having your parents around, means you'll get to experience some independence. Study abroad programs for high school students offer a nice balance of structure and independence so you can experience this new found independence in a safe setting. Structured daily schedules and guidance from summer leaders will get you oriented with the city, find your classrooms, and settle into your residence. Beyond this, students are responsible for attending classes and together can practice navigating their way around the city. Learn how to ask for directions, do your own laundry, and decide what's for dinner as you enjoy a taste of the independence you'll enjoy in college. Building this independence will also fuel a greater sense of confidence as you realize you can stand on your own two feet and succeed.
Stimulate personal growth
One of the greatest personal benefits of studying abroad is the growth you'll experience in such a short time. In addition to developing your talents and academic potential you'll learn life lessons and further develop your own identity. Going through the mix of emotions associated with traveling to an overseas destination, from facing your fears of being far from home, to the excitement you'll feel as you take in your new surroundings, you'll soon realize that this is the wonder of travel. Tapping into your sense for adventure and stepping outside your usual comfort zone, is a great way to mature and further develop your own identity. At an ideal age where finding oneself is key to personal growth, it's hard to think of a more opportune time than to begin this exploration while still in high school.
Make new social connections
The social connections you'll make while sharing a study abroad experience with your peers are pretty everlasting. Being in a new setting without the usual expectations that people have of you, gives you the freedom to open up and strike up a conversation with someone new. Meeting people from around the world creates opportunities to expand your social circle as you learn and share ideas with new friends. Even if you have a nice comfy group of childhood friends, it's a great test of character to put yourself out there, meet people who have similar interests and expand your horizons. You'll be thankful to have these networking skills when you walk onto your new college campus on your first day of school.
Develop key soft skills
As important as the technical knowledge needed to pursue a given career path, it's actually likely the soft skills that will set you a part. Developing these soft skills is another great reason to study abroad as, how better to improve skills such as communication, adaptability, problem-solving and tactfulness than by learning to navigate your way around a new place? For example, understanding the importance of effective communication and making friendly first impressions will go a long way in both a college setting and in your career. Also referred to as employability skills, it's clear that developing these soft skills while still in high school will have lasting benefits.
Stand out in college applications
Related to the above, the reason many say that travel is the best form of education goes well beyond book smarts. Colleges are looking for well-rounded applicants so demonstrating that you've taken the initiative to study abroad while still in high school will likely help your college application stand out. While being able to showcase the pre-college courses you took, study abroad programs also tend to offer more experiential learning opportunities.  These experiences may also fuel the content as you consider what topic to write about for your personal essay that's meaningful and unique to you.
Discover the unknown
While the benefits of studying abroad are quite substantial, there's always the element of being open to discover the unknown. As you embark on a new journey you're sure to discover some nice surprises along the way! By changing up your daily routine, your eyes will be wide open to discover what's around the corner, whether it's a beautiful sunset, iconic 15th century building or delicious smell coming from a local trattoria. Enjoy the feeling of discovery and learn to trust your senses. This curiosity and desire to explore will likely stay with you as you become a lifelong learner and traveler.
Knowing that studying abroad in high school benefits you in college, Westcoast Connection offers a variety of pre-college enrichment and language programs especially for high school students. With 4 pre-college destinations to choose from, students can either take courses at Florence University of the Arts, at prestigious schools in Barcelona, on the campus of McGill University in Montreal or on the campus of UCLA in Los Angeles. In addition, Spanish language programs are combined with travel throughout Costa Rica or Spain.