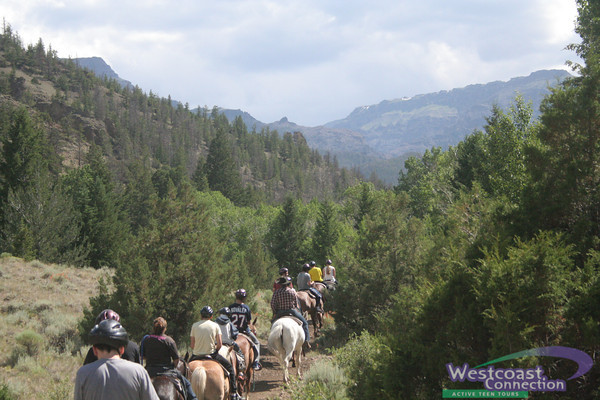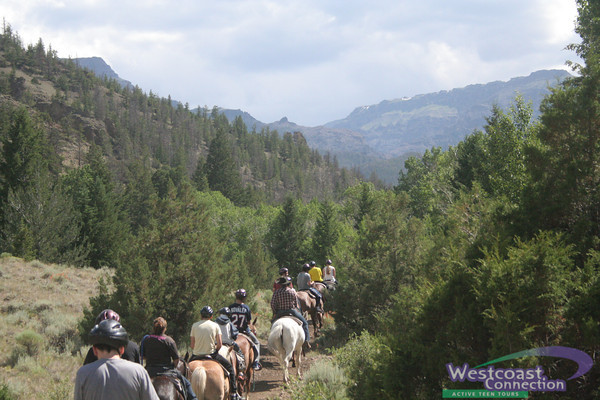 Howdy US Explorer Parents!
Welcome back to our adventure across North America.
After a leaving from Rapid City, South Dakota, we arrived at the Buffalo Bill Village in Cody, Wyoming.  After settling into our quaint cabins, we made our way to the Hong Kong Restaurant for a variety of classic Chinese dishes. It was delicious and we all had fun finding out our fortunes at the end of the meal. We then spent the night having a blast playing a game called"Most-est," Rebecca's recommendation. Our trip split up into four different groups. Each group was required to bring up one representative per task, such as best dance move or longest handstand. No one could stop laughing when Ethan and Lily ended up in a faceoff for their best freestyle raps. Sydney L showed off her moves like Beyoncé, and Arielle won for her winning impersonation of our great bus driver Darryl. When this energizing program came to an end, we all went to bed to prepare for our jam-packed day that followed us.
The next day, we woke up early in anticipation for all that was in store for us! We headed to the Shoshone River for some white water rafting and it did not disappoint. David T and Jacob showed off their paddling skills, while Valerie, Aiden, and Matt Z were "white water rapping." We all saw a bunch of river bears and deer throughout our journey. If you would like to see some photos taken by Wyoming River Trips of our white water rafting, head to www.wyomingrivertrips.com. Once on the website, go to Trip #2, then click on "Already been on the trip" in order to see the pictures. We are the July 14 group – the pictures will be available until August 14.  After this exciting activity, and a yummy lunch back at the resort, we drove through a beautiful area to arrive at Buffalo Bill Ranch, where we went horseback riding! Everyone was excited to find out the name of the horse that each person was going to ride. The scenery was beautiful throughout the ride in the mountain trails. Julia G conquered her fears of horseback riding, and after her ride wanted to go again! Max looked like a riding jockey by passing both of our male staff, Phil and Ryan. David T and Rebecca sang High School Musical's "Breaking Free" while riding. After a fun day in the mountains we headed to downtown Cody for a tasty dinner. Something the entire group discovered while staying in Cody is that it is known as the rodeo capital of the world. After dinner, we attended the famous Cody Rodeo. Many trip members were even able to go onto the field during the show and participate. Our day in Cody was definitely one to remember.
The next morning we left to begin our trip to Jackson Hole. Throughout our drive we made many unique stops in Yellowstone National Park. We made sure to keep the shades up on the bus so everyone could take in all the beauty of the park. Many trip members were able to capture the views on their cameras through the bus windows. Our first stop was at Yellowstone Lake, where many trip members put their feet in the lake and took pictures of the mountains in the backround. Jacob even got his hair wet! Right after getting back on the bus we got stuck in a unique traffic jam caused by wild buffalo trying to cross the road. Everyone was trying to get pictures of the wild animals as they walked by the bus. After lunch, we played a rousing game of humzinger where trip members had the chance to come up to the microphone on the bus and hum a song they were listening to through headphones. The other kids had to guess what the song was. Jeremy, Jacob, Lainie and Mike were especially talented at this funny game. Our next stop in this beautiful park was at the gorgeous fountain paint pots. It was incredible to see the different geysers spurting water high up into the air and the effects of the thermal ground. Our final stop en route to Jackson Hole was at Old Faithful. Jon and Aidan waited patiently with their cameras ready. The entire group was able to capture the beauty of this famous geyser.  Yellowstone was definitely an incredible experience and everyone has tons of pictures to remember its beauty.
The next day, we headed into downtown Jackson Hole. We had a blast by playing the game "trade up." We all split up into groups and each group began with a pen. Then, each group needed to walk around and try to trade their pen for at item, and continue to trade up to see what each group could possibly get. Alec, Bailey, Eric, Jeremy, and Jacob ended up with $400 of cowhide and petrified wood. Michael, Lainie, Valerie, and Julia S got a spaceship model from the Smithsonian and a baby bottle. Some of the other items the groups collected were lamps, a pine tree, a bicycle tire. We now have a very random assortment of things on our bus! We then headed over to the Teton Recreation Center for an afternoon of swimming and basketball! Arielle and Sydney D had a blast riding down the water slide and all of the boys had a great time playing a very intense game of basketball in the gymnasium. It's been an incredible four days in Wyoming and for now we're off to our 11th state – Utah!
Until Next Time,
Lauren, Larissa, Phil, Ryan, Jessica