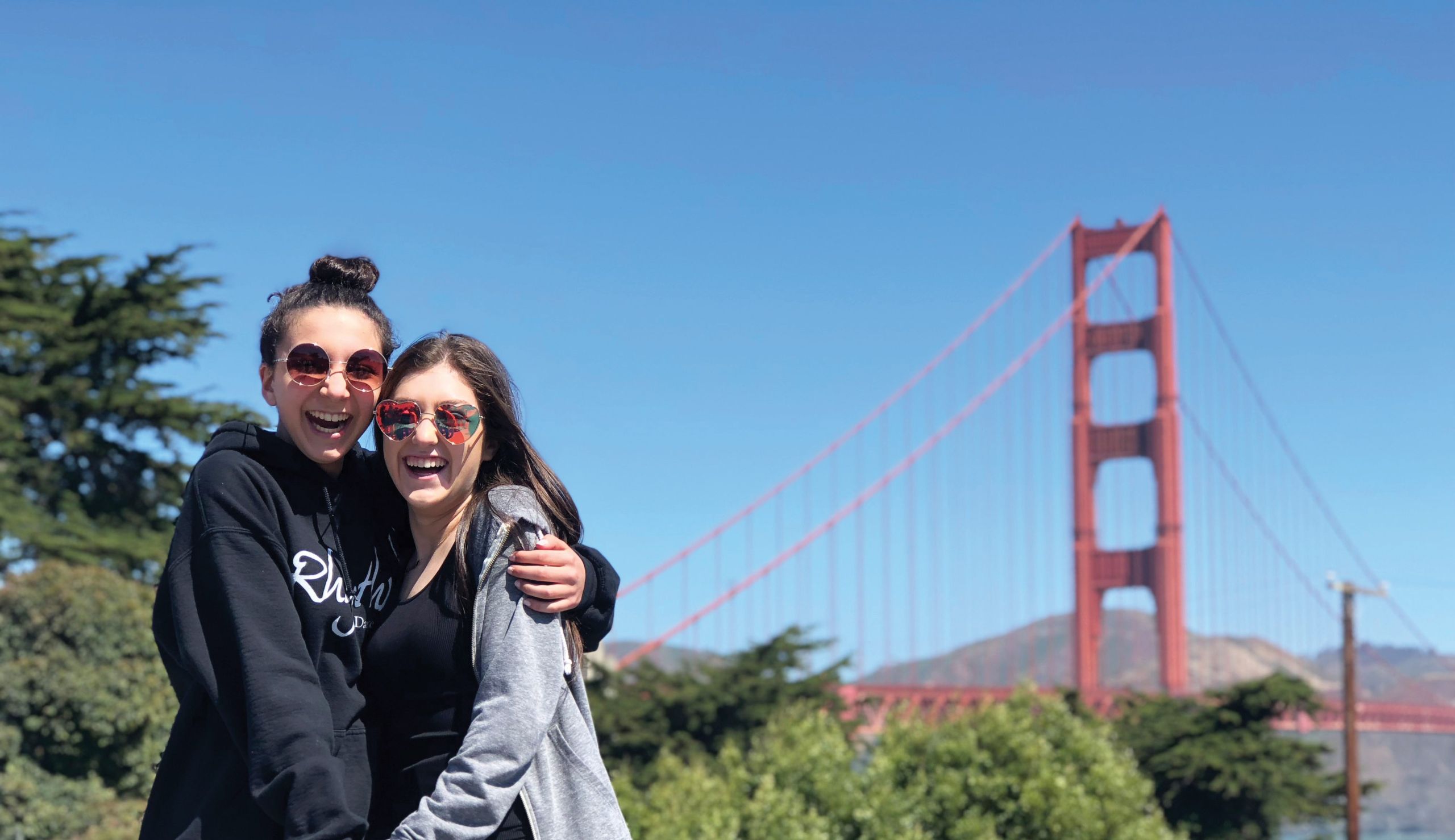 Looking for things to do or places to visit in California on your next trip? Look no further.
We've been running teen summer programs through the golden state for the last 36 years, so it's safe to say we're in the loop about the best things to do in California.
Whether you're headed to Los Angeles, San Francisco, San Diego, or another sunny destination in Cali, chances are, you'll be able to check off a few items on this list. And if you're joining one of our Active Teen Tours this summer, you might just be able to check them all off.
1. Cruise the waters of Lake Tahoe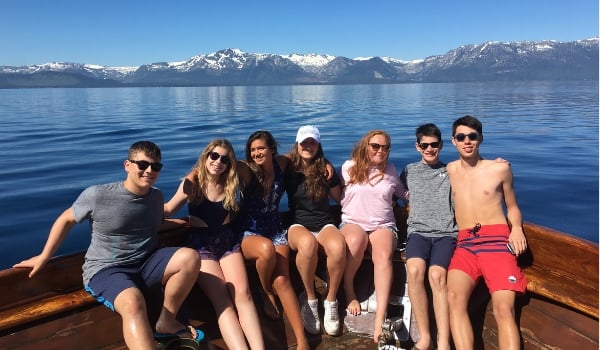 Arguably one of the most beautiful lakes in the country, Lake Tahoe is renown for its deep blue waters and breathtaking surroundings. The lake itself is enormous, and there are tons of activities to take part in either on the water or the shoreline, depending on where you are.
If you're hoping to kick back and relax, you can soak up the sun on one of Lake Tahoe's beaches or join a calm sailing cruise around the lake. If lounging around isn't your style, you can go tubing, waterskiing, wakeboarding or stay on dry land and join a game of basketball or beach volleyball. If you need even more of a challenge, head to the top of the trees and take on an aerial ropes course filled with bridges, ziplines, rope swings, and other exciting challenges.
2. Take a surf lesson in the Pacific Ocean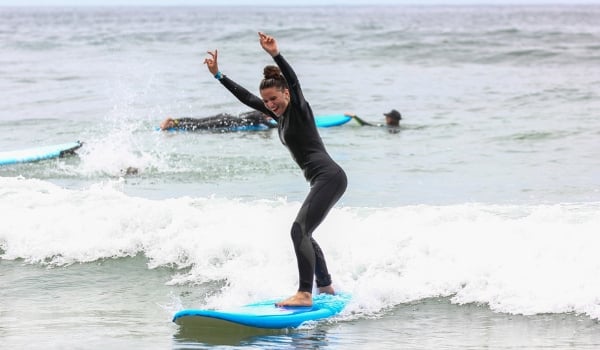 Standing on a surfboard for the first time is truly an awesome feeling, definitely worth a few wipeouts on the way there. We've seen the excitement on countless teens' faces after getting the hang of it, and trust us, it never gets old.
You can find surf lessons all over the coast of California, but our favorite surfing spot to introduce teens to the world of the shaka is in San Diego. And if you're wondering, "what in the world is a 'shaka'", that'll be the first thing you need to learn.
3. Visit San Francisco's unique sites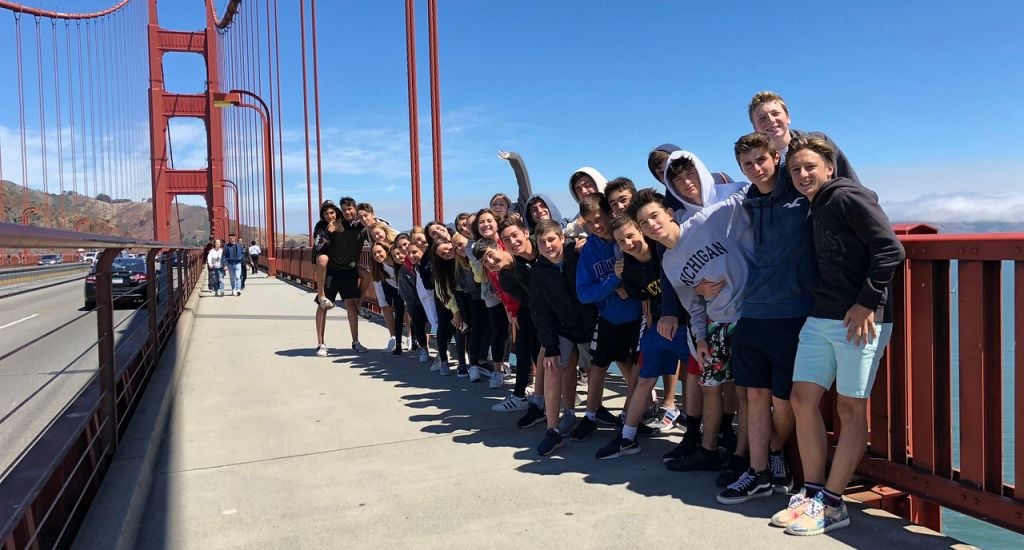 San Francisco is home to its fair share of famous landmarks. Are you the person hoping to see them all or someone who'd prefer to discover the lesser-known scenes of the city? Whichever you choose, there are two places that you have to visit when you get the chance: Alcatraz and the Golden Gate Bridge. Both of these sites are rich in history and not-to-mention, great for taking awesome pictures.
The tour of Alcatraz prison is one of the most interesting history lessons you'll ever get to experience. The views from the island itself are a great bonus. If we're talking views though, The Golden Gate Bridge is tough to beat. We make sure there's plenty of time for photos whenever we visit. From the bridge, head to the nearby town of Sausalito for some more stunning views of the city and plenty of great food.
4. Visit the animals at the San Diego Zoo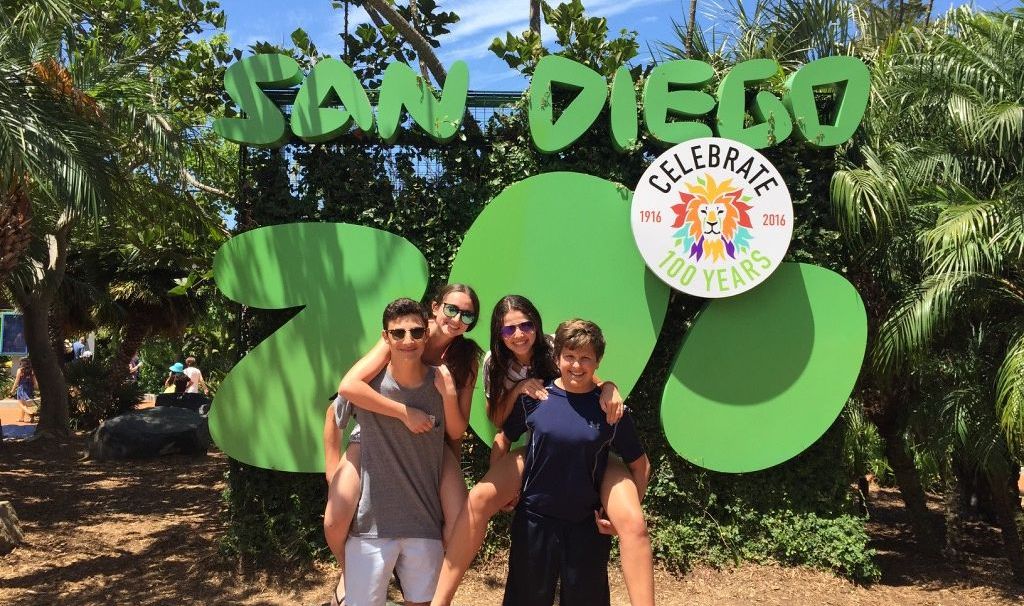 Did you know that the San Diego Zoo operates conservation projects in over 40 countries across the globe? The zoo is home to all kinds of exotic animals and plants, and has helped to protect, breed, and care for many endangered species like giant pandas and rhinos.
You can take part in guided tours that not only let you see the animals, but also provide information on endangered species and the importance of conservation. Alternatively, get a bird's-eye-view of the animals on an aerial tram that carries you over the zoo and surrounding park.
5. Take a ride at one of California's famous theme parks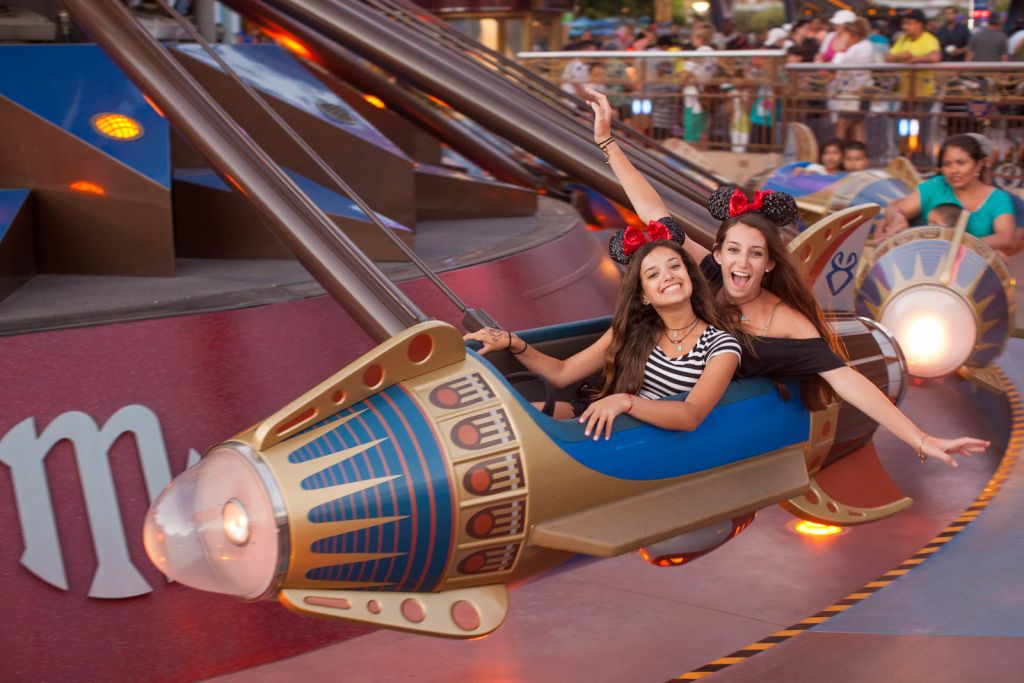 You've surely already heard of the theme parks in California, but you can't have a list of things to do there without including Disneyland and Universal Studios Hollywood. For one thing, you're never too old to take pictures with Mickey and Minnie. For another, the rides and attractions at Disneyland are always a blast. With the addition of Star Wars themed attractions this year, there's even more reason to check out the park.
Universal Studios Hollywood is also a must-see if you get the chance. Attractions like the Wizarding World of Harry Potter and the World-Famous Studio Tour help any movie-fanatic check items off their bucket list.
6. Soak up the sun at Venice Beach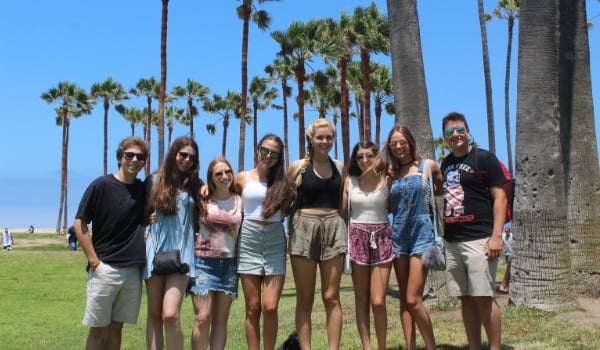 A trip to Venice beach is never boring, that's for sure. The entire place is filled with energy. From the unique street performers to the bodybuilders at muscle beach, there are interesting characters everywhere you look.
Besides enjoying all the action going on around you, the main reason to visit is for the famous Venice Beach boardwalk. You'll find tons of great shops and restaurants to check out, not to mention a great view of the ocean. Whenever we stop in for a visit to Venice Beach, the boardwalk is the place to be.
7. Watch a Major League Baseball game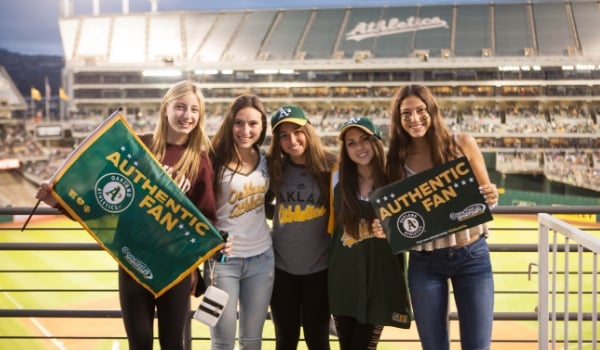 Fun fact: California has more professional sports teams than any other state in the U.S, including 5 MLB (Major League Baseball) teams. Wherever you are, you're never too far from catching a game, it's any fan's dream. You don't really have to be a baseball fan though; the atmosphere and stadium snacks are more than enough reason to go.
Grab a friend, and go check out the Angels, A's, Giants, Padres, or Dodgers on your next visit to California. We always try to catch a game whenever we're in town and it never disappoints (unless your team loses of course).
8. Laugh out loud at IMPROV comedy club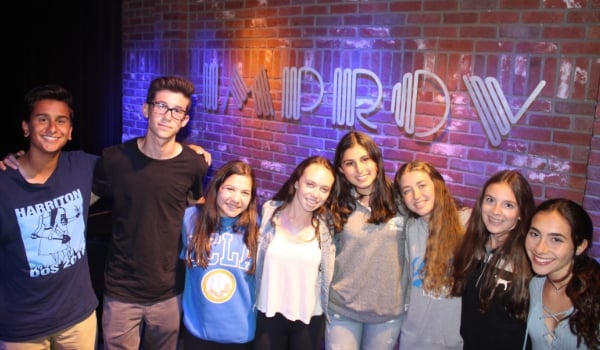 If you've never been to a comedy club, then this is a great place to get hooked. IMPROV is a world-famous chain of clubs where comedians from around the world come to perform. You might have heard of a few of their performers over the years. Do the names Jerry Seinfeld, Ellen Degeneres, or Adam Sandler ring any bells?
Whether it's a famous comedian performing or not, you'll rarely walk out the doors of IMPROV without a smile on your face. Nothing brings people together quite like comedy does.
9. Take a tour of UCLA's campus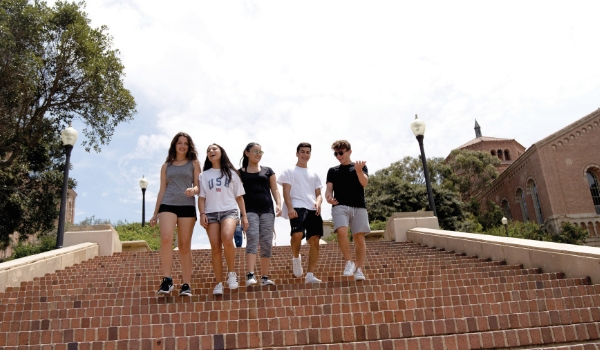 School might be the last thing on your mind this summer, but there's no denying that exploring colleges while still in high school can be a valuable opportunity. If you're a high school student and you find yourself in the Westwood neighborhood, we highly recommend exploring the campus of UCLA.
You'll be blown away by the facilities and the energy of the entire place. It's a great way to spend an afternoon, and taking the time to visit could be an inspiration for your college applications one day.
10. Spot your favorite celebrities on Rodeo Drive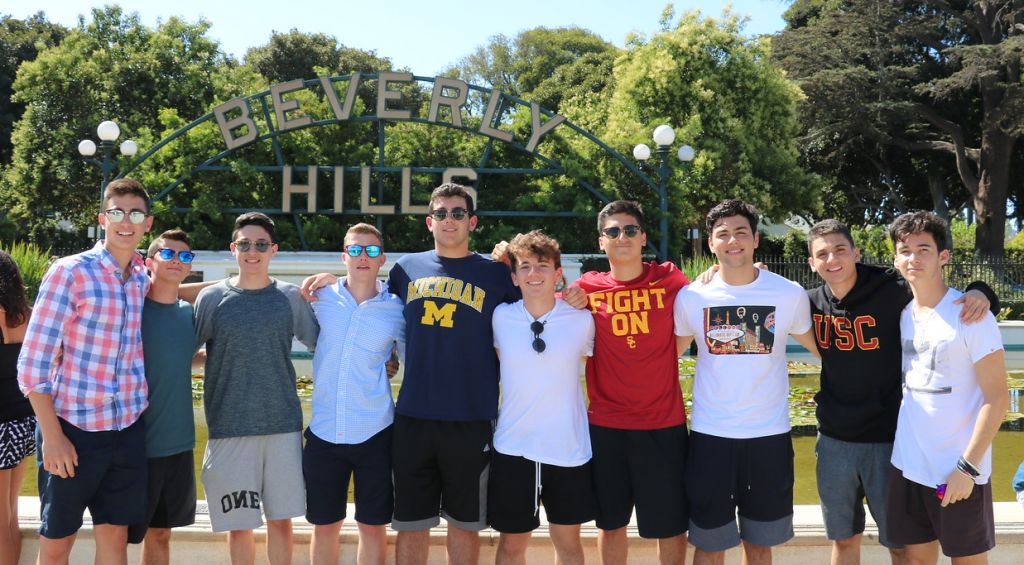 Rodeo Drive is a must-see for anyone who loves high-end fashion. Even if you don't plan on making any purchases, the 3 block stretch of luxury shops and boutiques is still a great place to explore. Who knows, you may even run into a familiar celebrity or two while you're there.
The street is a classic destination in our books, and our programs always visit when we're in the Beverly Hills area.
There are so many fun things for teens to do in California, no matter where you are or what you're interested in. In our 36 years of visiting California on our teen summer programs, we've perfected the formula for an amazing adventure in the golden state, and nearly every one of these activities plays a role in creating the summer of a lifetime.
Did you find this list helpful? Want to learn more about our travel programs in California?