Our Approach
We will continue to work with our partners, local, state, federal and international agencies, our infectious disease physician and within our own Covid committee to assess the specific protocols needed to help keep our participants safe and healthy. Our experience operating programs in this environment has taught us that flexibility is the key component to success.
Protocols
For summer 2022, we require all participants and staff to be vaccinated prior to their program.
The situation is ever changing and rest assured WCC is monitoring, adapting and staying well-informed. This past summer we implemented the following protocols and systems and will consider them for 2022 depending on the circumstances closer to departure:
Pre-departure Covid-19 health questionnaire and testing.
Day 1 health screening with Covid-19 specific symptom checks.
Increased hygiene, including extra hand washing and readily available hand sanitizer.
Use of face masks as outlined by local authorities and destination partners.
Daily symptom and temperature checks.
Enhanced sanitation measures in vehicles.
Maximize outdoor dining options.
We work with trusted hotels, restaurants, vendors and partners that meet our quality standards and are compliant with locally mandated protocols.
Safe Travels for the New Normal
Westcoast Connection has been awarded the Safe Travels stamp by the World Travel and Tourism Council. This stamp is an international symbol designed to allow travelers to recognize companies globally, which have adopted proper, standardized health and hygiene protocols.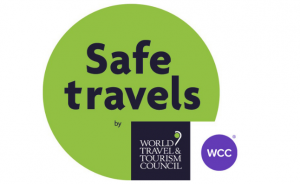 We're in This Together
We pride ourselves on the trust we've worked hard to earn from our travelers over the past 39 years. We believe that trust is derived from our individual attention and care for participants, our attention to detail, transparent communication with families, as well as, our sensible judgment. We are here to answer any questions you may have, as there is no substitute for a conversation.