Our Approach
We will continue to work with our partners, local, state, federal and international agencies, our infectious disease physician and within our own Covid committee to assess the specific protocols needed to help keep our participants safe and healthy. Our experience operating programs in this environment has taught us that flexibility is the key component to success.
Protocols
Last summer we required all participants and staff to be vaccinated prior to their program. Based on the ever-changing Covid-19 landscape, our 2023 policy will be established and posted here by March 1.
The CDC recommended booster shots at 5 months after the completion of the primary series of vaccinations for those aged 12 and older. A booster may be required by many of the destinations and establishments we visit. Thus, in order to have the best chance your teen will be able to participate in all aspects of their program and help protect against serious illness, we strongly suggest they obtain the booster shot in accordance with the CDC recommendation and after consulting with your physician.
We will be updating enrolled families on their specific destination testing and vaccination requirements closer to departure.
Rest assured WCC is monitoring, adapting and staying well-informed. We will implement the following protocols and systems depending on the circumstances closer to departure:
Pre-departure testing and document completion as required by specific destinations or WCC.
Day 1 health screening with Covid-19 specific symptom checks.
Increased hygiene, including extra hand washing and readily available hand sanitizer.
Use of masks outlined by local authorities and destination partners. Wearing a mask may be required where social distancing is not possible including in vehicles.
Enhanced sanitation measures in vehicles.
Maximize outdoor dining options.
We work with trusted hotels, restaurants, vendors and partners that meet our quality standards and are compliant with locally mandated protocols.
Safe Travels for the New Normal
Westcoast Connection has been awarded the Safe Travels stamp by the World Travel and Tourism Council. This stamp is an international symbol designed to allow travelers to recognize companies globally, which have adopted proper, standardized health and hygiene protocols.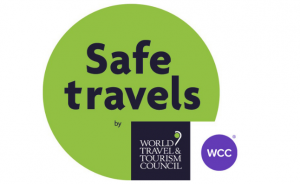 We're in This Together
We pride ourselves on the trust we've worked hard to earn from our travelers over the past 40 years. We believe that trust is derived from our individual attention and care for participants, our attention to detail, transparent communication with families, as well as, our sensible judgment. We are here to answer any questions you may have, as there is no substitute for a conversation.