Safe Travels for the New Normal
Westcoast Connection has been awarded the Safe Travels stamp by the World Travel and Tourism Council. This stamp is an international symbol designed to allow travelers to recognize companies globally, which have adopted proper, standardized health and hygiene protocols. Nothing is more important than our travelers' physical safety and comfort.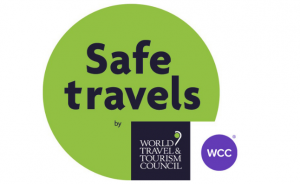 Westcoast Connection was built on making a tremendous investment in trip planning, safety protocols, staff training, and many other areas to eliminate as much preventable risk as possible. We are closely monitoring COVID-19 updates and use multiple sources to stay educated and make informed decisions, including the: U.S. Department of State, Travel Advisories, Centers for Disease Control and Prevention (CDC), Health Canada, Foreign and Commonwealth Office (FCO, UK Government) and Smart Traveller (Australian Government).
We also consult organizations we are members of, including the National Tour Association (NTA) and Student Youth & Travel Association (SYTA). Additionally, we subscribe to alerts and information from WorldAware, a leading provider of safety and risk management information.
What to Expect When Traveling With Us in 2021
The situation is ever changing and rest assured WCC is monitoring, adapting and staying well-informed. With guidance from the organizations mentioned above, we are prepared to implement the following as needed closer to our programs' departure.
Pre-Program Health Information
We require all participants and staff to complete a health history and medical form that is signed by their physician. Prior to departure an additional questionnaire may be sent requesting details of each individual's current health status.  We will be sharing health and hygiene protocols in accordance with the most current guidelines specific to each program. Depending on public health guidelines, participants and staff may be required to take a Covid test prior to arriving on their program. This protocol will be reviewed in the spring.
Day 1 Health Screening
We've enhanced our day 1 in-person health screening protocol to include temperature readings and updated COVID-specific questions. Our first day welcome orientation will cover what can be expected on your program and all the necessary safety precautions.
Hygiene
Hand sanitizer will be provided and made readily available throughout your program.    It is advised for participants to bring their own as well. Participants will be encouraged more frequently to wash their hands with soap & water or use hand sanitizer. There will be no sharing of water bottles, personal items, etc.
Face Masks
To be determined closer to departure, each participant will be required to bring reusable face masks with them. We will require masks to be worn in public spaces where social distancing is not possible or as outlined by local authorities. It is likely that we will require face masks to be worn in vehicles, similar to how they are required on flights.
Monitoring Participants' Health
We are proud of our reputation for individualized attention and special care for our participants. If a participant is not feeling well, we have access to the nearest medical facilities and doctors and are in constant communication with parents. In addition to our standard healthcare protocols, we will be conducting daily temperature checks and will be in contact with parents if anything is irregular. If a participant shows signs of Covid-19 and a test is deemed necessary, they will be isolated from the rest of the group and taken by our staff for testing.
Staff Training
Our industry leading training is being adapted and enhanced to include dedicated sessions and modules on dealing with COVID-19.
Additional Support Staff
In addition to our regularly scheduled support visits on 95% of our programs in a typical summer (every 7-10 days), we are investing by having an additional staff based in key areas where we operate to provide extra support.
Transportation
We will ensure that enhanced sanitation measures are in place in all vehicles. They will be thoroughly sanitized prior to the start of each program and twice daily by our drivers and staff that will be trained on the latest hygiene protocols. All participants and staff will be required to use hand sanitizer every time they enter the vehicles.
Hotels and Restaurants
We work with trusted hotels and restaurants that share and care about the well-being of our participants and are compliant with locally mandated standards.
Programs with Camping
We will implement the use of disposable plates and cutlery, use of gloves for meal preparation, extra cleaning of cooking equipment and staff to serve meals. Camping cots and air mattresses will be sanitized after use, as well as airing out tents and cleaning sports equipment between groups. We will also consider decreasing the number of participants per tent.
Enroll and Travel with Confidence
Safety, flexibility and your peace of mind are our top priorities as we look forward to 2021. Learn More
We're in This Together
Covid-19 is top of mind for all of us. We encourage you to call us to discuss any thoughts, concerns or questions you may have about an upcoming program.