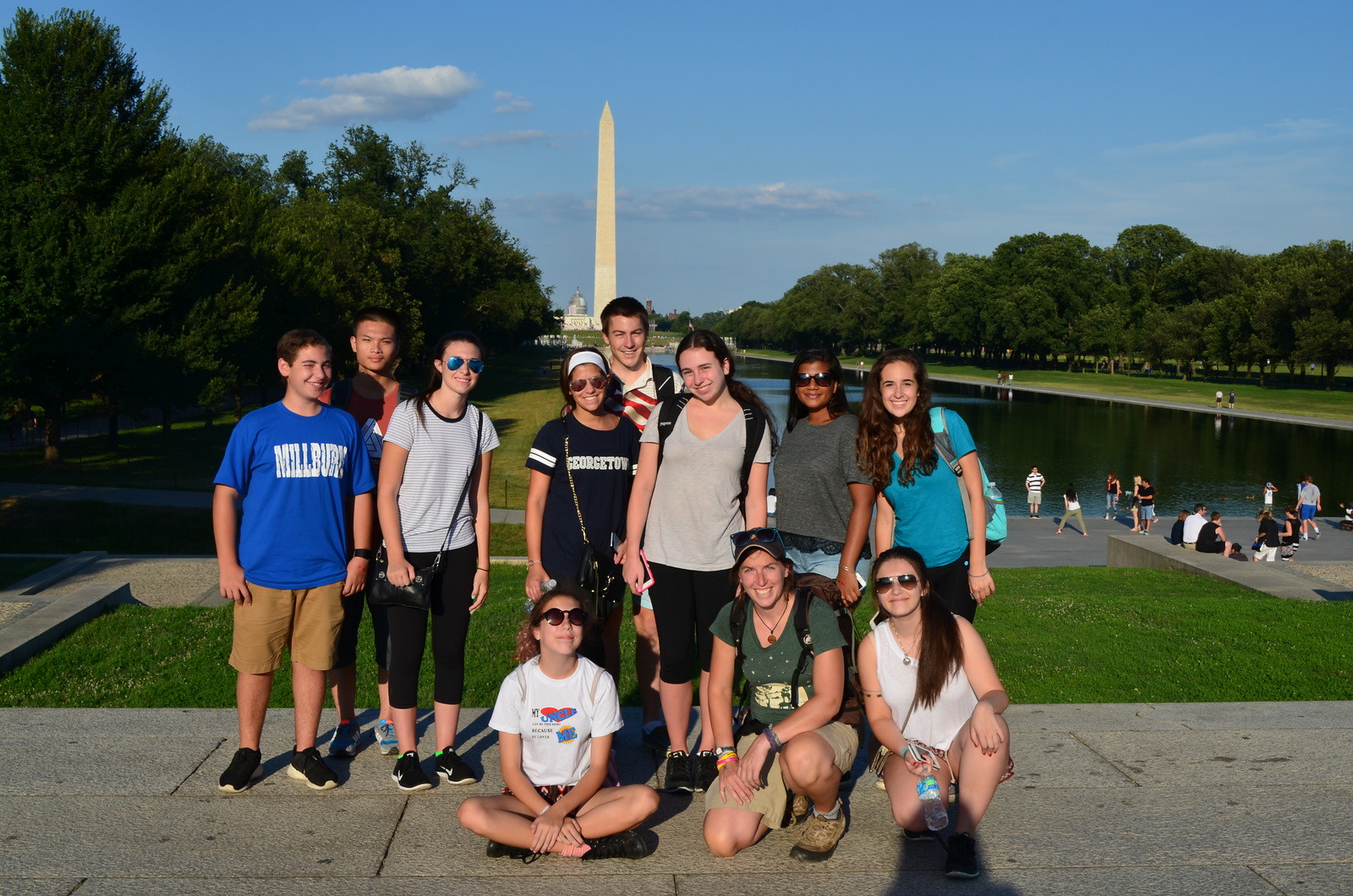 And another adventure begins!
We were sad to say goodbye to our Boston Crew, but excited for new experiences and friendships to come.  In between Boston and Washington, we had a fun night out in New York City.  Matt was especially great putting on his NYC hat and navigating us through the city like true locals.  We had a blast taking in the sights and doing goofy poses on the Mega screen in Times Square.
A new family was beginning to form as we departed NYC for our dorms at American University in Washington D.C. It seemed as though Seena had been part of the experience all along as she was jamming out to the radio along with others; not a bad singing voice either!
A lot of excitement was a buzz at the Boys & Girls Club when we arrived the next day.  They were prepping for a Carnival where Young Elected officials across the United States would come and talk raising awareness of the changes youth can make in their communities.  There were sighs of relief coming from Shawn, one of the BGC directors, stating "You always know when we need you, and thank you so much for being here."  And help we did!  It was impressive to see the initiative that all the trip members had stepping up and working alongside the Young Elected officials running and facilitating games.  Hailey and Lindsay were awesome running the ticket walk.  They played music as kids walked around a circle of numbers hoping to stop on the winning number called.  When there were only a couple kids playing Hailey was great at "altering" the results to make sure everyone got a chance to win.  The faces on the kids lit up as they danced around in celebration.  At the end of our community service there were hugs, tears, thank yous, and memories that will stick with us all forever.
In the evening we had a chance to tour the famous Washington monuments.  Our guide was familiar with all the quirky and unusual facts that happened in regards to each memorial.  One of the favorites was playing detective trying to find Kilroy.  Kilroy was a popular cartoon graffiti character drawn during WW2 so in honor of that the builders of the WW2 memorial hid him somewhere within the memorial.  Steven also checked off a bucket list item by seeing where the "I have a dream" speech was recited by Martin Luther King Jr. on the steps of the Lincoln memorial.  It was a great time to reflect on how these sacrifices in our past make us all able to accomplish wonderful things in our own lives.
We are looking forward to some fun days of taking selfies with Zoo animals, attempting to board a rocket ship, explore America's history, and seeing who screams the loudest on the roller-coasters.
– The Westcoast Blogger
Got yourself interested? Find out more about our trips to Washington DC for students and join this community service program with Westcoast Connection.