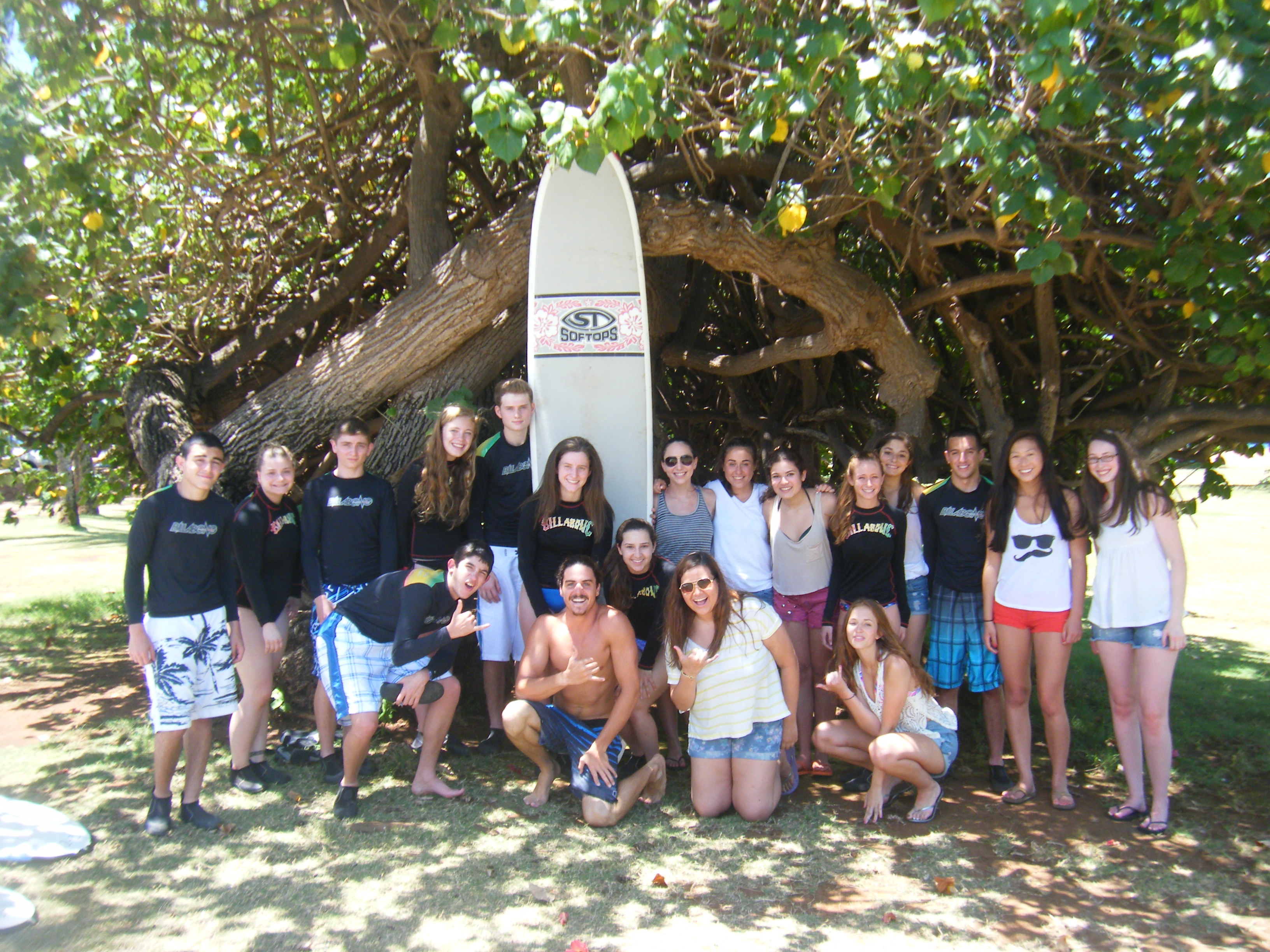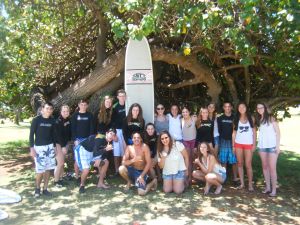 A final Aloha from Hawaii and our Ohana,
As we pack our bags and brace ourselves for tears to come, we thought we'd check in one last time. What a great time we've had – from new friends and old to digging trenches and surfing, our team really put their worries at ease and embraced the Aloha Life. It seems two-and-a-half weeks came and left but not before leaving deep impressions on our lives and our futures to come.
Our last few days were spent volunteering at Boys & Girls Club in Honolulu and enjoying what the city has to offer. He went to Dave and Busters (where of course we hit the jackpot) and the Wet 'n Wild water park. The laughs were in endless supply and as the road nears the bend, we find ourselves craving each other more and cherishing every minute we have together.
Looking back, we can genuinely say: brace yourselves for new kids coming home. You sent us a group of bright-minded and eager teenagers, we promise you're receiving well-rounded and open-minded ones back. Reflecting with them about the trip made us realize, we were lucky to have such a splendid group of youth.
Don't just take it from us though, here it is from the horse's mouth: Nina says that this trip has made her more confident and more open. She's excited to take the volunteering spirit that's ignited inside her back home and to continue growing. Her favourite part of the trip was the Habitat for Humanity project where we worked with Bernie and Joe. That was a few others' favourite moment of the trip too! Mike never knew he could feel so happy giving back. He learned that not everyone is as privileged as he is and that seeing how other people live has really helped him connect things in his own life. Habitat was a real tangible difference we made and just short of tears, it was hard to walk away. Rebecca and Caroline both said that they'd never experienced anything quite like that but the memory will last a lifetime. Caroline learned that everybody comes from a different walk of life but that embracing everyone is the key to success. She said this trip was eye-opening and helped her map her life outside her suburban bubble. Rebecca was shocked to see how different life is even in your own backyard. We didn't leave America yet found a whole other world. She is thrilled to have experienced a different culture and braced through the poverty, however tough it was. Being hands-on for our Habitat project gave her a better understanding of the world and a visual when people say "there's no poverty in America".
Boys and Girls Club Maui really touched and changed a lot of our group. Ryan had never seen kids with such broken home situations but what surprised him the most is how high-spirited they still were. He says that they couldn't afford food themselves but always offered to buy him snacks from the cafeteria. It really opened his mind to the concept of giving and how easy it is to give back. Just spending a little time with people you know who want to soak in your wisdom is the perfect place to start. Ryan was surprised at how easily he made friends with everyone and how hard it was to let go even after such a short time together. Being a role model was a big part of this trip and Gabby learned that first hand working with the kids. She realized how much the little time they spent together really meant when the kids cried as we left. Madison, one of the little girls, wouldn't let her go! She knew she'd given back, even if in a little way and seeing the smiles on the kids' faces was the cherry on top.
Allie feels humbled and learned that she's much smaller in the spectrum of the world than she'd ever known. She realized that kids, no matter where they come from or what they've been through, will always be just kids. She said that knowing she had limited time on a volunteer assignment made her want to work harder and give all she could in that time. She was amazed at how welcoming the kids at the Boys and Girls club were; so different than those on the mainland. They trusted us right away and gave us everything they could. She says the her biggest gain is knowing that there are other ways to live in the world and what we have at home might not be the best thing after all. The same philosophies rang true with Erica who was pleasantly amazed at how much her and kids who had never spent a day in her life had in common. She says she's leaving Hawaii with a different mindset towards the world and appreciation for what she has. She knew she'd made a real difference at Boys and Girls club and learned that opening up to those kids was the best experience she could have had.
It's funny to see how many of our own teens learned to appreciate other kids. Patrick and Marissa both said they love kids now, whereas they never did before. Changing his perspective on kids is what Patrick says he gained most out of this trip. He says that having fun with them isn't hard and they gave him more than he could have ever given them. Marissa said that although her and kids weren't a match made in heaven before, they're pretty alright. She was surprised at how quickly they built attachments to her and how sad she was to leave them. She's happy she learned about their Hawaiian culture and will definitely be bringing home some of that spirit.
Appreciating what we have at home and what we take advantage of daily is in full-screen mode and more than ever, we know how lucky we are to live the lives we do. Sophie and Jenna say that they are extremely thankful for what they have. Sophie has a better understanding of where people come from and is happy to have experienced such a down-to-earth culture. Jenna learned that her "troubles" are nothing compared to what some people go through daily. She's ready to make the best out of everything she has and to live everyday to its fullest because she really does live a great life.
Some of the experiences that changed these teens aren't related to the community service we did. Sometimes, learning how to cope in a group and making friends is a challenge in itself. Jonathan found himself coming out of his shell and letting people in more. He says he was more energetic and loved being in the middle of everyone. Katja is excited to have grown closer to people and to have experienced new things with them. She says that Hawaii gave her the courage to try new things (foods, activities) and she finds herself excited to start everyday…really, she's always smiling! Jackee learned to enjoy the moment for what it is and accept everyone for who they are. She says that she's happy with the person she was on this trip and the amazing people she met. She says it's the family and memories we made this trip that will really last a lifetime. Nature G (Grant) says he was happy to have encouraged everyone to have fun and bring out the little crazy and weird in themselves. He says he's proud of himself for coming on this trip not knowing anyone, and now leaving with a pocket-full of friends. He learned that being social and interacting with people is a true passion of his and he's happy he got out of his comfort zone. He's embraced his quirkiness and we loved every bit of it. Illiana learned a lot about herself and the way she approaches new experiences. She's made lots of new friends and says, she felt comfortable right away. Her energy kept everyone up and alive and she says, "every situation has the possibility of fun and new friends." She knows that no matter what happens, as long as you're laughing and enjoying each other, you're on the right path.
We're not sure if it was the kids running along our cars as we left the parking lot of Boys and Girls, or Bernie and Joe's genuine "Mahalos" after building their piping that brought us so much happiness on this trip. Somewhere in between snorkeling, games on the beach, dancing-madness and smiles in the early mornings, we all found our little Ohana.
Without fail, every one of our wonderful Hawaii-spirited-smiling-big-and-always-ready-for-what's-next teens said, this trip will last a lifetime. They learned that being open with people makes them open with you. That enjoying the moment isn't about who is better friends with who, but more, why we all need to stick together. That putting yourself out there, however risky, will always return good because you're being honest with yourself and everyone around you. These humbled and happy teens are making plans for the next reunion and plans for the rest of their lives. We're happy to say we watched them grow, evolve and mostly, have a blast. Thank you for trusting us with your babies, we promise we did our best.
With all our waving hands, teary eyes and smiles that know far too many jokes on this trip, thank you!
The Westcoast Blogger