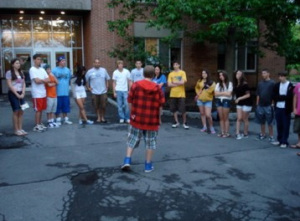 Here is an update from Rich and the staff of the U.S. Explorer!
The Westcoast Blogger
Three days into our US Explorer trip and it already feels like we're family! We started out at the LaGuardia Airport Hotel on June 29th where we got to meet our 47 campers, who have already exceeded our expectations. Evan S. was the winner of our very first Trip #9 in '09 program, and was given the title of the "Rock, Paper, Scissors Champion of trip #9 in '09." Everyone got to take part in our first of many name game icebreakers and were able to share and learn creative characteristics and fun facts about their new friends.
After our drive north and a nice break for lunch, we arrived at the Cornell University Dorms in Ithaca, New York and so the trip begins! As a group we got to enjoy a handful of great icebreaker games to get to know each other even better, and then it was off to dinner at Cornell's cafeteria. We chowed down on great burgers off the grill, a little taste of Italy with delicious pastas, and all kinds of salads and fruits and even ice cream treats for dessert!
Our first evening program was bowling and everybody had a blast. After all the strikes and spares were done, we headed to bed to be ready for a fun filled day at the ropes course on Tuesday. Who knew that Jodi Z. could show off her varsity bowling stripes and Ben G. could throw so many strikes in a row!
Everybody got a chance to take part in low ropes initiatives and then the best part of the day- HIGH ROPES! The energy and enthusiasm was contagious, even in the light drizzle, and everyone took part in amazing challenges on the course. On the Flying Squirrel we had Jodi Z, Talia G, Sherilyn G, Haylee M, Jessie B, Lindsay W, Ross S, and Max H.  Madison B. tried out the Catwalk, along with Joey S., Cassidy S., Dan S., Robby C., and Daniel A. The Leap of Faith was mastered by Noah W., Cassidy S., Mitchell K., Evan S., Zach A., Jordyn S., and Suzannah D. Adam G., Andrew S., Evan R., Jake M., Becca M., Allison S., Jillian G., Nicole W., Adam D., and Alex R. had a fantastic time trying out the Wild Woozy.
Ilana D., Rhianne V., Jack M., Kyle L., Byrne H., Ben G., and Austin Z. were daring and tried out all of the different courses available, and Jesse F. and Melanie B. did a great job of encouraging and cheering everybody on!
After a great hibachi dinner, we divided up into our different groups ready to perform our newly choreographed music videos and Noah W. did a great job with his rendition of MJ's Thriller, impressing us all with his fancy moves.
As we celebrated Canada Day on our way to Niagara Falls, we are all brimming with excitement to continue our journey cross country and will keep on updating you with all of the fun details of our trip! We hope that everyone is enjoying their summers so far, and aren't too jealous of our great adventure!
Swami, Frances, Johanna, Christina, Shaun, Matt