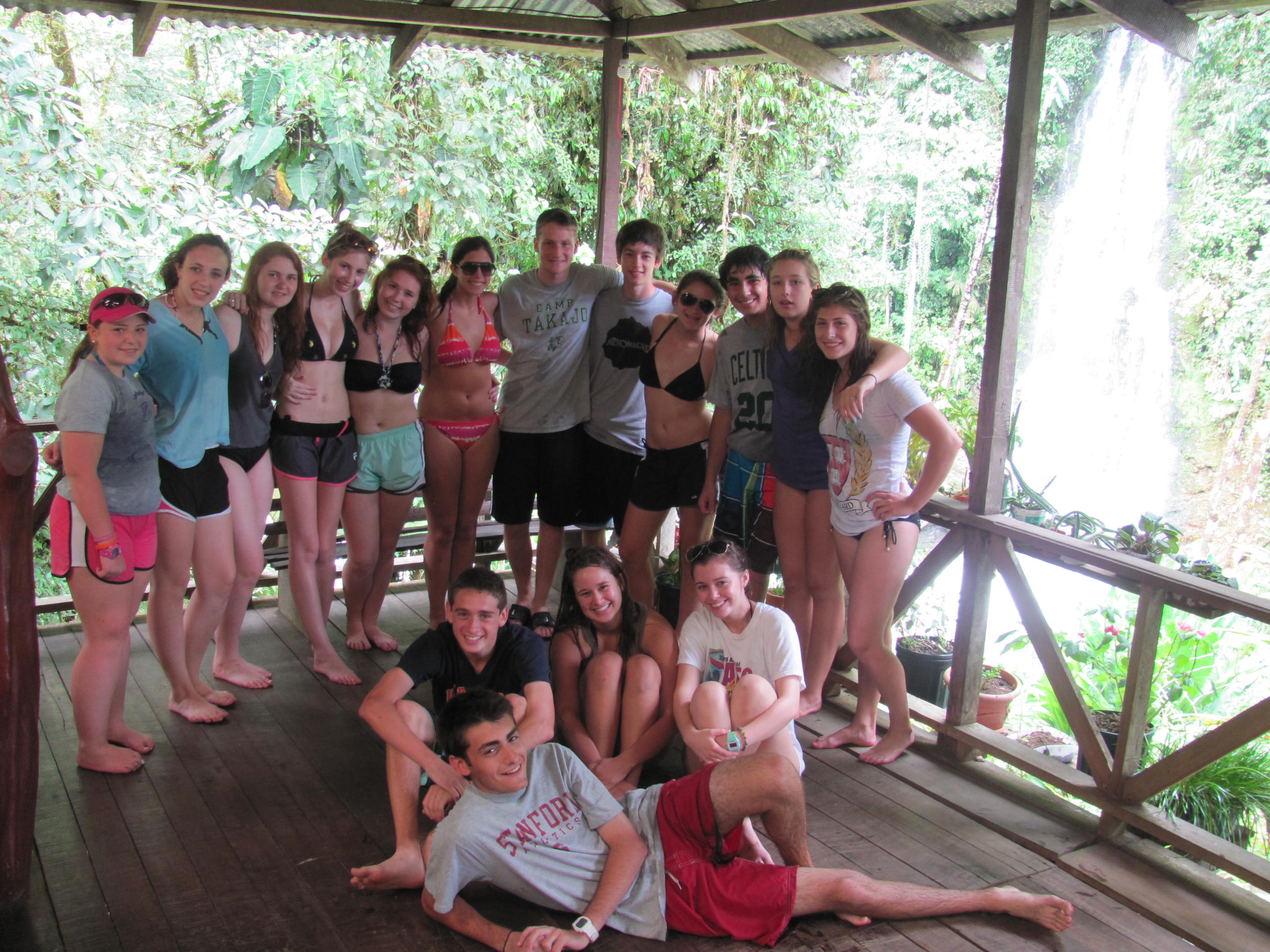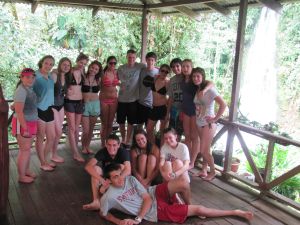 Hello Family and Friends!
We now write you from our sixth day on our fabulous Costa Rican adventure.  It has been quite the exhilarating journey: from the exotic rainforest to the sunny slopes of San Isidro, we have now nestled into our gorgeous hotel in San Gerardo.
 After arriving from the United States, we were taken to a restaurant in which we discovered a fresh variety of new fruits.  We ate a plentiful meal, and played a variety of games to get to know each other (which seem to be Matt Ba.'s favorite!).  We then went into the back yard of the restaurant and, to our excitement, found a soccer field!   Ali Y. showed off her impressive soccer talents as we played Costa Rica's preferred sport. 
 From there, we were off to San Isidro in which we discovered the wonderful rushing river near the hotel.  We ate a hearty meal, discussed our plans for the following days and snuggled up in our warm beds to sleep.  After all, the next day we were off to the rainforest!
   That morning, we awoke and began our journey to the Rainforest Lodge.  Along the way, we experienced the breathtaking vegetation that surrounded us and learned about different rainforest fauna.  Halley really showed us her strength by joining us, with a smile, on the ride across a river to arrive to the Lodge.  Once there, we began to utilize our Spanish knowledge as we met the Fonseca family: Mama Rosa had already prepared us some warm coffee and hot chocolate; and we got comfortable in our cabins.  Sarah quickly took the initiative after dinner in teaching some of her new friends a card game and we spent the rest of the night relaxing, listening to the soothing sounds of the rushing waterfall in the distance.
 The next day, we prepared ourselves to climb a strangler fig tree, one of the oldest trees near the Lodge.  We used harnesses and quickly learned that the trick wasn't how high you go, but how hard you try.  Alec truly excelled as he scaled the tree with a look of excitement in his eyes while everyone cheered him on.  We ate a deliciously-prepared lunch, and then walked alongside Alvino, who took us on a medicinal walk.  There, we learned about a number of natural rainforest plants that he used in teas to cure countless ailments.  We even had the opportunity to drink our own mugs filled with a mouth-watering ginger-lemon tea prepared by Alvino.  Afterwards, we learned to make homemade tortillas with the Fonseca family and Kimmy really shined in not only practicing her Spanish, but helping out and discovering new recipes in the kitchen as well.  Alex's enthusiasm became contagious as he helped add spices and flavors to the dinner.
 We learned the next morning, that the tree climbing was only an introduction to the fun we were about to have!  We strapped on the harnesses again and left to repel a 90 foot waterfall!  Shelly awed us with her quick learning and reached the bottom with ease and Joanna impressed us even further with her courage to overcome obstacles.  We came back for lunch, and then embarked on a thrilling zip-lining adventure in which Ali C. was tickled with joy.  The excitement even continued as we combed the rainforest for fruits and food to make for dinner.  Madi joined in the fun by expressing her animated personality along the walk.  Later that night, after a day filled with adventure, we learned the process to make chocolate: from picking the beans to enjoying a succulent fondue with bananas.  Matt Be. couldn't get enough of the sweet taste!  We sat down with the family shortly thereafter and asked them questions in both English and Spanish about living in the middle of pure wildlife.  Scott impressed everyone by formulating great questions in Spanish and helping others translate. 
  The next morning we prepared to leave the Rainforest Lodge.  Monica , beaming with gratitude, hugged Mama Rosa tighter than anyone.  Julia expressed her thanks and continued her positivity throughout the hike back.  We rode back to San Isidro for a delicious pizza lunch and from there took off towards San Gerardo, where we have stayed one night.
 So far, we have enjoyed in the splendor of the colorful flowers and hummingbirds surrounding our hotel and we have hailed the variety of foods offered to us.  This morning alone, we divided into groups and each followed a local "Tico" (Costa Rican) for the day, performing the same duties that they would and sharing lunch with the families.  Currently, the entire group has set off to play an entertaining game of soccer, in which our teamwork will build even stronger and make us even closer. 
 Clearly, although this is only day six, we have had an unimaginable adventure.  Although we miss the Fonseca family, we have already created our own family within our group.   Lauren has really taught us what it's like to keep a positive attitude, and how long a smile can go. We are enjoying ourselves immensely and are discovering that every new adventure presents not only a lifelong memory, but a lifelong lesson as well.  We will continue our travels and keep you posted!
 That's it for now, friends and family, we'll write again soon!
"Pura Vida!"
The Westcoast Blogger