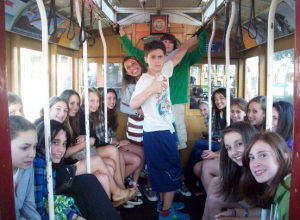 From Lake Tahoe, California and the Canyons drops us a line. Enjoy!
The Westcoast Blogger
California and the Canyons is off to a great start! We arrived safely in San Francisco and started to make friends immediately at the airport.
 After settling in at the hotel we headed over to the cable car station and rode the car up and down the hills of the hilly city as we made our way to Chinatown for dinner. We had a great time high fiving those who passed us by on the cable cars heading in the opposite direction. We saw some beautiful views of the entire bay area.
 On that first night, we had dinner at the Oriental Pearl; we loved the food and even competed to see who could eat the spiciest of the beef.  It was great for some of us to have tried new foods for the first time.  After dinner we split up into groups for a scavenger hunt around the area. Everyone got really into searching for different Chinese items. We'll let you know who the winner is when the points are tallied. After the hunt everyone was pretty exhausted and we headed back to the hotel to get our first night of sleep.
Day two started off with breakfast and a trip to Alcatraz. While we waited to load the Alcatraz Clipper, the boat to The Rock, we played some "get to know you" games. At Alcatraz we took an audio tour of the prison and learned all about life on The Rock. We even got to go into the cells to take pictures and try to imagine what life at Alcatraz was really like.
After we got back to land we walked over to Pier 39 and had some time to eat and explore. A few of the boys had been dying to get some "In-N-Out Burger" –their wishes were fulfilled…but, most of us opted for a more traditional Bay lunch of Fish 'n Chips or clam chowder served in a sour dough bread bowl….delicious! There were also tons of cute shops to check out in the area after we ate. 
Many of us picked up some souvenirs and then we headed to Ghirardelli Square for some delicious treats. We finished off the day at the Oakland A's game. All of the boys were cheering and heckling the players. Unfortunately the Tigers beat the A's 5-3! But the A's almost caught up in an exciting ninth inning. 
Day three kicked off with a yummy trip to IHOP! There was no shortage of pancakes. All the Canadians were showing their pride on Canada day with stickers on their faces and Canadian t-shirts! After breakfast, on our way to Sausalito, we stopped at the Golden Gate Bridge, where we were eager to pose in front of the breathtaking structure for photos and to see the beautiful view of the Bay area.
 In Sausalito we had some time to walk around, eat lunch and hang out around the town. Then we made our way back into the city and we headed to Lombard Street to climb up the world's most crooked street. It was a hike, but we loved it!
With our rock hard calves, we went back to our hotel where we played a few more "get to know you" games and had some R&R time. Then we made our way over to Canary Row to take in some of the local entertainment before we headed off to dinner.  In the evening we tired ourselves out with a few friendly games of bowling.
Tomorrow we are off to Lake Tahoe and we are all looking forward to white water rafting as we make our way to our camp site.  We'll update you on our travels and exciting experiences again in a few days. 
We are now in Lake Tahoe, after enjoying a great white water rafting trip.  We will keep you updated on our travels.