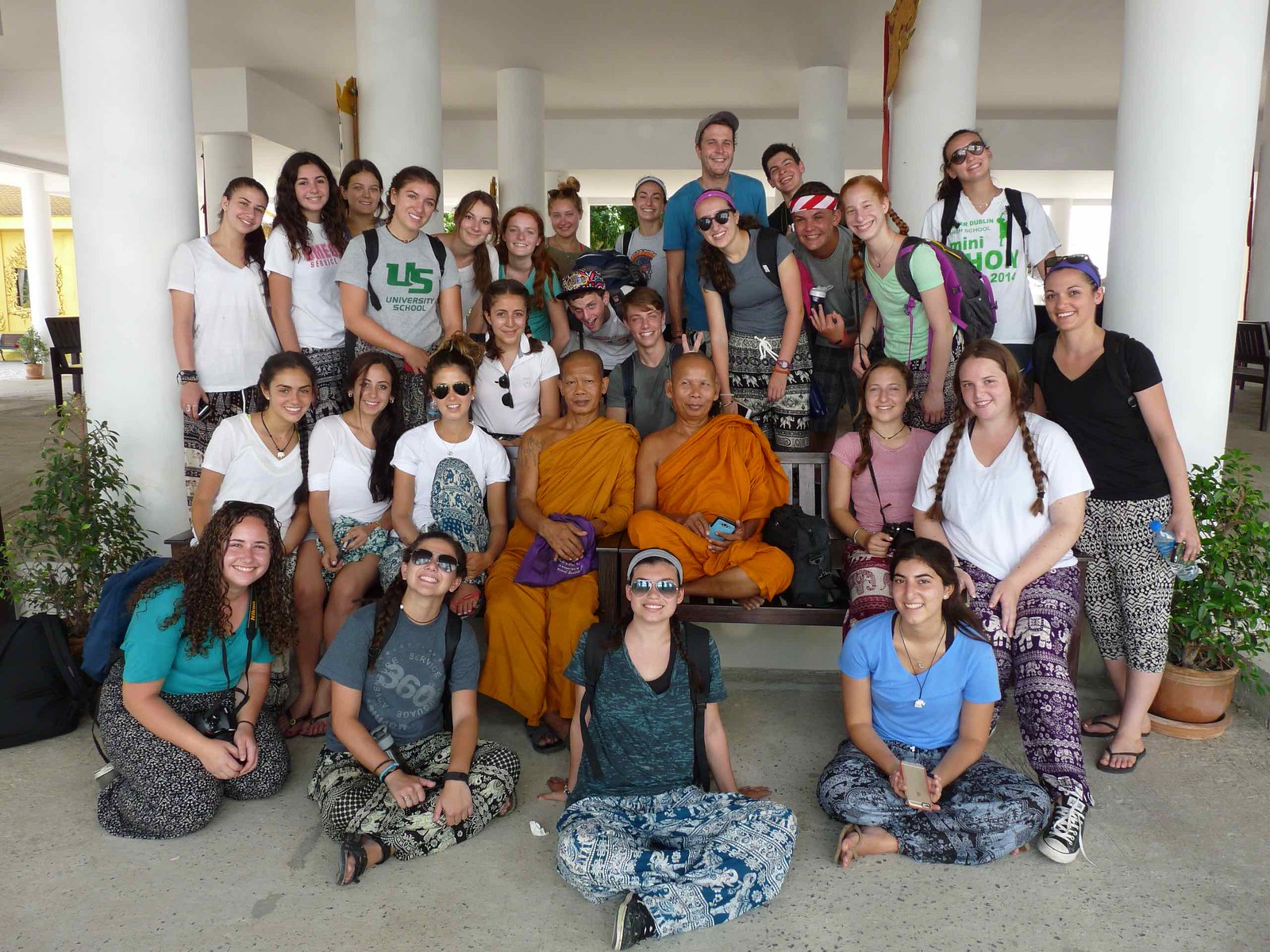 Sawadeeka Friends and Family!
After a busy day of travelling, we arrived in Bangkok. On our first day in the bustling city, we quickly got to know one another as we played several icebreakers.  We had the chance to learn a series of fun facts about one another and wasted no time creating new friendships. It was clear from the start that we are going to have an incredible 25 days together.
On our next day in Thailand's capital, we started our morning by taking the sky train, a common mode of transportation for many locals. After getting a tour of the city from up above, we then visited an altar where we lit candles and incents and also caught a glimpse of traditional Thai dancers. After a boat ride down the canal, we visited the Golden Mountain, a beautiful temple made of gold where we climbed hundreds of steps to the top of the temple and had the chance to take in breathtaking panoramic views of Bangkok.
Following our fun filled morning, we stopped for lunch at a small restaurant renowned for being the originator of Pad Thai, a classic Thai meal.  Trip members had the opportunity to meet and take photos with the man who originally created the dish over 70 years ago. We all thoroughly enjoyed our meal along with our first celebrity sighting.
Once we finished our delicious lunch, we continued to see new parts of the city as we hopped on tuk tuks. Our ride on the three-wheeled taxis was a major highlight for many trip members. The tuk tuks then dropped us off at the Grand Palace where we saw stunning temples and learned about Buddhism in Thailand. Following our tour, we discovered yet another mode of transportation when rode in longboats on the water. During the relaxing ride, we saw new parts of Bangkok and had the chance to feed bread to catfish. The number of fish and how close they came to our boats amazed us all.
After providing some lunch to our new friends, we visited the reclining Buddha, a massive statue made of gold and the flower market where saw beautiful flowers of every color and even spotted a monkey. Once we said goodbye to yet another new friend from the animal kingdom, we enjoyed a dinner of spring rolls, curry and other traditional Thai treats. After a jam-packed day of new sights, tastes and sounds, we ended our day in Bangkok with a visit to Khao San Road where we had the chance to test our bargaining skills as we purchased souvenirs and other Thai trinkets.  Many of us also decided to treat ourselves with Thai foot massages and even fish pedicures! It was an experience we will not soon forget.
The next day, we headed to Ayutthaya, Thailand's old capital. Upon arriving, we toured old ruins and snapped photos with one of the many Buddha statues. Before embarking on our beautiful canal boat ride, we made a quick pit stop at a market where we learned how to make roti sugar crepes. That evening, we experienced our first true street food meal where we enjoyed a variety of authentic Thai dishes. After satisfying our bellies, we had our first "Town Hall" meeting, a nightly gathering where we share our thoughts from the day. We each began by writing down a personal pledge that we hope to uphold throughout the trip. Next, we collectively created our Full Value Contract, a promise that we all hope to keep in order to work cohesively as a team throughout the summer.
After an amazing four days in Bangkok, we travelled to the breathtaking outdoorsy Chiang Rai where we had our first taste of spending time with wonderful elephants. Two by two, we rode throughout the rice fields and even had the opportunity to feed bananas to our vegetarian friends. Later we enjoyed a relaxing afternoon by the pool where we played beach volleyball, Frisbee and football. To end our first day in Chiang Rai, we continued to test our bargaining skills with a trip to the night market.
It has been an incredible few days and we cannot wait to see what the next few days have in store as we begin our community service project at a local school.
Sending smiles from the land of smiles,
The Westcoast Blogger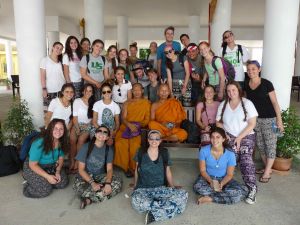 Do you want to be part of this community service program? Check out our Thailand trips for students and get ready for the experience of a lifetime with Westcoast Connection.