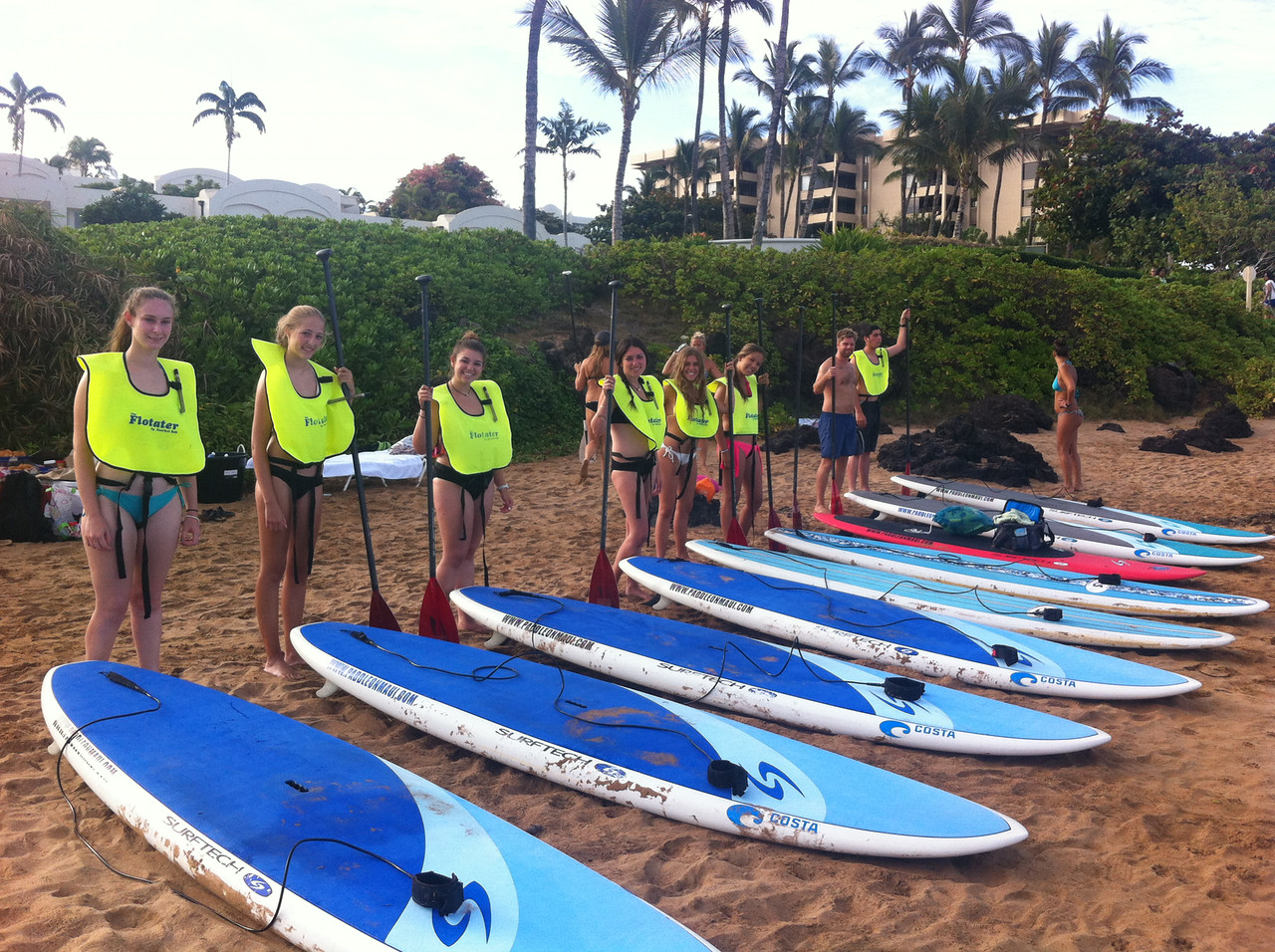 Aloha!
This has been the quickest 25 days ever – our group is unsure how the time flew by so fast! Here is a recap of our last few days in Maui.  Tulani, Chris, and Andrew C. were the last superheroes of our trip.  Andrew C. wrapped up our superhero tradition by passing the cape to our Trip Director Patrick.  Andrew C. and Emily then cut the cape into 21 pieces for our group to share; we all took our pieces and wore them around our wrist for our trip home.
Our group spent Saturday, Sunday, and Monday soaking up our last few days of Maui.  Saturday we spent the day at Polo Beach stand–up paddle boarding.  We enjoyed an early morning beach breakfast before paddling out! Everyone was able to stand up on the board and enjoy the views of the water around us.  In addition to paddle–boarding we were able to jump off our boards and snorkel too! After everyone was done, Ashley came up with of idea of boogie-boarding! Our instructors shared some extra ones with us and Ashley, Tulani, Veronica, Tara, Amanda, Aisling, Andrew S., Juliana Holden, Chris, and Michael spent the rest of the day "boogie-ing" in the waves.  Later that night, we enjoyed an authentic Hawaiian Luau and a delicious Hawaiian dinner filled with poi, taro bread, and poki.  During our Luau, trip members Emily, Tracy, Juliana, Michael, Juliana, Andrew C., Chris, and Ariel were brave enough to hop on stage and hula for us!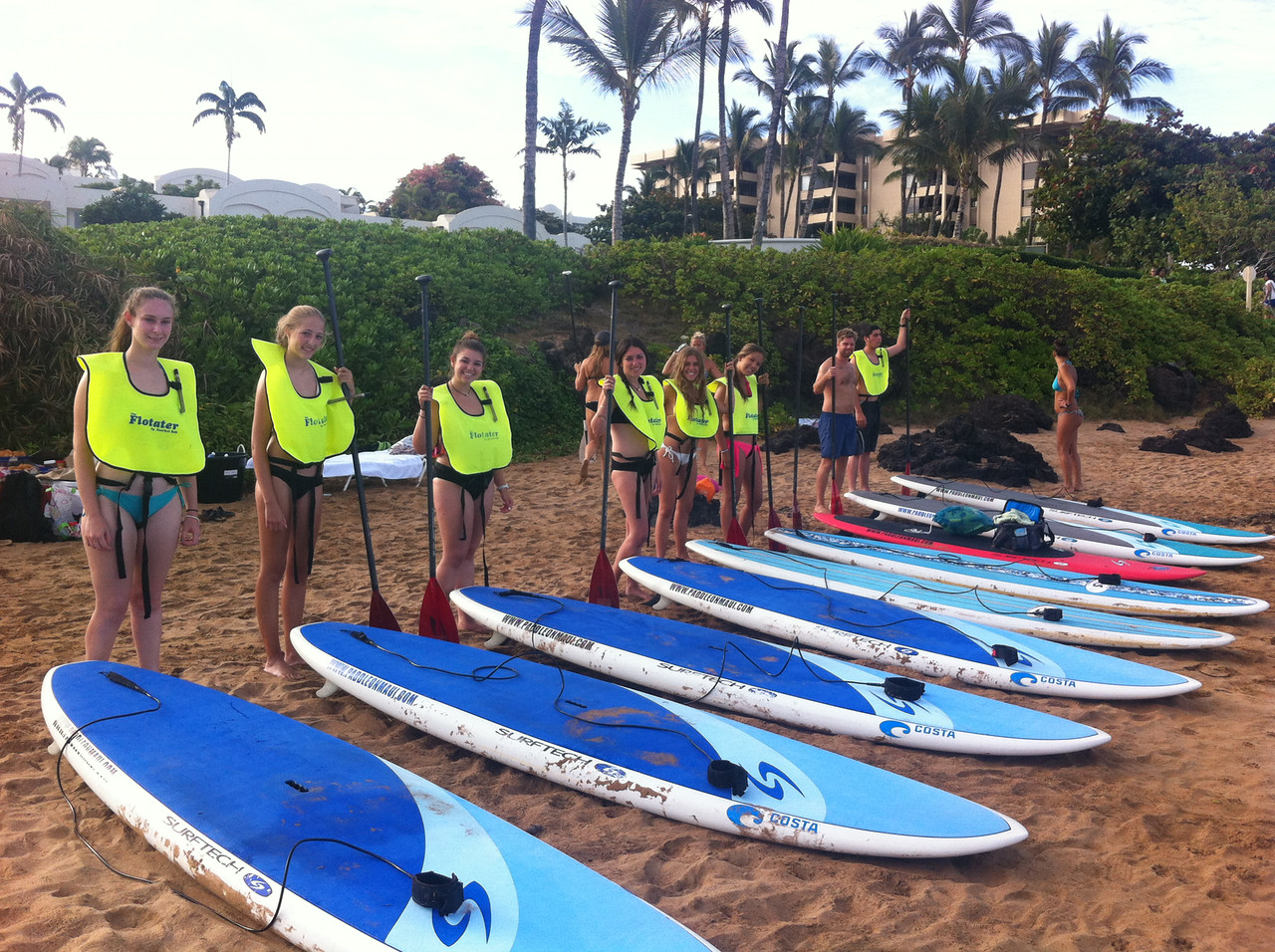 Sunday we "brunched" at Tasty Crust or as we liked to call it, "Crusty Toast" and enjoyed some much needed French toast, waffles, and pancakes.  We then posed for a group "mugshot" and did some last minute souvenir shopping.  While shopping, our crane-master Chris, along side Andrew C., Andrew S., and Michael, won a huge pink stuffed monkey.  When we got back to the hotel trip leader Giselle ran an environmental program for our trip members and explained the impact of all the different chemicals polluting the water.  After the program, our group switched gears and we tye-dyed! Emily and Amanda were the tye-dye queens and helped in pinching and rubber banding everyone's shirts.  All the shirts came out great but all of the girls wanted to steal Holden's shirts since they were swirled so perfectly! We all then got "fancy" to enjoy our last family dinner in our favorite town, Lahaina.  On our drive to dinner we were able to see one of the prettiest rainbows over the mountains of Maui and then one of the prettiest sunsets over the water.  Before arriving at dinner, our group put on some mustaches and entered the restaurant in style.  Post dinner we enjoyed homemade ice-cream from a local shop and then spent some time in Lahaina.  Afterwards, we went to Walmart to shop for the Boys and Girls Club of Central Maui with the money that "Uncle Saunoa" had given us.  Andrew C. bargain hunted movies, Aisling, Tulani, and Tara gathered games, and Juliana, Emily, Veronica, Taya, Samantha, and Stephanie looked for art supplies!
Monday we enjoyed a fun–filled day of hiking and zip-lining! Andrew C. sang on his way down while Tracy ninja posed and Ashley, Chris, and Samantha threw a "shaka".  After zip-lining we drove up Mt. Halekala through the clouds to the top.  At 10,000 feet above sea level, we all truly felt "on top of the world".  We looked down at the clouds below us and then watched the most beautiful sunset we have all ever seen (Juliana even got to "hold" the sun).  Back at the hotel we had dinner together and shared some of our favorite memories of the trip.   Tuesday afternoon we brunched for the last time; despite the heat, Taya was super excited to order French onion soup.  We all laughed as everyone was handed a paper plate award and then superhero CD.  We ended our last hours in Hawaii with a hula lesson – we even had the chance to create homemade leis with "Auntie Amie."  As our last stop before the airport, we went to Boys and Girls Club and presented them with the items we were able to buy with "Uncle Saunoa's" generous donation; Chris also donated his pink monkey to the children which they all were thoroughly happy about! Our Hawaiian adventure went by too quickly but we are all "mahalo" for the time spent together and memories created.
The Westcoast Blogger