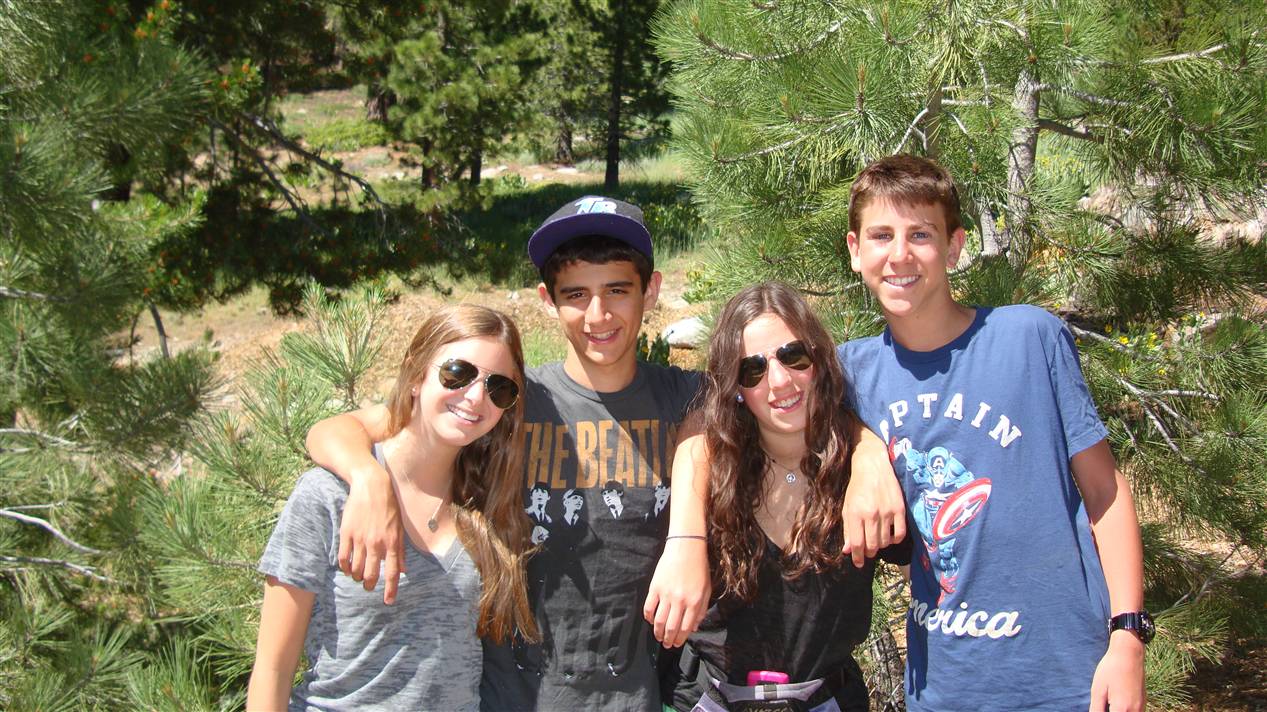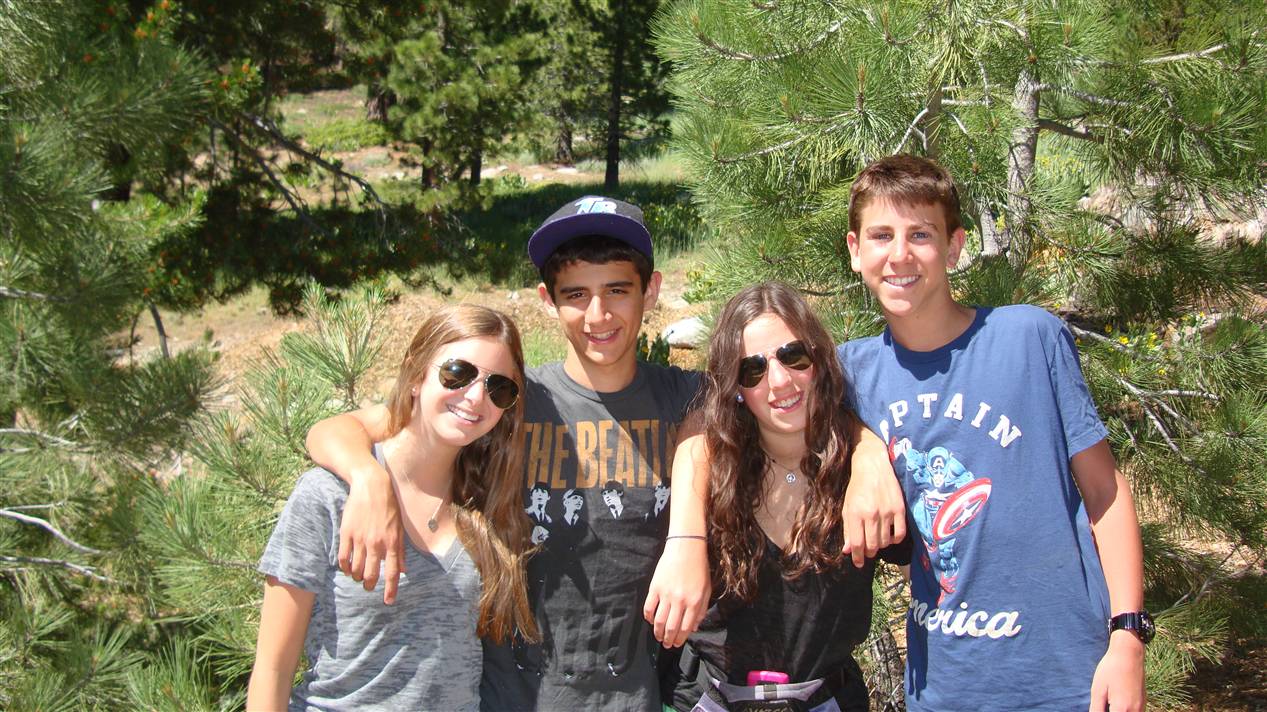 Greetings AmVoy #2 Parents,
San Francisco, California, what an amazing place! With the morning songs blaring, Jared & the Voyageurs dancing, and trip members singing, we were off to Lake Tahoe. We spiced up the ride today with "More Bounce in California" and "18 Wheels on a Big Rig." Sam R., Steven, and Jason, joined David in counting in Roman numerals (they've also got the hand motions down pat)!
We enjoyed a delicious picnic in a park before heading to Squaw Valley to tackle their challenge ropes course. The point of this course was for all of us to find our inner strengths and conquer our fears. That would of course require trust! Andrew, Grant, Jordan and Sam R. climbed a course called the Firecracker. This is the most challenging path. Of the approximately 2,000 people that visit the ropes course each year, only 150 make it to the top!  Sarah climbed vertically up to the top of a 120 foot tree. Jacob also made it to the top and mentioned that his climb was "exhilarating." Emily B. was one of the first to take on the pendulum swing … Hoisted up to the top of a tree by her fellow trip members, she pulled a small release and swung back and forth with snow capped mountains in the distance. Although Matt M. tried many different swings, he said his favorite was also the pendulum swing. The ropes course also promoted teamwork. Jaime and Lexi completed the pairs course (pairs must cross on a a bridge suspended 60 feet in the air and ensure their cables and cords don't get tangled). Allie coached Ethan through the entire course. Ethan enjoyed it so much that he climbed it a second time!
When we arrived at the campground in Lake Tahoe it was time for dinner. Italian night was on the menu … whole wheat pasta, tortilini, salad, garlic bread, Milano cookies, fresh fruit, and more were served. Emily B. presented the meal in an Italian accent after Noah, Sam D., Ronni, Courtney, Ethan, Jeff and Gabi danced to the soundtrack of "Mamma Mia" in order to introduce the meal!
That evening, we tie-dyed t-shirts. Matt L. amazed us with his tie-dying skills as almost everyone asked him for his help in creating the perfect shirt. When Noah saw some of us dying socks, he considered dying his boxers! Stay tuned to find out what we are going to do with our shirts! As the sun set, we made a giant bonfire. Strawberry short cakes with fresh berries and whipped cream was the dessert of choice, with a batch of Jared's homemade Rice Krispy treats on the side! Sarah's cake may have turned out the best; she covered her entire cake with whipped cream so that the cake wasn't visible (would you like some cake with that whipped cream?)!
After breakfast at the campsite, we headed directly for the beach where we spent the majority of our day! Grant, Jeremy, and Noah played cards on the beach while Andrew and David threw around a frisbee. On the lake, Noah impressed his boat when he water skied with only one ski. Jeremy was a pro on the wake board bending down sporadically to pick up water to style his hair. Emily K. had one of the longest "uninterrupted rides." Erika was also a star, getting up on her water skis on the first try!
After skiing we enjoyed an amazing BBQ on the beach for lunch with hamburgers, hot-dogs, and veggie burgers. Jeff showed off his cooking skills flipping burgers and dogs like a pro. Eden and Matt L. also amazed us in the kitchen helping to set up a spectacular buffet. After the beach, we boarded an 80 foot yacht and cruised around Lake Tahoe. We were surrounded by a breathtaking view of the lake and mountains. When we were cruising, our flash mob song ("Party Rock Anthem") came on , and Aja, Lexi and Sam D. started dancing on the boat! Our captain, Captain Clark, brought us to a rock in the middle of the lake known as "Lucky Rock" that supposedly brings good luck to whoever touches it (of course, we all ran to the front of the boat to make contact)! A few minutes later, as we approached a beautiful waterfall partially hidden by the trees, "Good Life" by One Republic came over the radio and we all couldn't help but think "is this the good life, or what?!"
After the cruise, it was back to the campground for dinner where we enjoyed fajitas night, complete with vegetable, chicken and/or beef fajitas! Joli, Rachael and Sam H. had lead roles in the skit presenting the meal. Ariel then introduced the menu superbly.
That sums up our time in Tahoe and to sum it up in the apt words of our morning song, "look how far we've come!"
Speak to you again from Los Angeles!
Jared & the AmVoy #2 Team
The Westcoast Blogger