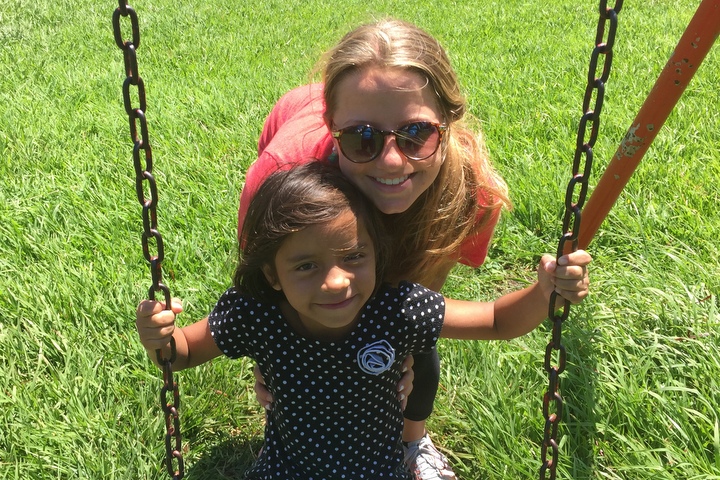 Pura Vida!!!!
Hola from Costa Rica!!! From the moment we stepped off the plane we have been embraced by this country and its beautiful sights and welcoming people. It has been such a treat to see our group get to know each other as they become closer and closer each day.
Our VIP travel to Isla Turtoga (Turtle Island) on the second day was well deserved after a long day of travel to Costa Rica. While sailing on our catamaran we were treated like kings and queens: we had ceviche, fresh fruit and juices as we sat around the pool (yes there was a pool on the top deck). On the ride over we took in the breathtaking views of the Costa Rican mountains and seasides. We sang and danced to the music provided by the singer (yes there was also a singer on the boat). Then we arrived and the island was AMAZING!!! We really got the chance to bond as a group as we played volleyball and swam in the aqua blue water. We had our first, of many, tribe challenges (I'll explain at the end, I promise) with a beach volleyball game, with the blue team claiming victory this time.
The following day we traveled to La Carpio, a town near San Jose, for our first day of community service where we met a family who was in need of help in, and around, their home. Throughout the day we worked as a team to build a fence to define the property line of the home and then we relocated the dirt floor from inside the home to allow for the cement (that we made!) to be poured down.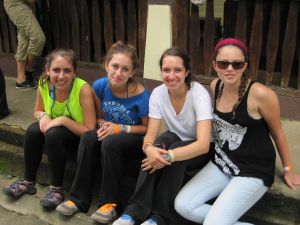 We worked very hard and it showed. By the end of the day the new floor was about halfway complete. We left knowing that we helped create something that would last for years and greatly improve the quality of life for this family.
Our next two days of service were such a blast!  We worked with children from the same town where we worked on the house. The group took this opportunity to create a camp setting for the kids assigning counselors, specialists and even a director for the camp. We offered sports, arts and crafts, swimming, dance and gymnastics. The kids left us each day with smiles on their faces and lots of hugs to give!
To top it all off, it was Carli K's birthday!!!!! We celebrated with a traditional Costa Rican Pinata, cake, and card. The Pinata was a "smashing" success and the cake may or may not have ended up all over her face :).
Tribes: A very important element of our trip are the three Costa Rican tribe names that we have adopted as group names for this trip. We have the Terraba Tribe (white team), Maleku Tribe (red team), and Boruca Tribe (blue team).  Throughout our adventure we have opportunities and challenges where each tribe can earn points that will determine a winner at the completion of our time in Costa Rica.
Hasta Luego (see you later),
The Westcoast Blogger