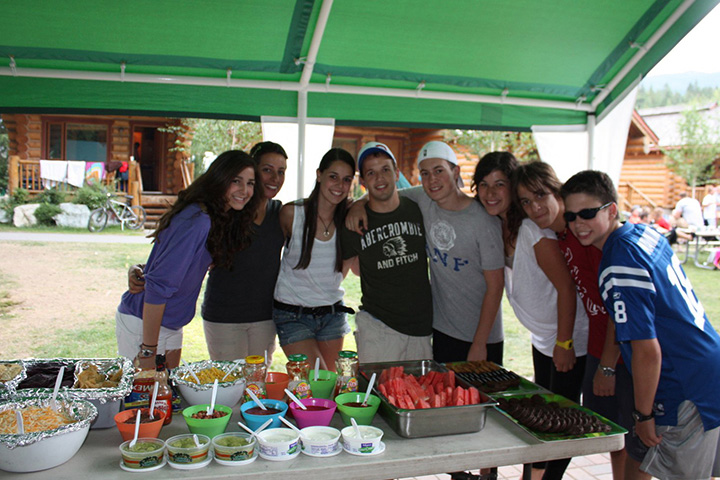 1. What's the dish/meal you look forward to most when you visit a campground?
BBQ night – it may not be complicated, but nothing beats hanging around the campsite with your friends after a great day out and about with the sun shining late into the night, a delicious salad to start off the meal with the freshest chicken, salmon and great cuts of steak and all the sides you could dream of! It's always a fantastic meal.
2. What's the one meal all the trip members rave about every summer?
STIR FRY! Food Directors go all out on stir fry night – there's something for everyone… Chicken, beef, tofu and tons of the freshest vegetables… it's better than anything in a restaurant and to top it off, the meal is often finished off in an authentic fashion… with fortune cookies!

3. Most bizarre food you've encountered on a Teen Tour?
Pizza on a stick! We were at the Calgary Stampede, where they have some of the strangest food under the sun. I had to try it, and it was very weird eating pizza like you would eat a popsicle.

4. Tell us some of the hidden gems you've come across in your travels! 
The deep fried Oreos from Big Daddy & Son's Pizza at Venice Beach in Los Angeles are heavenly.
5. What's the one dish you've mastered cooking because of your travels with WCC/360°?
I make a mean Banana Boat – you take a banana, scoop out a bit of the middle, stuff it until it's bursting with marshmallows and chocolate chips and roast it over the campfire – one of my favorite campsite treats!

6. Why do you feel it's important to try the local cuisine while traveling?
It's always tons of fun trying new things, and who knows when you will have the experience again getting to have dinner at an authentic chuckwagon cookout near Bryce Canyon in Utah or clam chowder in a sourdough breadbowl in San Francisco… it takes your travel experience to a whole other level!
7. Where to get the best meal: The street food or dining at a restaurant?
THE CAMPSITE! We are spoiled to enjoy fan-favorites prepared using the same ingredients we would have at home – there is nothing better than that! When away from the campsites, it's always great to try the street food… since they generally pick one thing to do and they do it very well.

8. We all try to eat healthy on the road, but let's be honest sometimes it's nice to indulge. What's your secret snack on the road?
I don't have a secret snack, but those who have travelled with me know that I allow myself one 'special thing' every day – whether it be a fresh donut from Bob's Coffee and Donuts at the Los Angeles Farmer's Market, or an epic Candy Apple from the Rocky Mountain Chocolate shop on Robson street in Vancouver or some fresh Salt Water taffy in San Francisco – there are lots of great temptations along the road and it's never hard to find something amazing to eat.
9. How do you incorporate your favorite meals and ingredients from traveling into your cooking when you get home?
I always enjoy preparing meals from the Westcoast Connection Recipe Guide – the fajitas are one of my favorite meals to prepare after a summer travelling on a Teen Tour – fajitas are one of my favorite things to eat and Westcoast Connection's secret recipe has been perfected over more than 30 summers!
The Westcoast Blogger