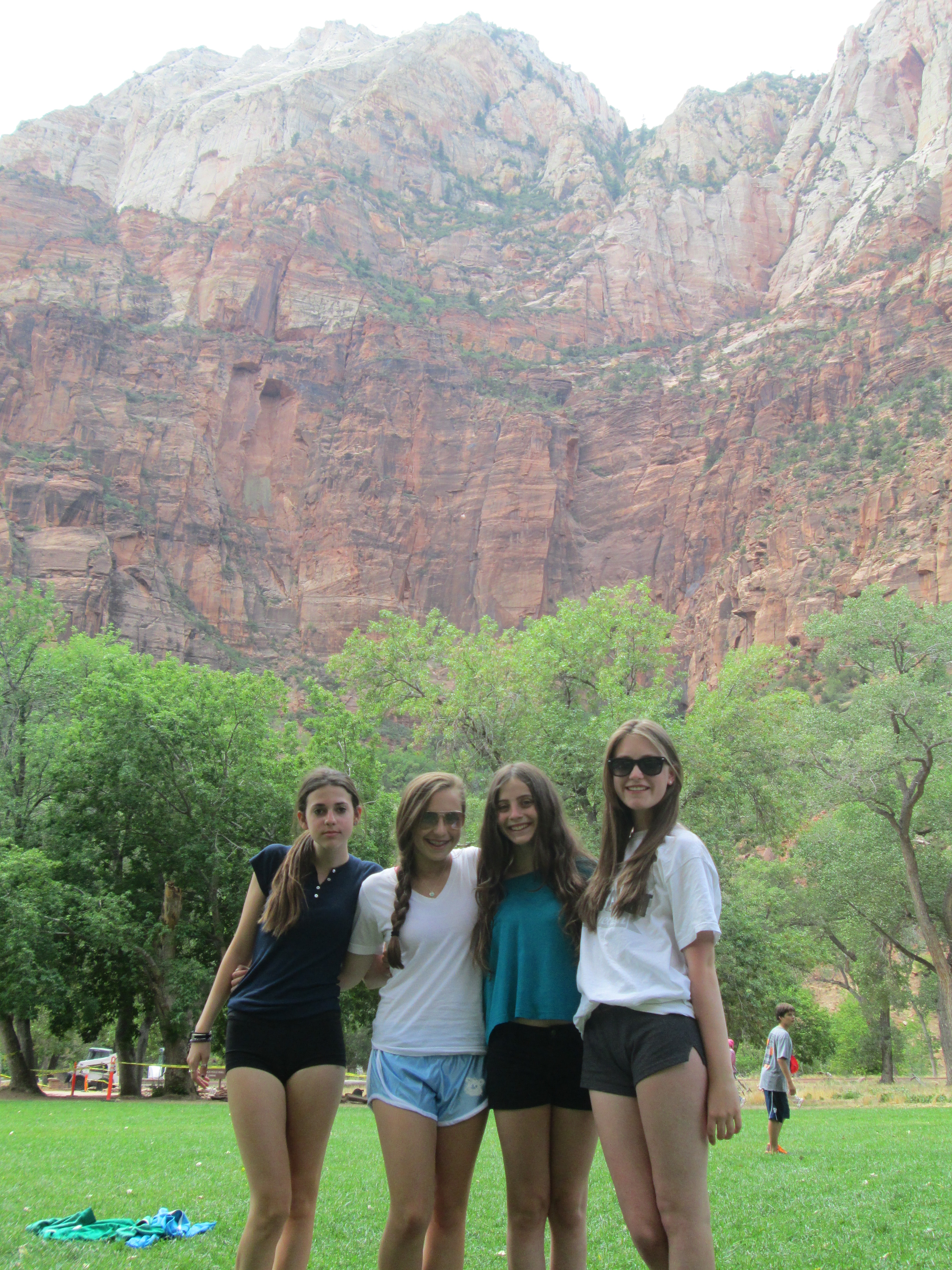 Hi Parents,
Here is an update of our travels…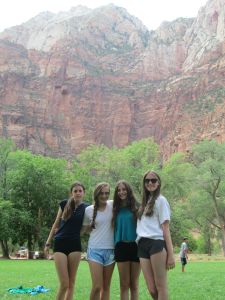 Day 15 – Rollin', Rollin', Rollin'….
Today we headed to the Wild West! We left Vegas in the morning for our journey to Bryce Canyon. On the way, we stopped at Zion National Park and got our first taste of mountain life. It was gorgeous. Tall mountains surrounded the Zion Lodge where we ate lunch. Julia, Jessica, Alex, Ethan and Zach started a game of Volleyball. Russell, Max A and Richard tossed a football around with Josh while Ryan and Max G exercised their minds while playing a game of chess (all with the backdrop of magnificent scenery).
We stopped for dinner at a Chuckwagon in Kanab, Utah. It was a Wild West themed dinner where we enjoyed "traditional" western foods, such as roast beef, biscuits and lemonade. Before we chowed down, they had everyone dress up in costumes and act out a western movie. Many of the old westerns starring Gary Cooper and John Wayne were filmed in Kanab. While every trip member (and some of the staff) were given a role to play, certain "actors" stood out. Mitchell played a very convincing soldier and Jasmine played a perfect Pocahontas. Richard and Marlo demonstrated pioneer life and Evan and Marris acted the parts of Western travelers flawlessly.
When we arrived at the campground, we had a little surprise cooked up for the trip members by announcing a competition and the team captains. Leading team "Room" was Russell, Max G., Julia and Allison. Leading team "Sorry" was Evan, Brandon, Lee and Christi.  More on the competition below!
Day 16 – Colorful Canyons
After a great breakfast of French Toast and fruit, we went to Bryce Canyon for a hike, We hiked the Queen's Garden trail, which culminated at a point where you could see a Hoodoo that resembled Queen Victoria. The views were magnificent.
The excitement from the competition announcement the previous night carried over to the campsite, where the teams were full of spirit. They battled ferociously in various activities. There was a silent lunch, apache relay, photo scavenger hunt, football game, trivia, cheer off, song and skit. Despite a late rally from the red team in the football game, Max A. led his team to a 10-8 victory. Russell scored many touchdowns for his team during the intense game. During trivia, Julia and Parker displayed their great knowledge about the trip for the red team, while Eric Se provided many answers for the white team. Mitchell, on the red team, had the crowd in tears from laughing so hard after his riveting performance as trip director, JP.
Everyone enjoyed themselves as each team competed with great passion and enthusiasm. In the end, the white team came out on top lead by Lee, Christi, Brandon and Evan.
Day 17 – Grand Canyon!
Today we woke up and headed to one of America's greatest landmarks: The Grand Canyon! It was a breathtaking view and something that will stick with us for a long time. We hiked a trail for a little over an hour to get some great photo ops. It was really impressive to see Bella and Nathan conquer their fear of heights by walking down the trail!
We jumped on the bus after the Grand Canyon and headed for Flagstaff, Arizona. We enjoyed a dinner at Ruby Tuesdays and then JP treated us out for ice-cream at Dairy Queen! It's so sad to think that we only have two more days together. : (
We will update you one more time. Hope everyone is having a great summer (like us).
The California and the Canyons Team
 The Westcoast Blogger