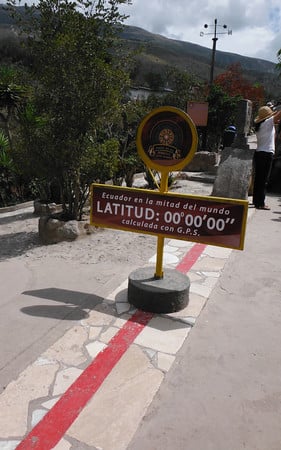 Hello from Ecuador!
Today, we are leaving Quito to climb the mountain Cotopaxi!
First, let's recap to the fantastic time we have had so far–starting with the beautiful welcome sign Maddy made for us in the airport, which was really welcoming and sweet.
Our first day in, we took in the most famous sights of Quito, including seeing 0'0"0".  We all took pictures straddling the Northern and Southern Hemispheres.  For many of us, the coolest part was seeing the leaves swirl down the drain clockwise on one side of the equator, counter-clockwise on the other, and straight down in the middle! We also got to try balancing an egg on a nail on the equator, where forces pull evenly on the egg, but still only Adam and Alex were able to get it to stand on end!  We also visited a museum with historical re-creations of Ecuadorian tribes and learned about how guinea pigs have traditionally played a very important role to Ecuadorians, and Lizzie and Gaby got to hold a young guinea pig in the palm of their hand.  Later in the day, on our walking tour of the OldTown, we saw some incredible churches. Some had covered every inch of their interior walls with gold leaf, which Chloe especially found beautiful.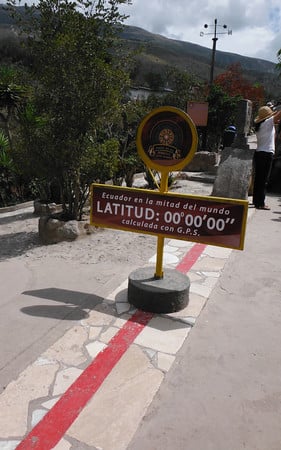 Our first couple of days doing community service, Matt, Jake and Alex got to learn how to break down corn in a sack to make it into flour and be used as by the Davis Orphanage to feed the orphans. Adam and Max did great filling buckets with shucked corn, until Trip Director Andrew accidentally knocked it over!  Fortunately we all pitched in and recovered the corn.  In the afternoons we hung out with the kids living at the orphanage, which was really exciting. Allie got some of the kids into drawing and playing Duck Duck Goose (or Tingo Tingo Tango, in Spanish) even though she nearly got toppled over when the kids saw the markers in her hand!  Jake got soccer started right away and Sophia got the first hello at the orphanage, when an incredibly cute little guy ran right up to her and jumped into her open arms.  Max learned a ton of Spanish phrases in two days so that he could really get to know some of the kids one-on-one, and Gaby, Sophia and Chloe were impressed by how quickly their Spanish improved just from being around the kids for a couple of days.
Last night we got to bowl up a storm in a retro bowling alley! Matt and Maddy beat us all.  Matt got over 100 and Maddy discovered an inner bowling fiend, since she hadn't even bowled since Grade 6!
Now it's off to tackle the mountain.
Hasta luego!
The Westcoast Blogger