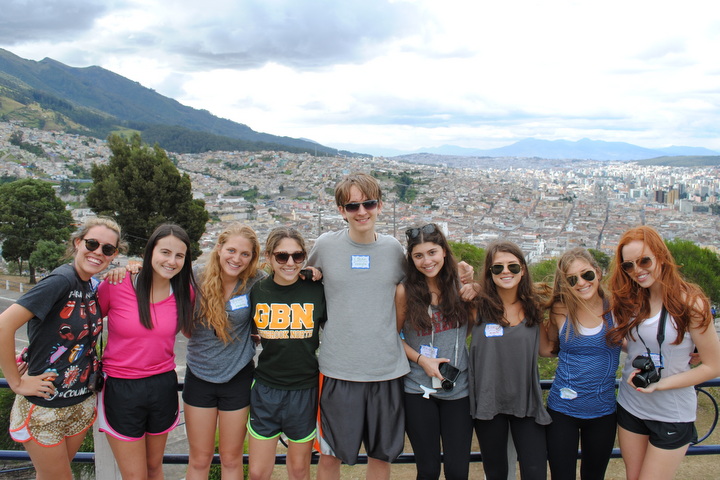 ¡Hola otra vez!
We started out the Fourth of July with our bus decked out with the colors of the U.S.A. and another day of service at the orphanage. We finished painting up houses we had previously sanded, spent some more time in the bakery learning to make some fancy pastries, and enjoyed playing with the kids at the orphanage and tour members from the other two Westcoast Ecuador trips.
At lunch, the chef surprised us with three different cakes for dessert! One was to celebrate Ecuador, another for Canada Day which was just a few days prior and a final one to celebrate America's Independence Day.
We ended our day with a dance show in which we all joined in. Emma and Danielle thoroughly enjoyed it, being two of the first to jump in.
Although our day at the orphanage was done, we were lucky enough to go with the children from the orphanage on a funicular trip to the top of a volcano! We took lots of beautiful pictures and enjoyed a nice scenic ride as the sun was setting. We finished up our night with a delicious dinner.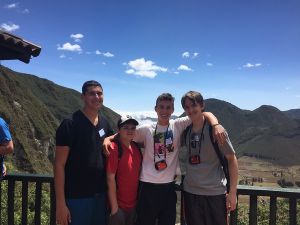 We started Sunday with a wonderful morning at the market in Otavalo. We were able to see lots of local products including sweaters made of alpaca wool. The trip members loved bargaining and getting great gifts for family and friends.
We enjoyed lunch at an indigenous community where we learned about traditional food, dress, and dance. Michele and Remy were ushered into the circle and in suit, the group followed creating one large dance party with a live Ecuadorian band playing music in the middle.
Our night was comprised of a delicious Mexican meal followed by a preparation for our talent show at the seniors home. We even got an ice cream treat to end a super sweet day.
On Monday we slept in a bit before heading to the orphanage in Quito one last time. Between painting, sanding, and baking delicious cookies, we took photos and tearfully said goodbye to our new found friends hoping to come back sometime soon.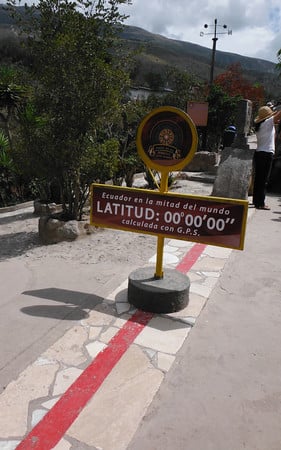 We had a nice dinner before heading to bowling! It was so much fun, and although we are a group of extremely talented bowlers, we were grateful for the bumpers. Olivia was the big winner for the night with 115 points! Not far behind was Dani with a solid 113. It was an exciting way to end the night and our stay in Quito.
Tuesday was our big move to Latacunga! We did service today at a senior home where we painted nails, shined shoes, and performed a variety show with dance numbers and jokes. It was a great experience. Following that, we arrived at our new hotel. It is a beautiful location filled with scenic views, llamas and a zip line! We ended our night with a group mystery game, a de-brief about our service, and awesome attitudes about our hike tomorrow.
¡Hasta pronto!
The Westcoast Blogger