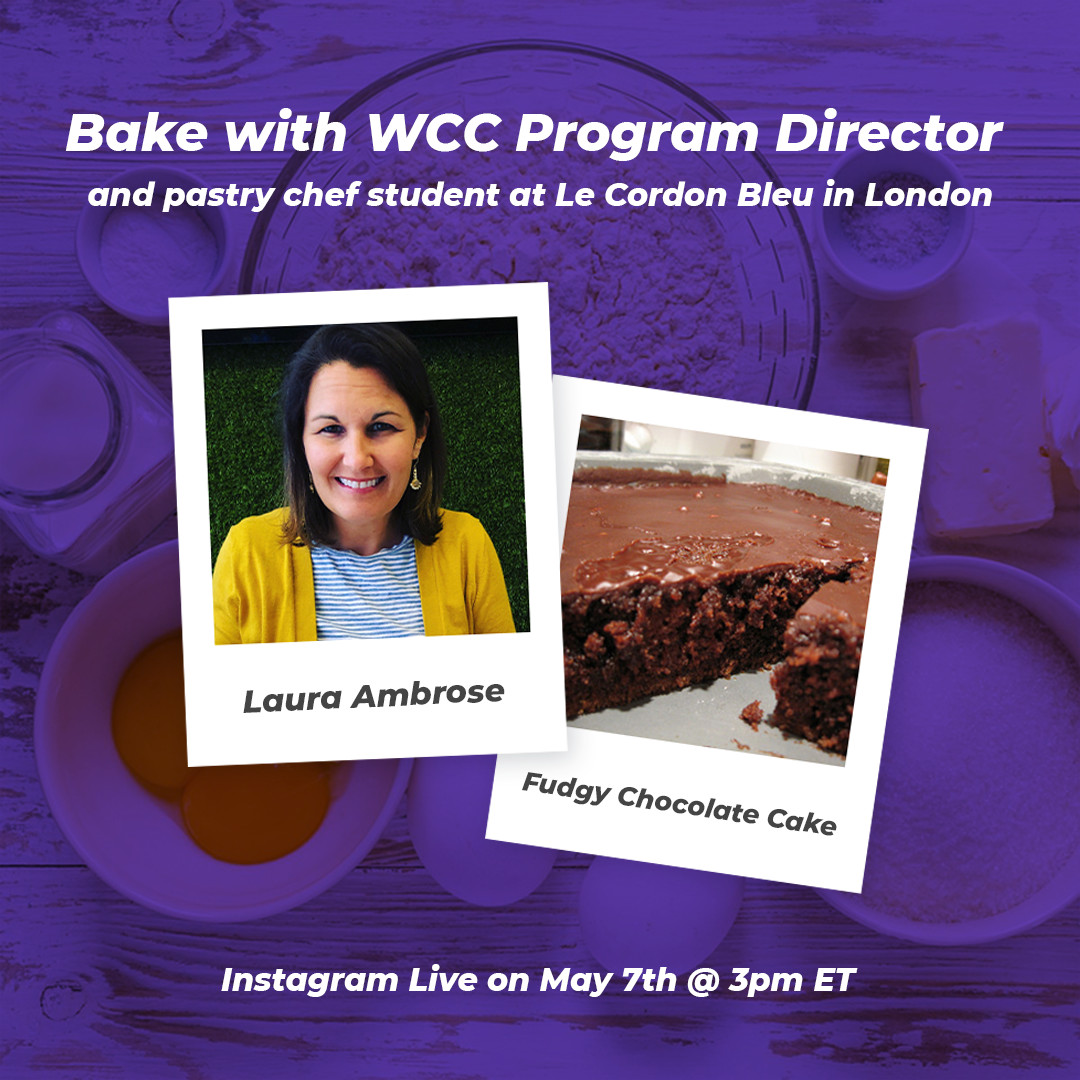 Fudgy Chocolate Cake
Love chocolate? Bake a fudgy chocolate cake with Laura, a WCC Program Director and pastry chef student at Le Cordon Bleu in London! Get your ingredients and tune in to WCC's Instagram Live on Thursday May 7th at 3pm ET.
Cake Description:
This is a super fudgy yet fluffy and moist chocolate cake with the BEST frosting. It is not the prettiest cake, but one of my go to recipes when I know someone I love is craving something chocolatey.
Ingredients:
FOR THE CAKE:
1 cup all purpose flour
1 cup sugar
Pinch of salt
3 tablespoons of dark cocoa powder
1/2 cup of boiling water
1 stick of butter
1/4 cup milk
1/2 teaspoon white vinegar
1 whole beaten egg
1/2 teaspoon baking soda
1/2 teaspoon vanilla
FOR THE FROSTING:
3/4 stick of butter
3 tablespoons dark cocoa powder
3 tablespoons milk
1/2 teaspoon vanilla
1 ½ cups powdered sugar
1/2 cup finely chopped walnuts or pecans (nuts are optional)
Kitchen tools:
8×8 pan
medium pot
whisk
spatula
measuring cups and spoons
Directions:
Preheat the oven to 350 f (180 c)
CAKE DIRECTIONS:
1. Combine flour, baking soda, sugar, and salt in a large bowl.
2. Melt butter in a saucepan on low heat.
3. Once the butter is melted stir in the cocoa.
4. Add hot water and boil the mixture for 30 seconds.
5. Pour the mixture into the bowl with the dry ingredient and stir until mixed.
6. In a small bowl beat the egg, add the milk, vinegar and vanilla.
7. Pour the milk mixture into butter and chocolate mixture.
8. Pour into 8×8 cake pan and bake at 350-degrees for 20 minutes.
ICING DIRECTIONS:
1. Melt butter in a saucepan on low heat.
2. Stir in the cocoa once the butter is melted and turn off the stove.
3. Add the milk, vanilla, then stir in the powdered sugar. Stir together.
4. If using nuts, add the chopped nuts.
5. Pour the icing over the warm cake.
6. Allow to cool and enjoy your super yummy chocolate cake!
Share it!
Post a picture of your cake on Instagram and tag us @westcoastconnection