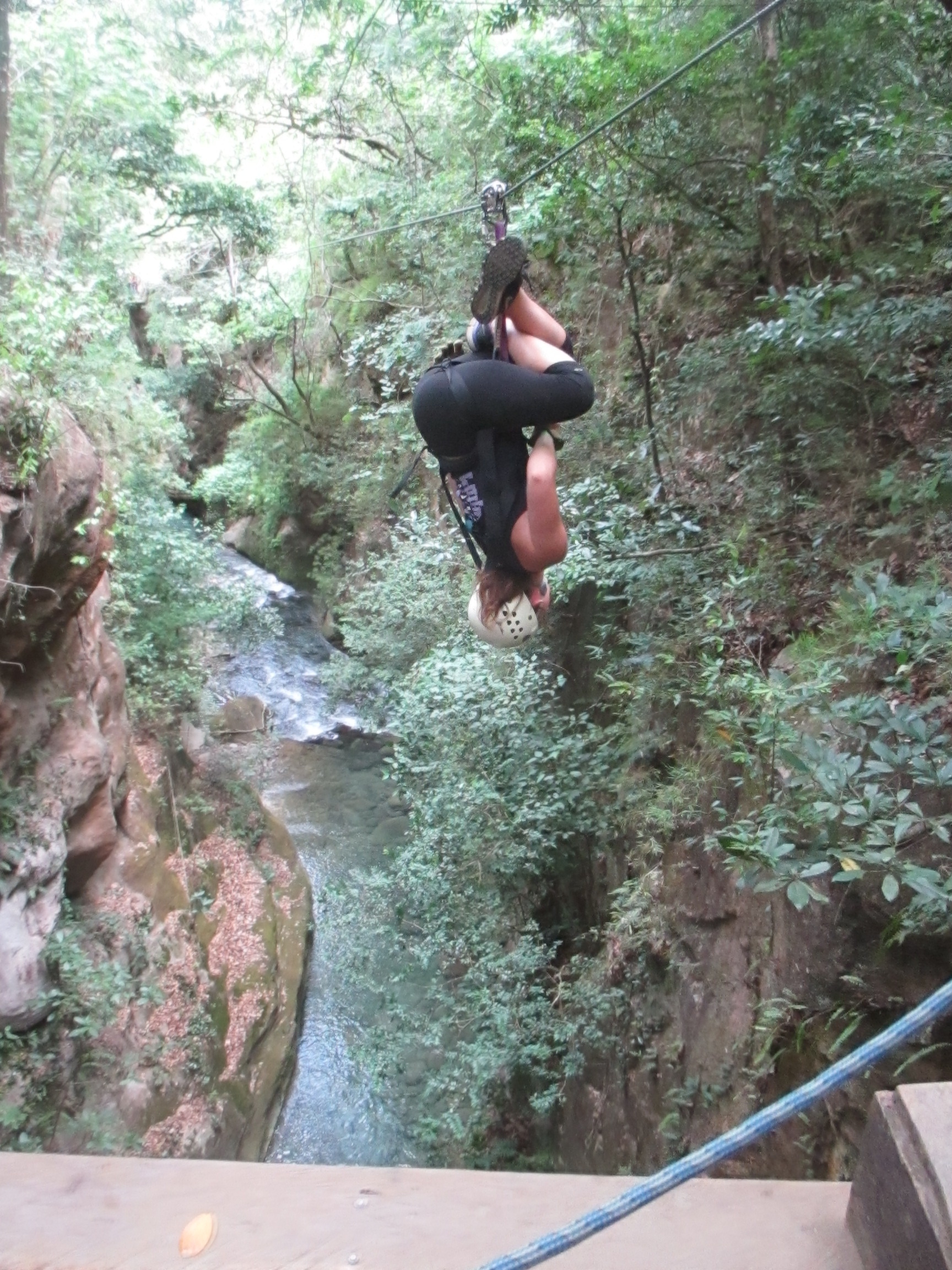 Hola familias! Monday was our final full day in Costa Rica. It was filled with adventure, fun, relaxation, and memories.
 We started the day with a fantastic breakfast made at our hotel. Everyone loved the made-to-order pancakes and omelets! After breakfast we headed to the adventure center to get suited up for zip-lining!
Zip-lining was an exhilarating experience! Everyone loved the very first line, a long one that flew us over the forest canopy. During the second line, our trip members had the choice to zip-line UPSIDE DOWN! Steph and Courtney immediately volunteered, along with Jordana, Charlie, Nick, Josh, Juliette, Jillian, Frankie, and Emily. These kids have NO FEAR!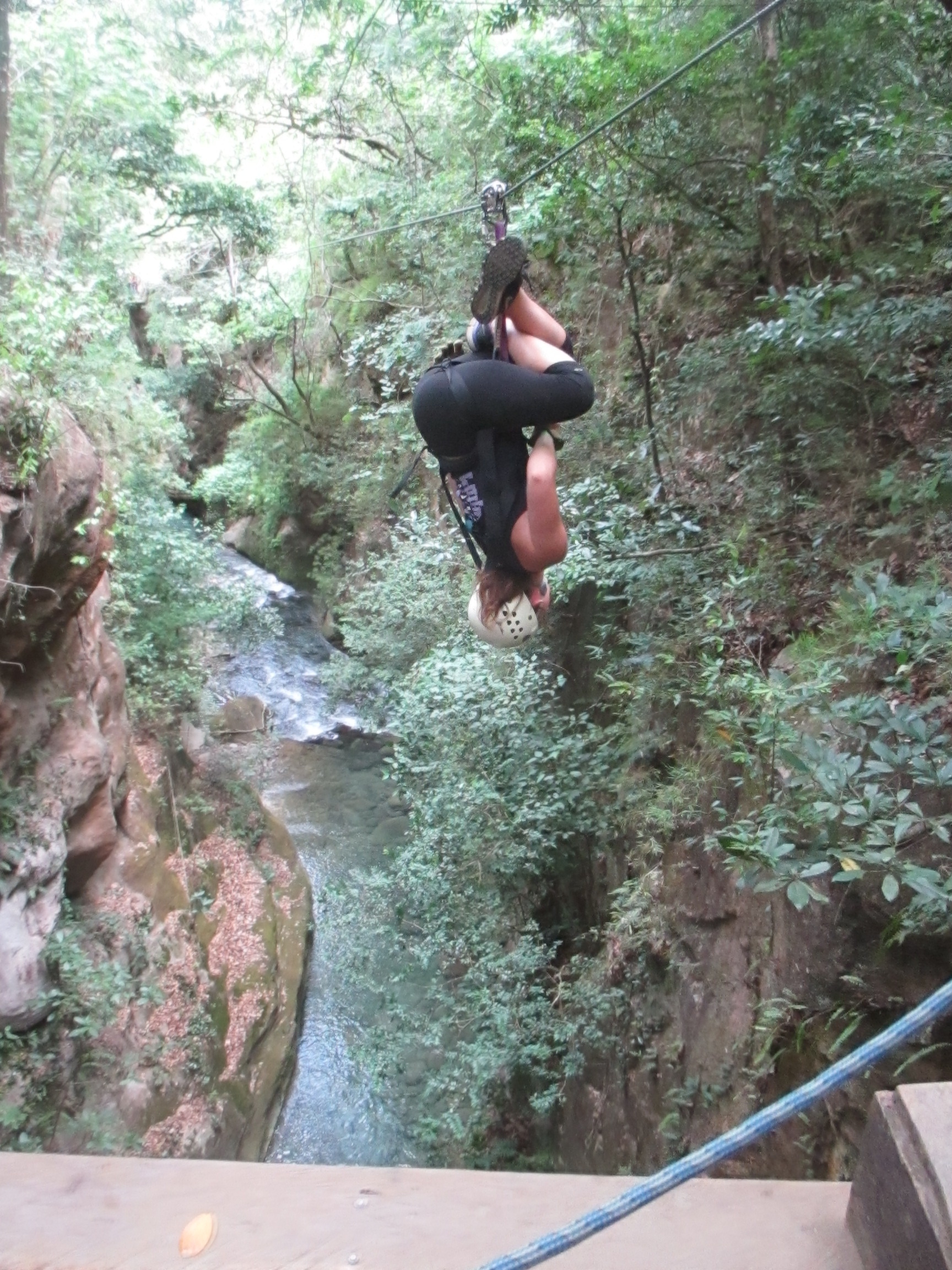 During the zip line we also had the opportunity to do a little rock-climbing and rappelling. Mikayla and Charlie bravely conquered both! Mallory T was voted to be the new advertising model for zip-lining, she always flashed a huge smile for the camera, despite her fear of heights. During the last line, Michelle decided to try going upside down. Though she was nervous at first, she did not regret the decision.
After zip-lining our group took a hike to a nearby waterfall. The falls were gorgeous, though Steven thought the water was a bit chilly. We all had fun taking a little swim near the bottom of the falls. Mallory W and Morgane are both such water-lovers, neither of them wanted to leave!
Once our bellies were full with another delicious meal from our hotel, we got to have a little R&R at the spa. Our group experienced a mud bath and a dip in the natural hot springs. Frankie got everyone laughing with her talent at impersonating the trip leaders. Everyone really enjoyed the experience and loved their soft skin afterwards.
That evening we had our end-of-the-trip banquet after dinner. Trip members planned a short skit or song to perform for the group. Jordana, Dana, and Julia kicked it off with a game of "Would You Rather"! They really got the group thinking when they asked the question… "Would you rather be able to talk to animals or speak every foreign language?" Another group created a set of awards for the rest of our trip members. Steven won the "Most Likely to Return to Costa Rica" award because he makes friends with everyone he meets and will have to come back to visit! Isabel won "Most Likely to be Happy" for her constant smile, and Hailey won "Most Likely to Skydive" because of her fearless zip-lining style. Our performances ended with Will, Josh, Steven, and Nick's very creative lip sync. Their choreographed dance moves blew the audience away!
After our performances the mood became more serious as we each shared a special memory we made with someone on the trip and spent a few moments recapping our 10 days together. We've made some wonderful friendships and even more wonderful memories during this short time together. Even though we are leaving today, we will each carry a part of this trip with us for a lifetime.
Thanks to everyone for a fabulous 10 days! Continue to serve others as you did here in Costa Rica and you will make the world a better place!
Adios amigos!
The Westcoast Blogger