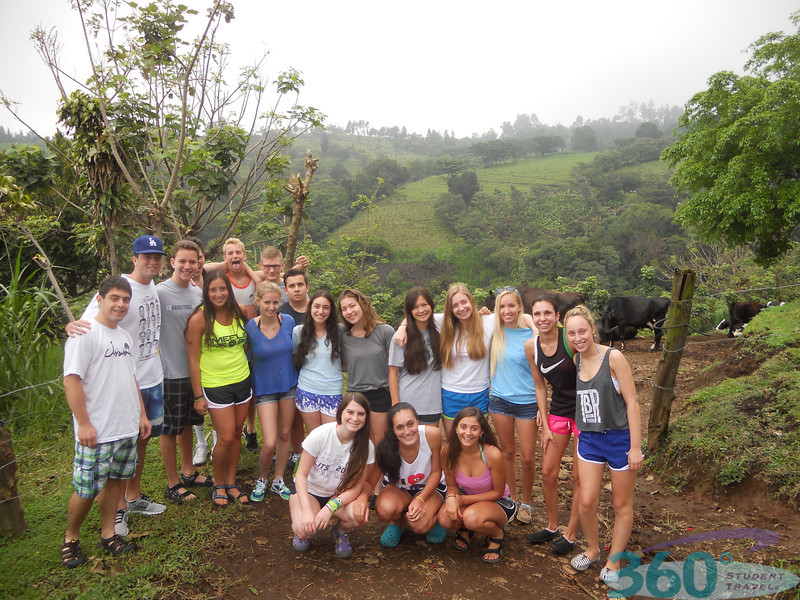 Hola from Costa Rica. Como estas? Our hard work at the village of La Carpio is on a brief hiatus and we are so proud of what we have done. Over the past few days, we have successfully helped to build a house, work with adorable children, and beautify the town. We made connections with the people of the village who were so grateful for our service, and we are truly starting to feel the impact of how our work is making a difference in other people's lives.
During our initial days of service we had a lot of positive experiences and accomplished a lot. Hannah proved to be a pro at digging sand for concrete making the future house owner very happy. The children in the village were so excited to see us painting, they graciously offered a helping hand. Melissa and Sammi did a great job of painting many of the houses with help from their new friends. Many people in the village came by to watch, calling the new colors "bonita!" It was very rewarding to see the village pleased with our painting job. Jess K. impressed us all by reading an entire book in Spanish to the children. She had the full attention of everyone in the room. Go Jess!
One of the women in the village had very recently had a baby, and Julia, Hannah, Gabby, and Diane had an incredible experience going to her home to deliver supplies for the new mother. At the end of the day, some women of the village performed a show for us about their experiences as refugees coming to Costa Rica from Nicaragua. What a powerful way to wrap up our service in La Carpio! That night, we went to see Superman Man of Steel at the movie theater. Julia was so intrigued by the film! Brian, our superhero/science expert did a great job at explaining some details to those of us who didn't understand.
The next morning, we packed our bags, said goodbye to our hotel La Condesa, and hopped on the bus to our next stop, Arenal. Luckilly the bus had big windows so we could look out at the green Costa Rican mountains, farms, and of course farm animals. We were excited to get to our new hotel, which looks out at a huge volcano – talk about a scenic view! We were all feeling the Costa Rica 'Pura Vida' vibes, and ready for our next adventure: the Baldi Hot Springs. To say we were excited for the 8 beautiful pools filled with hot springs water would be an understatement. Imagine 8 massive hot tubs complete with waterfalls and slides. If you were looking for Gabby and Diane, you could find them relaxing at the pool with disco lights. Jason and David could be found splashing in the hot waterfalls, and Hannah and Jess S. could not get enough of the water slides. After, we enjoyed a buffet dinner at the hot springs. Did we mention that there was a chocolate fountain? We were sad to leave, but went back to the hotel for some trivia fun before heading to bed.
The next day was one of our bigger adventures; canyon repelling. We were already pros from our first canyoning experience, and excited to try out a different place. We harnessed up, took a breath, and repelled over not one, but four different waterfall canyons. We were so impressed when Olivia and Alyssa repelled down the waterfall with huge smiles on their faces. Sammi could not get enough and kept asking if there was more! That night, it was time for a very special celebration; Brian's 17th birthday! We all enjoyed a piñata, and Brian especially enjoyed his generous gift from his friend Egor. As they say in Costa Rica, Feliz Cumpleanos Brian!
We hope you are enjoying your summer as much as we are! Can't wait to update you with our next adventures.
Until next time,
The Westcoast Blogger