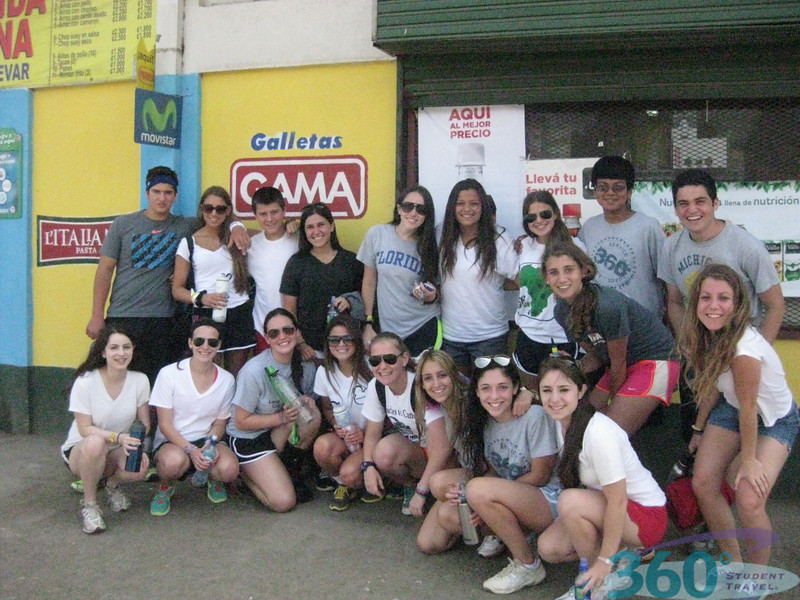 Hola parents!
We are happy to be back in Central Valley now at the familiar hotel, La Condesa. Arenal was an amazing place to visit and our hotel had a breath taking view of the volcano. This area also offered a great adventure for us, canyoning! The morning started with a trip along a windy, rocky path in the back of safari like trucks to get to the canyoning lodge. The group repelled down four waterfall faces with the largest being an astounding 180 feet high. A big shout out goes to Dana for overcoming her fear of heights and accomplishing this thrilling challenge. After this adrenaline rush, the trip returned to the lodge and travelled in the safari trucks to a delicious lunch. Following our lunch, we got a chance to look at the impressive pictures from the day and reflect on an incredible life experience. This evening we headed back to our hotel for some 'Color war' activities. The two teams divided to prepare their team song and dance. Speaking for the judges, both teams had impressive performances.
Later that evening we met with Gayle, the founder of the Humanitarian Foundation of Costa Rica that we have been doing community service with. She informed us about our next projects which had everyone excited and focused on tomorrow`s tasks. Later that night we played a fun game called Human Scavenger Hunt. Grant G. won a huge round of applause for his hilarious impression of a popular YouTube video. Jaime took the cool body trick point with her amazing flexibility. Alexa opened up to the group and won the category of most embarrassing story which offered a good laugh for everyone.
On Sunday we had the opportunity to decorate and help prepare a celebration party for the soccer team this foundation supports. We helped prepare lunch, set the table and put up decorations to welcome the team. We know this lunch and gathering was a highlight for a lot of the trip members because we were immersed with people from the community and really got to know them on a personal level. Nina, Francesca and Jordana were very helpful in using their Spanish to communicate with the soccer team. This allowed for a great interaction between our trip and the team. After lunch, we painted the front of this community center which left it looking clean and fresh. That night we traveled to bowling in San Jose. The atmosphere was really fun with good music and we know everyone enjoyed themselves here. Emily B. and Allison deserve recognition for their impressive scores that prove they are talented bowlers. Grant D. had a good time teaching our bus driver, Andres, how to bowl.
The following day we returned to La Carpio and traveled further into the neighborhood and had a chance to interact with children from this area. While half the group painted houses and fences, the other half stayed inside the school to play, read and color with the children. The two groups switched duties so everyone had a chance to contribute in a different way. During service, Katie demonstrated serious commitment to finishing her project. That evening we travelled to the movies to watch World War Z. We have only heard good reviews from the trip members so I think it was well received!
We have some great things to look forward to so it is important we rest up for that! Until then, take care.
With love,
The Westcoast Blogger