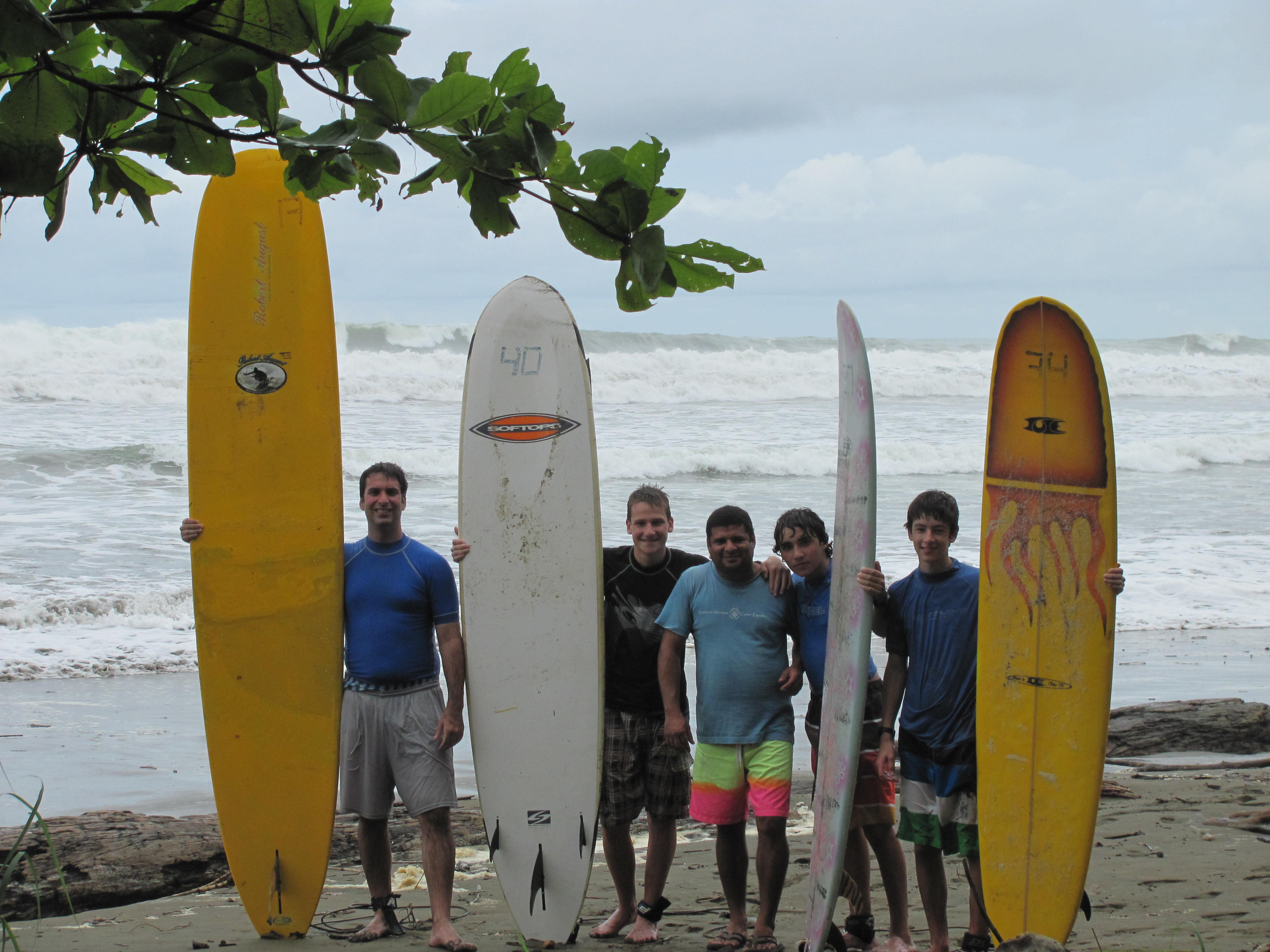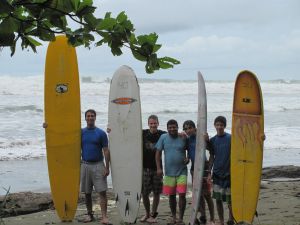 Today we celebrated two fantastic members' birthdays.  Ali C. learned the fun of a Latino "quinceanera", while Ali Y. celebrated her sweet sixteen.  The night began with a whole-hearted "Happy Birthday" song, Oreo cake, some gifts, and concluded with a fabulous pool party.  It appeared to be the best end to the most perfect day.  We awoke this morning to a gorgeous day in La Fortuna, the sun was shining brightly and the image of the volcano towering above us reflected through our windows.  Our refreshing morning hike led us through a national park to a view that left us awe-struck.  We enjoyed some mangos while gulping down the refreshing scenery.
The past few days have been filled with excitement.  Yesterday, we spent the majority of the day at the Baldi Natural Hot Springs.   Scott and Alec had a phenomenal time sliding down the slides, while Joey, Julia, and Kimmy discovered the differen temperatures of the many pools.  The buffet closed off our hot springs journey, and Matt Be. thoroughly enjoyed the variety of the chocolate desserts offered.
Preceding our journey to the Springs, we stayed in a small town called Zarcero where we completed our large Spanish project.  We started the visit by settling into our quaint cabins.  The next day, we had the honor of receiving a tour from the local band.
They took us to a "lecheria" where we learned the process of milking cows and some lucky members like Sarah enjoyed the taste of cold, fresh milk.  We were invited to a soccer game where Alex and Matt Ba. played and laughed amongst the Ticos.  Later that night, the band came back to play for us and we had a special dance party.
The presentations the following day turned out to be an absolute success.  After presenting to locals about our trip thus far, we then offered them refreshments and friendly conversation.  Lauren and Shelly utilized their Spanish knowledge, made the best out of their time, and socialized with many individuals.
Before the mountaintops of Zarcero, we drove in from a calm beach town called Uvita.  There, we had the amazing opportunity to both go surfing and white water rafting!  During the surfing lessons, almost every trip member completed the hardest step and stood on their board to catch a wave.  Madi and Monica thoroughly enjoyed the opportunity to soar over the tides.  Then, to our excitement, we piled into rafts and took off into the Savegre River where we learned just how fun white water rafting is.  Halley
especially challenged herself and did the "bucking bronco" on the raft!
This past week has been filled to the brim with excitement and adventure.  We are practicing our Spanish every chance we get and are eagerly looking forward to today, when we will go on a ziplining adventure.  Although the trip is coming to a close, we have remained closer friends than ever and do not want this enjoyable venture to end!
Hasta la proxima vez!
Buenas Padres y Amigos!
Hoy celebramos el cumpleaños de dos jovenes fantásticos.  Ali C. aprendió que divertido es un latino quenceañera mientras que Ali Y. cumplió un "dulce"diez y seis.  La noche empezó con la canción del cumpleaños, un queque de Oreo, regalos y después una fiesta en la piscina.  Fue el mejor fin de un día perfecto.  Nos levantamos esta mañana con un día lindo en La Fortuna.  Brillaba el sol y la imagen del volcán brillaba por las ventanas.  Caminábamos por el parque nacional para una vista increíble.  Gozamos de unos mangos mientras que veíamos la vista.
En los últimos días han estado llenos de emoción. Ayer se pasó la mayor parte del día en el Bali Aguas Calientes. Scott y Alec lo
pasaron fenomenal deslizándose por los toboganes, mientras que Joey, Julia, y Kimmy descubrieron las diferentes temperaturas de las muchas piscinas. El buffet cerró nuestro viaje de manantiales y era riquisimo. Todos disfrutamos de la variedad de los postres de chocolate que nos ofrecieron, pero Matt Be. especificamente.
Antes de nuestro viaje a las aguas, nos alojamos en un pequeño pueblo llamado Zarcero donde hemos completado nuestro proyecto español de gran tamaño. Comenzamos la visita por asentarnos en nuestras cabañas pintorescas. Al día siguiente, tuvimos el honor de recibir una visita de la banda local.
Nos llevaron a una "Lechería", donde aprendimos el proceso de ordeñar las vacas y algunos miembros tenian la suerte, como Sarah, en disfrutar el sabor de la leche fría. Fuimos invitados a un partido de fútbol donde Alex y Matt Ba. jugaron y rieron entre los ticos. Más tarde esa noche, la banda volvió a tocar para nosotros y tuvimos una fiesta especial.
Las presentaciones del día siguiente resultaron en ser un éxito absoluto. Después de presentar a la población local acerca de
nuestro viaje hasta ese momento, les ofrecimos unas refrescas y una conversación amistosa. Lauren y Shelly utilizaron sus conocimientos del español, practicamos lo mejor de nuestro tiempo, y socializamos con los individuos.
Antes de la cima de las montañas nubladas de Zarcero, nos llevó desde una ciudad tranquila con una playa llamada Uvita.
Allí, tuvimos la gran oportunidad para hacer surf y el rafting! Durante las clases de surf, casi todos los miembros del viaje completaron el paso más difícil y se pusieron en sus tablas para coger una ola. Madi y Mónica lo disfrutaron de la oportunidad de volar sobre las olas. Las nubes ocultaban el sol de ese día, pero la diversión sólo siguió su camino! Entonces, a nuestro entusiasmo, nos subieron a las balsas y fuimos en el río Savegre, donde nos enteramos de la diversión que es el rafting. Halley especialmente desafiada a sí misma y hizo el "bronco tronzado" en la balsa!
La semana pasada se ha llenado hasta el borde de la emoción y la aventura. Estamos practicando nuestro español cada vez que
podemos, y estamos esperando ansiosamente el día de hoy, cuando vamos a ir en una aventura en tirolesa (canopy). Aunque el viaje está llegando a su fin, nos hemos mantenido más amigos que nunca y no queremos que esta aventura termima!
Hasta la Proxima Vez!
The Westcoast Blogger