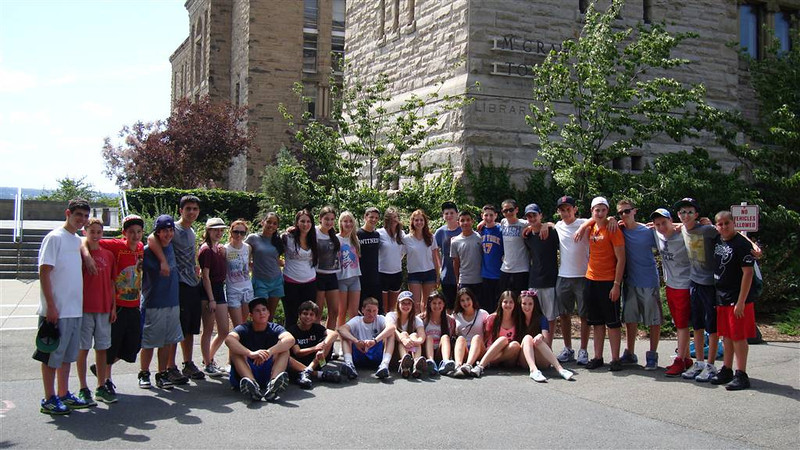 The U.S. Explorer checks in from Ithaca…
It's only day 2 and we already know this is our #bestsummerever!
It all started with a card game and a drive to Ithaca where we learned about what superpowers we all desire, what foods would be brought onto a deserted island, and all time favorite movies. After we checked into the hotel we were off to Chili's. It's funny how an old N'sync commercial about baby back ribs turned into that being one of the most popular items ordered that evening.
That evening we went bowling and dividing into "celebrity couples" teams. The challenge was to guess the celebrity name posted on our backs by asking someone a series of yes or no questions. Fred and Wilma Flintstone, Mickey and Minnie, Obama and Michelle… With the disco lights flashing and music jamming, it's no surprise that Nikki, Emily, Alexa, Sam and Jamie jumped out of their seats when the Cha Cha Slide came on. Zach G., Aaron and all scored strikes on their first try. That night we mellowed out to the official XR19 evening mix for the first time.
Day 2 began with our morning mix and a song lyric you may remember from our welcome letter – "who wouldn't want to be me." These 10 songs are our trip anthems and the perfect way to start each and every day. We are still perfecting the choreography but know as we get further into our trip, it will all come together.
At the ropes course, we were split into groups where we participated in challenging team-building activities. Lee said that he enjoyed the group activities because they were both challenging and fun. Izzy said that she enjoyed the day because she was able to get to know other members of the group really well. We completed obstacles courses blind folded, traveled on tight ropes above "shark and alligator infested waters" relying on the stability of a teammate, scaled a 15′ wall and so much more… all before lunch! Chase's blindfold buddy said that he was a great guide – the best in the entire group. Gary was a pro at scaling the wall. Along with Noah, he was pulling other trip members up left and right!
After an incredible picnic lunch with delicious cookies, we were able to test our bravery and skills on the high elements. The swing and zip-line were the most popular activities. While Evan S. went on the swing (and screamed loud enough for the whole town of Ithaca to hear) we lay on the ground to watch the thrill of a nearly 10′ free fall off an 80′ tower followed by quite the swing. Many of us raced down the zip-line modeled after the icon on the Cornell campus.
Speaking of Cornell, on the way to the campus we watched a video about Cornell firsts and played name that fictional "Cornelian." Justin was the pro knowing who attending the University from American Pie, Water for Elephants, the Office and more. Cornell was GORGEous! We strolled the campus, snapped a few photos in front of the landmark tower and wandered at the gorges and waterfalls spread out on campus.
After some time for swimming, working out, a Macarena dance party and R&R, it was time for hibachi or hippo-bachi as we named it. Lee was a pro at catching the chopped vegetables in his mouth. Zach E. got a chance to step behind the grill and show us how it is done. Between the soup, salad, rice, veggies and stir fry, we were all stuffed!
Before leaving the restaurant, we played our first game of ninja. Lee, Matthew and Noah made it to the final round after a very intense battle. Lee managed to take trophy and currently holds the title of Ninja champ!
We are excited to celebrate Canada Day tomorrow at Niagara Falls and will write again soon!
The Westcoast Blogger