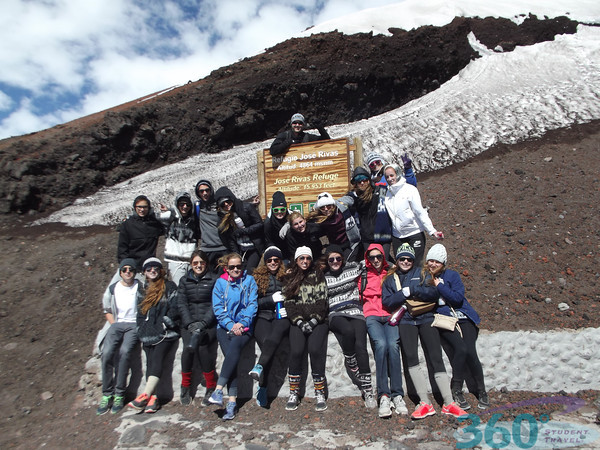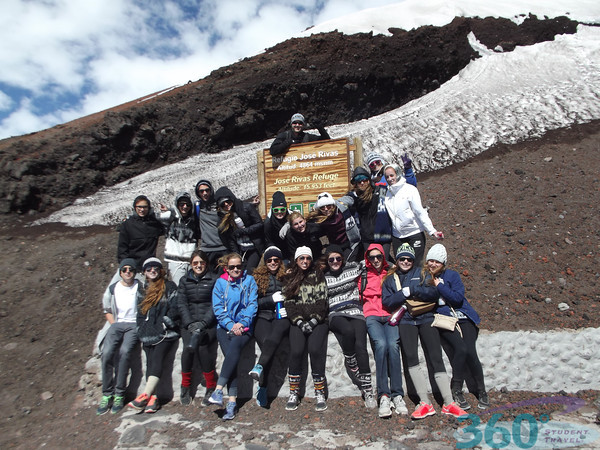 After an eventful time in San Cristobal, our group took a boat ride over to Santa Cruz. Upon arriving, we immediately set off for the Darwin Center where we learned about several of the species of the Galapagos Islands. During our tour, we saw marine iguanas and tortoises of all sizes. Some of the tortoises were the size of our hands while others weighed up to 600 pounds. After the tour, we had some time to relax at the hotel. Stevie and Tamzen both took full advantage of the pool as they played several fun water games. To finish off our first day in Santa Cruz, we played a game of statues. In small groups, with the use of a few props, teams had to freeze and recreate some of our favorite moments from the trip. Lauren G., Mason, Hannah, Marc and Max created a hilarious statue of our time climbing Cotopaxi while Carly, Lila and Jane depicted some of the trip highlights from the Amazon.
 To kick start our second day, we went to a giant tortoise farm to help plant some of the indigenous vegetation of the island. Sami, Cameron, Lexi, Lauren S., Caroline B. and Marlee worked hard digging holes and planting baby trees. After a morning of hard work, we took a break to hang out with some of the tortoises on the farm. Zach, Michael and Carly had to the chance to get their photo taken with our new friends while Renee and Max pretended to be tortoises as they posed in a giant shell. Once we were done service, we visited some nearby lava tunnels. Our group had the opportunity to walk through natural tunnels that had been created by the effect of lava cooling and then solidifying. Everyone agreed that the tunnels were a very cool experience! Prior to dinner, trip members took full advantage of some souvenir shopping. Many of the girls including Jessie, Caroline B., Marlee and Hannah purchased tortoise necklaces as a memento of our trip. After dinner, we walked down to the pier where we saw several baby sharks swimming in the water below us. It was the perfect way to end the day.
On our final day in Santa Cruz, we returned to the tortoise farm to continue our planting project. Over the course of two days, we managed to plant over 200 trees. As we were leaving, we all felt incredibly proud to look out onto the field and see the end product of all of our hard work. Once we were done service, we visited the beautiful Tortuga Bay. Immediately upon arriving, all trip members were blown away by the beauty of the white sand and turquoise water. We started off our visit by going kayaking where Caroline T. saw a turtle head in the water and many of us were lucky enough to see sting rays swim right under our kayaks. Lucy, Cameron and Maya kept the group entertained as they sang several camp songs during our water adventure. After kayaking, the group had the opportunity to relax on the beach and enjoy the water. Marlee and Jessie entertained us with a song and dance for the group while Renee and Mason helped build a sand castle with a small child on the beach. Lauren G. then helped start a sand fight between trip members. Many laughs were shared. Later in the evening, we played a few rounds of Family Feud where all of the questions related to moments from our trip such as best trip moment and best Ecuadorian custom.
A bus, a boat and a plane took us back to Quito, where we enjoyed our final banquet together.  Our evening concluded with each trip member sharing their own trip highlights, final celebrations and a farewell video. We made sure that our final hours together would create lifelong memories.
It has been an incredible adventure to Ecuador filled with countless laughs, smiles and unforgettable memories. Even though we have only known each other for 25 days, we feel as if we have known each other forever and we feel as if we have become a family. The bonds created on this trip will surely last a lifetime.
The Westcoast Blogger